Manchester City, one of the top English Premier League soccer clubs, yesterday (July 6) announced that it has signed a professional player of the FIFA franchise of soccer video games. It was the first time the club has made such an arrangement.
The pro gamer, 18-year-old Kieran "Kez" Brown from York, says he will don City's colors at FIFA eSport tournaments and stream his matches on the Amazon-owned video platform Twitch. City isn't the first club to get its own FIFA pro. West Ham, also in the Premier League, did it in May, and so have several German clubs, reports Engadget.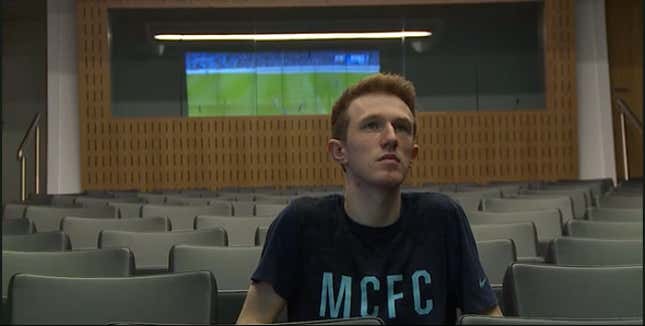 Manchester City's press release makes it clear that the eSport signing is a marketing play by the club. "We will be a bigger presence at gaming tournaments, we will have more content through our digital channels and we will activate even more with our fans at matches and club events," says Diego Gigliani, a vice president in charge of marketing, said in the club's announcement. The release did not say how much Brown's salary will be. We've asked the club, and it declined to comment on his salary.
While eSports is big business, generating over $460 million in revenues last year, according to the market research firm Newzoo, much of that cash has flowed into non-sports games such as League of Legends or Counterstrike, and not into sports simulations like the FIFA series. As one indicator: The biggest tournament prize for pro FIFA players is $20,000, offered by FIFA itself at its Interactive World Cup, but it's dwarfed by the $11 million prize pool available to players of Dota 2.
A push now by football clubs and other traditional sports brands could turn the professional playing of sports video games (call it "sports eSports?") into a lucrative niche. It would also have another effect: to further blur the boundaries between what's considered a spectator sport and how audiences watch them over the internet.
Twitter's latest feature, for example, looks uncannily like the experience offered by Twitch: A window streaming a live sport event, with commentary; and a flow of real-time chat by spectating fans displayed next to it. The only difference is that Twitter users watch Wimbledon while the Twitch audience watch people playing competitive Dota, or Hearthstone, on millions of individual streams.
The way we watch live sports, then, is about to become a lot more like the way we watch live eSports, even as virtual sporting events evolve to include the familiar club colors, brands, and leagues from the atom-based world of competitive games.