Congratulations, everything is terrible.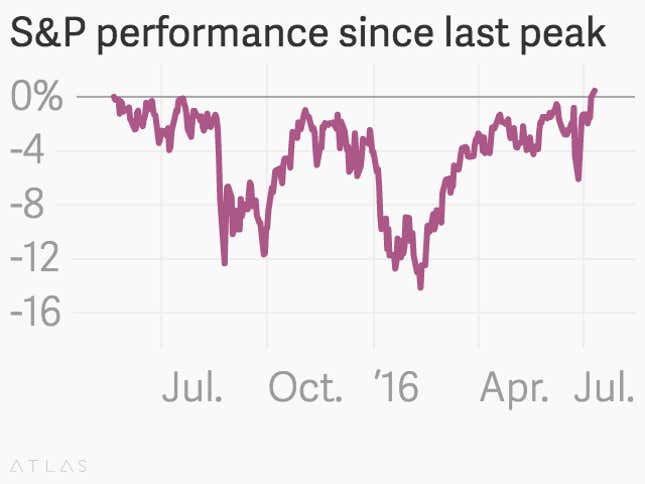 In the wake of an awful week of news in the US, the US stock market has powered forward, reaching a level that—if it holds until the close of trading today (July 11)—would be a new all-time high for the S&P 500 index. The previous high water mark of 2,130.82 was notched on May 21, 2015.
If you're not celebrating, you're not the only one. As stocks are hitting new highs, bond yields have been hitting all-time lows, traditionally seen as an ominous sign for the economy. Since bond yields and bond prices move in opposite directions, this means that bond prices have been rising, a sign that people are socking away money in the safety of US government debt.
Market lore would suggest that bonds and stocks really shouldn't rally at the same time. But like most lore, there's a fair bit of hooey in it.
Stocks and bonds have gone through fairly regular periods of simultaneous rallying in recent years. The reason? Because the market smells central bank easing, which tends to make all asset classes rise at once. And lo and behold, the Bank of England signaled in the aftermath of the June 23 UK Brexit referendum that more policy easing will likely be needed to help the British economy deal with the shock and uncertainty of the referendum result.
At the same time, the European Central Bank appears to be growing more concerned with low growth and inflation worldwide, and has been pushing for coordinated central bank action. And in the US, the Federal Reserve's plan for a steady procession of interest rate increases this year has been upset by a particular bad jobs report for May—though the report for June was much better—as well as malign forces from abroad. The Bank of Japan, meanwhile, is expected to unleash further policy easing at a meeting at the end of the month.
In other words, both the stock market and the bond market can actually be right.