The term "Brexit" has inspired a popular new term in the Philippines: "Chexit."
"Brexit," of course, refers to Britain leaving the the EU. For Filipinos, "Chexit" combines "China" and "exit" to symbolize their frustration over China's aggressive territorial moves in the South China Sea.
The term has spread quickly on social media, and it's also been used on signs during demonstrations in the Philippines protesting China's tactics, such as the ones held recently outside the Chinese Consulate in Makati City.
The hashtag #Chexit was one of the top five Twitter trends this morning in the Philippines. Many of the tweets refer to the "West Philippine Sea." In 2012, responding to Chinese aggression, then-president Benigno Aquino III signed an order renaming the part of the South China Sea that falls within the exclusive economic zone (EEZ) of the Philippines to the West Philippine Sea.
Later today in The Hague, an international tribunal will rule on a case the Philippines brought in 2013 against China's sweeping territorial claims in the sea. (Update: The tribunal ruled heavily in favor of the Philippines.) China's uses a nine-dash line drawn on a 1940s map to claim nearly all the South China Sea. The line intersects with other nations' EEZs, which under the 1982 UN Convention on the Law of the Sea grants sole exploitation rights over all natural resources, though other nations still have the freedom of navigation and overflight.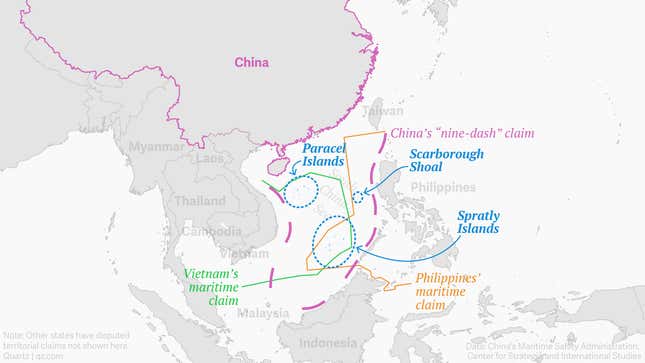 One of the strongest points of contention is Scarborough Shoal, which both nations claim and which falls within the Philippines' EEZ and the nine-dash line. In 2012 the Philippines Navy apprehended Chinese fishing trawlers that had been illegally operating in the EEZ. After a standoff between Chinese and Philippine forces, the US mediated a deal in which both sides were to pull back while the dispute was negotiated. The Philippine forces left but the Chinese ones remained, gaining control that they still have today.
China has vowed to ignore the tribunal's ruling, so there's doubt as to whether an actual Chexit will occur. But for now, at least, the term is a rallying point for frustrated Filipinos.