Earnings report: Fastenal (FAST)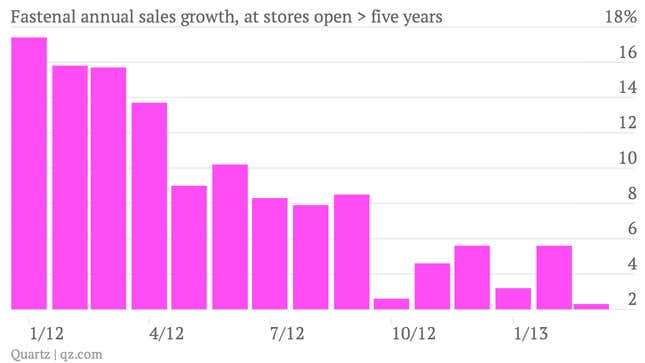 The numbers: US-centric industrial and construction supply company Fastenal reported a $109 million—37 cents a share—first-quarter profit, matching analyst expectations. But sales were softer than Wall Street predicted.
The takeaway: Fastenal's report throws something of a wrench in the works for those expecting faster and faster recovery in US construction. The company says economic trends are typically best reflected in sales growth at stores open more than five years. (Chart, above.) And that's been sliding steadily since early 2012. "We believe the economic activity of our customers slowed from January to February and slowed further from February to March," the company said in its earnings release.
What's interesting: The slowdown in construction Fastenal spotlighted could be due to weather. "Nebraska, Iowa down to Oklahoma, Arkansas area, that zone there, we were pounded with snow in February. We're probably impacted, I'm going to say $1.5 million in sales in that timeframe because of snow," company official told analysts on the post-earnings call. Oh, and for the record, this is what Fastenal sells.