GUANGZHOU
The Grandview, a glitzy shopping mall in the southern Chinese city of Guangzhou is home to the "world's saddest polar bear," three-year-old Pizza.  Pizza was brought to the world's attention in March by NGO Animals Asia, which published a video of her lying on the ground, blinking morosely as visitors banged on the glass, aspiring for the perfect selfie.
Since then, hundreds of thousands of people around the world have been signing petitions asking for Pizza's release. But she's hardly the only Arctic animal at the mall in Guangzhou, a city where average summer temperatures reach over 86 degrees F and humidity over 80%. The mall's 580,000-meter square (613,548 square feet) animal exhibition zone is also home to six beluga whales, four walruses, six Arctic wolves, eight Arctic foxes, and thousands of other species, confined to glass enclosures and tanks.
It's part of a huge investment by the mall to attract new visitors that's being replicated across southern China. Exotic animals, and particularly ones that naturally live in cold weather and icy waters, have become key attractions at southern Chinese private businesses including amusement parks, malls, restaurants and even new resorts.
Even as animal parks in the west move away from keeping large sea creatures in captivity, or allowing humans to interact with them, these new businesses in China are stocking up on rare whale sharks and arranging penguin encounters. And because China has no laws that dictate how animals should live in captivity, and awareness about animal welfare is in its infancy, many of these animals are living in unnatural conditions that are making their lives miserable, animals rights activists say.
So far, though, they're popular with consumers. After spending nearly 680 million yuan ($102 million) to reconstruct three floors of the Grandview shopping mall and import the animals, the mall sees 10,000 visitors on peak hours, Shan Xiaoliang, the mall's deputy marketing manager, told Quartz. Over one million visitors (link in Chinese) have come to visit the polar bear since January, when the animal attractions opened.
Honey-flavored snow, but no natural air or light
Three-year-old Pizza lives in a 120 sq. meter (1,292 sq. foot) windowless enclosure, a standard size in marine and Arctic theme parks across China, according to Animals Asia, a Hong Kong-based charity.
In Pizza's enclosure, there is no place to hide. Despite sign in Chinese which reads, "polar bears spend over 66% of their life sleeping," mall visitors sometimes call her name or bang at the window to try to get her attention.
Quartz paid two visits to Pizza. On the first, she was sleeping.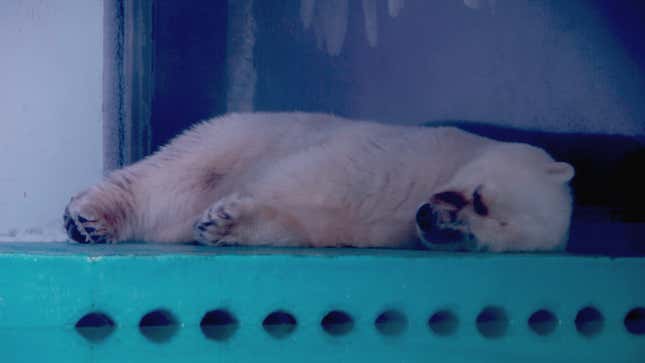 On the most recent, two aquarium employees were nearby, wearing matching uniforms. One introduced himself as the manager of the Arctic animal section, as the other walked two brown and white Alaskan malamutes near Pizza's window. Pizza seemed particularly excited at the time, jumping into the water and making huge waves, almost as if she were going to jump through the glass. It was weirdly quiet, however, as the glass was soundproof.
The place was packed with teenagers and their parents, because it was during the summer school holidays. Located in the heart of Guangzhou's central business district, the mall also houses brands like H&M and Levi's, an indoor ice-skating rink, as well as a Marriott hotel. Visitors kept trying to take photos of Pizza, as staff members held up "no flash" signs and urged people not to frighten the bear. Pizza seemed most taken by the Alaskan malamutes and banged on the glass whenever they walked by.
Polar bears in captivity require more complex physical environment than Pizza's, says David Neale, animal welfare director of Animals Asia.
Meng Zhihui, manager of the Arctic animal section, said the staff use natural or man-made toys, like tires, to entertain the captive animals. To stimulate Pizza's animal instincts, they walk dogs near the enclosure, or give Pizza food frozen inside ice cubes to encourage her to dig for food. Animals Asia's Neale, though, said that Pizza banging on the glass at the sight of the dogs was not a sign of happiness, but rather showed she was stressed.
Meng used to be a recreational diver, but started training Arctic animals in 2003, and met his first polar bear in 2008 and has cared for Arctic animals since. Before Meng met Pizza in January, when the aquarium opened, he had already raised four polar bears, including twins in an ocean theme park in Wuhan, a city nicknamed "stove city" for its heat.
"The temperature of the enclosure is always at 18 degrees Celsius (64.4 degrees F)," and the water at and 9 degrees Celsius (48.2 degrees F), Meng said. That's not out of range for what polar bears can tolerate, according to a polar-bear care manual (pdf,page.9) by the US-based Association of Zoos and Aquariums in 2009.
Pizza was born in captivity, Meng said, so doesn't know any other environment. The bear's father is from the northern city of Dalian in Liaoning province, and her mother from Tianjin on the northern coast, where Pizza was raised before being brought to Guangzhou. Caring for her is expensive. "It costs us 50,000 yuan ($7,496) to feed her every month. Even the snow is mixed with honey," Meng said as he pointed to the man-made snow in one corner of the enclosure. The bear also eats cooked beef, salmon, corn buns, eggs, and different kinds of fruit.
Adding animals to attract shoppers
China's craze for aquariums and animal theme parks started in earnest in 2011, when about a dozen aquariums were established, according to China Cetacean Alliance (CCA), a Beijing-based non-profit organization that tracks Chinese cetacean industry. The number tripled to around 30 in 2013, and rose to around 60 in 2016. "The aquarium industry sees this mall trend as a new opportunity to expand their business, and the malls also embrace this idea as they think it could help attract more visitors and boost their sales," said CCA.
The craze comes as China's mall industry faces an uncertain future: a recent report predicts as many as one-third of malls in China could shut over the next five years, due to an oversupply and a growing trend of online shopping.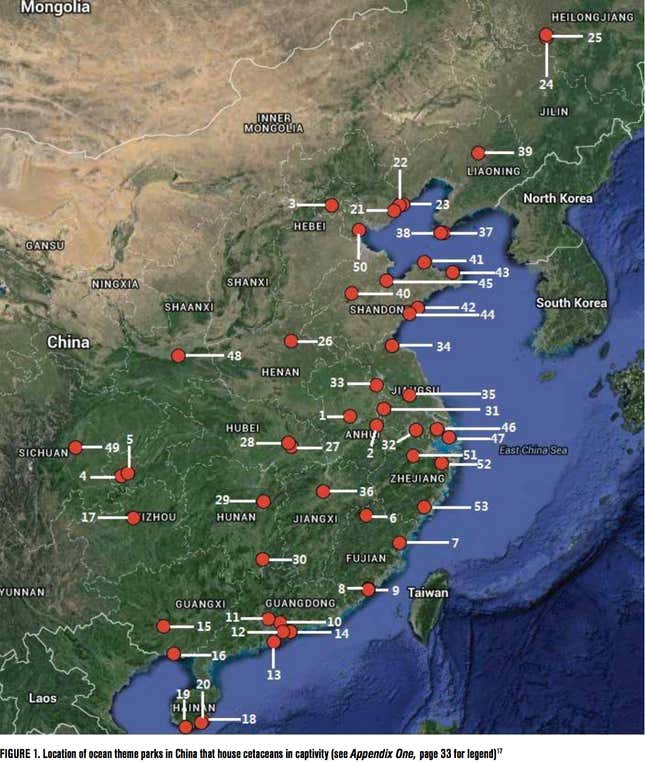 It isn't always a smart business proposition.
Another mall-aquarium in Shunde, also a city in Guangdong province, built in 2014, lost about $850,000 on its animal attractions in 2015, because of high maintenance costs, Guangzhou Daily (link in Chinese) reported in February.  Grandview charges about five times as much as Shunde for adults to enter its animal area, at 220 yuan ($32) per person.
Still, more animal parks and aquariums are on the way. Hong Kong-listed Haichang Group signed a deal in August to open a new (link in Chinese) aquarium inside a mall in Shijiazhuang, Hebei province. The group already operates ocean theme parks in nearby Tianjin, as well as three others in Wuhan, Sichuan and Qingdao, all of which keep polar bears.
China is certainly not the only place where aquariums can be found in shopping malls. Grandview's offerings are no match for Dubai Aquarium in scale, for example. The 10-million liter aquarium in Dubai Mall has over 33,000 marine animals, and visitors peruse the whole aquarium via a 48-meter-long tunnel. Neighboring emirate Abu Dhabi has plans to build a bigger aquarium than Dubai Mall's to draw tourists.
Whales and foxes and wolves, oh my
Pizza isn't the biggest, or the most unusual, animal in the mall. Grandview holds six beluga whales, eight Arctic foxes, and six Arctic wolves.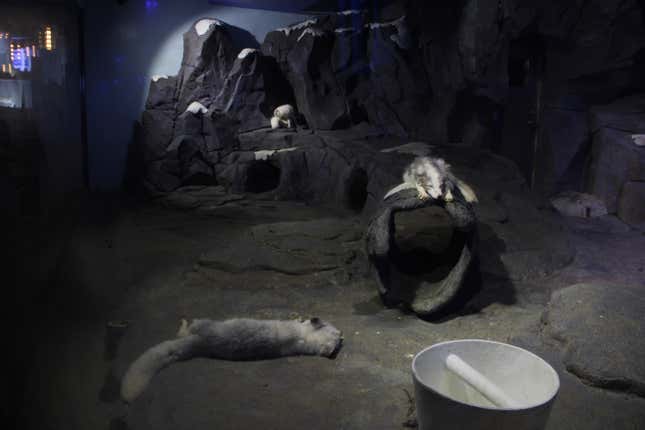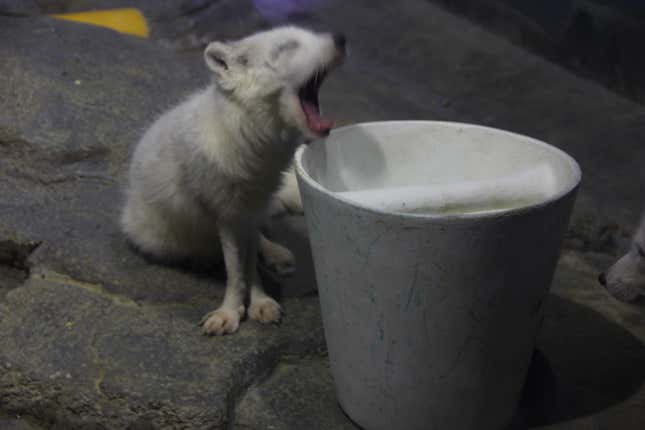 All six whales are held in a two-story tank around 6.5 meters (21 foot) deep. An adult beluga whale can grow to four meters long. According to the CCA, Grandview's tank depth just meets the minimum size (pdf, p.46) recommended for captive beluga whales.
While Pizza doesn't need to do tricks or performances, Grandview visitors can pay for a VIP experience called "The Kiss of Beluga Whales" (link in Chinese)—for an extra 100 yuan($15) per adult, they can touch, feed, and even kiss the whales.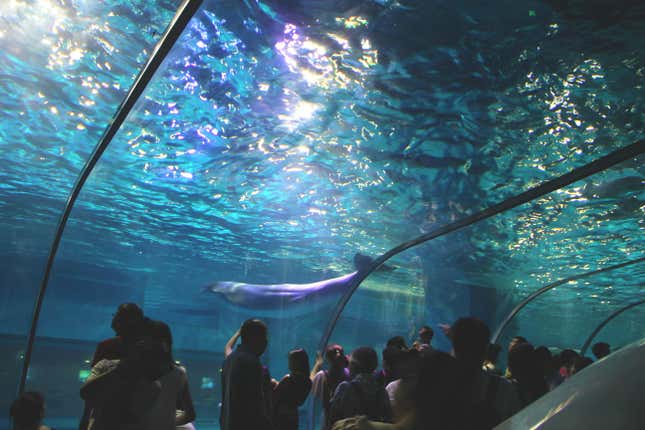 Similar animal encounter programs have been staged in other parts of the world for years, but they are now being phased out in some parks and aquariums, because of rising concerns about stress on the animals. The world's largest animals rights organization, People for the Ethical Treatment for Animals (PETA) said programs that allow people to kiss, pet, or even swim with animals are invading "the animals' already diminished worlds and are intrusive, stressful, and even dangerous for the animals, as well as being risky for human participants, too."
Shan said the "Kiss of the Beluga Whales" doesn't qualify as a performance, it is just feeding the whales, and they have a backstage area where they can rest.
The mall's "Walrus Show" (link in Chinese) is more akin to a traditional ocean theme park performance. Four walruses, each at least one meter long, are confined in a roughly five-meter long tank.
The mall also has several seals, housed in an open-topped tank that is about half a meter shorter than the average adult, which means visitors can reach over the edge and into the water. When one visitor held a balloon over the water during a recent visit, a seal leaped for it, momentarily hanging over the tank edge.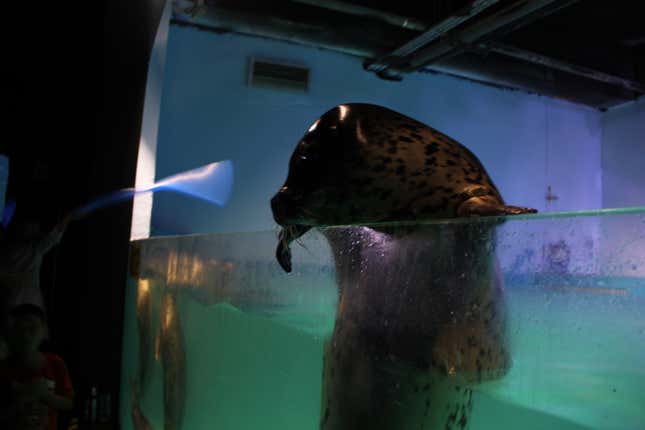 A growing market built on weak laws
There is currently no welfare laws in China for how to keep animals in captivity, as Guangzhou-based newspaper Nanfang Daily noted recently (link in Chinese). Neither the protection of wildlife law (link in Chinese) passed this July, nor the 1993 laws for the protection for wild aquatic animals (link in Chinese) specify welfare standards for animals in captivity.
There is also no comprehensive animal protection law or law against animal cruelty in China, said Peter Li, a China policy specialist at animal welfare charity Humane Society International. The latest wildlife protection law, which mostly covers indigenous animals in the wild, was "a huge disappointment," because of the lack of attention paid to animals in captivity, and its catering to business interests, he said. "The legislative process has largely been closed to conservation and wildlife experts," Li said. "If a protected animal is brutalized, [as long as it is not dead] it is not punishable."
Even China's state-run zoos don't focus much on animal welfare. While the Chinese Association of Zoological Gardens set out guidelines for animal enrichment and health care for captive animals in a 2012 animal ethics and animal welfare convention (link in Chinese), and China's State Forestry Administration issued standards for managing aquariums in 2013, these are considered "conventions," and are not backed by law.
The zoo standards "were mostly geared towards how the facilities can be maintained to maximize the holding capacity and smooth running of the facilities," Li said. It is unclear whether they apply to private malls like Grandview.
So far, the Chinese government has not reacted to the international outcry over Pizza's situation. Neale said that despite garnering half a million signatures on Animals Asia's petition, he is unsure whether he will even get a meeting with Chinese authorities.
Saving Pizza
A petition calling for the closure of the Grandview aquarium launched in March by Animals Asia following its first visit to the mall has collected over 575,000 signatures. The animal welfare group paid two further visits in April and June and gave the aquarium some suggestions, including providing real snow for the bear.
When asked whether Pizza could ever be freed into the wild, or even moved to another place, Shan and Meng paused. "We don't actually own this polar bear," said Shan. "We have exchange programs among zoos and aquariums." Meng, however, said that Pizza could possibly be transferred back to a park in Tianjin where she belongs.
A wildlife park in northern England's Yorkshire has made a public offer to take Pizza, but the mall owners say they "have no need for foreign organisations to get involved."
Sending Pizza "back" to the Arctic is out of the question, animal experts say. Captive-born polar bears who don't have the skills to catch prey or protect themselves from predators have already lost the ability to return to the wild, said Kerry Branon from the Massachusetts-based International Fund for Animal Welfare.
Instead, Pizza could soon be joined by more animals. Grandview Mall has plans to introduce another large zoo (link in Chinese) with 200 species including four pandas (link in Chinese) and white tigers, next year.