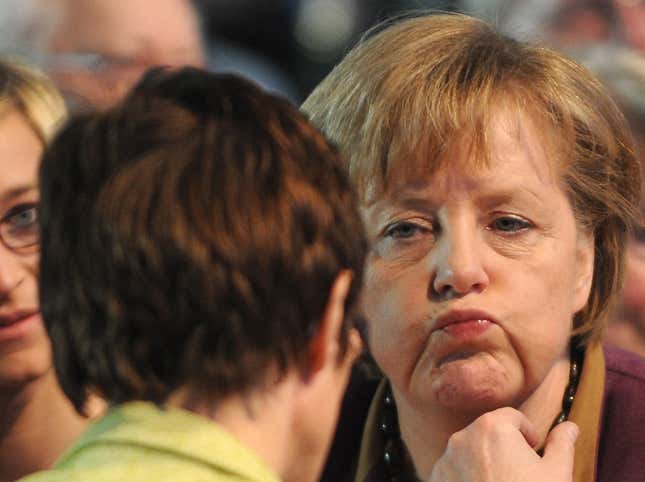 It's a bad day to be Angela Merkel, or rather a bad week. The German chancellor is facing trouble on all fronts. Business sentiment is at its lowest point since early 2010, there's renewed talk of recession, and German papers are reporting a Greek funding gap of €30 billion ($38.8 billion), more than twice previous estimates, and news that the German Bundesbank is looking into the legality of the European Central Bank (ECB)'s new bond-buying scheme.
Here's a roundup of the low points from Germany:
Business people aren't happy. A closely-watched survey, the Ifo Business Climate Index for German industry and trade, indicated that September marked the fifth month in a row of declining satisfaction with the business situation and increasing pessimism about the future. There was a glimmer of good news related to consumers from another survey. GfK's Consumer Climate study suggested that consumers are slightly more positive about the economic future than at any time over the past three months, although this isn't translating into increased consumer spending. Overall there's little cause for optimism. GfK also said that exports to Greece, Spain and Italy have slumped recently. These numbers were somewhat offset by increasing exports to China and the US.
People are talking about recession. The negative sentiment led to fresh talk about a German recession, despite a Bundesbank report saying the domestic economy was strong. Economists are predicting economic contraction in the third quarter. Meanwhile, reports emerged expressing concerns about the health of German banks, which have the highest exposure to Spain (wsj.com). Spain is under pressure to seek economic relief through a European Central Bank's bond-buying program. Whether the country does or doesn't, a worsening situation in Spain and the rest of the euro zone could result in the loss of Germany's triple-A Moody's credit rating, according to the Wall Street Journal.
Germany's press is so negative. After Der Spiegel reported at the weekend that Greece had a €20 billion funding gap (to furious Greek denials), The Süddeutsche Zeitung now says it is €30 billion. The "troika", international creditors from the European Commission, ECB and the International Monetary Fund, is said to be preparing a report outlining the shortfall and blaming it on the recession in Greece that has wiped away any budgetary savings. If true, the country would likely face either a new debt restructuring or a forced exit from the euro zone. Meanwhile, German tabloid Bild reported that Germany's central bank, the Bundesbank, is investigating the legality of the ECB's new bond-buying plan, related to an EU ban on direct financing of state deficits. Reports said the matter could be referred to the European Court of Justice.
Merkel isn't getting any support. All of this bad news leaves Merkel in a bind. Greece needs more help than previously thought, but sentiment back home is hardly supportive—given a weakening economy—and least of all from lawmakers. Getting parliamentary support to increase aid for Greece could be political suicide (paywall), as it would likely require opposition votes and divide Merkel's center-right coalition. And now even the latest ECB rescue measure could be in question.
Despite the pressure, the unflappable Merkel has kept cool. Today before an audience of the Federation of German Industries, she urged a calm approach to the euro crisis. Germany is "not an island," she said. "We are an export nation. Forty percent of our exports go to the euro zone, 60 percent to the European Union. We can't disconnect from European and global economic developments."