For the third time in eighteen months, president François Hollande has addressed the nation to declare a three days of national mourning (paywall).
He did so following the terror attack last Thursday, when a man plowed through a crowd of people celebrating Bastille Day in Nice, killing more than 80 people. He did the same after the attacks in Paris last November, which was Europe's worst terror attack in 10 years, where 130 were killed, and the Charlie Hebdo attacks that left 17 dead in January 2015.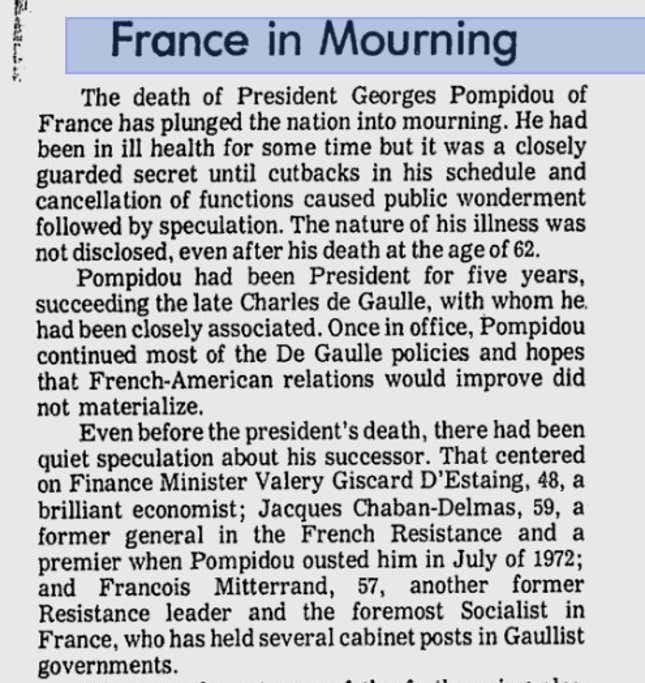 While this routine has become all too common—so much so that prime minister Manuel Valls warned that "times have changed and we should learn to live with terrorism"—national days of mourning are actually quite rare in France.
The government has declared periods of national mourning just eight times since the beginning of the 20th century, according to Le Figaro (link in French).
In 1930, after the devastating tarn floods, where hundreds were killed and thousands were left homeless, the French government declared a national day of mourning for the victims. They did so again in 1970, following the death of war hero and founder of the Fifth Republic, Charles de Gaulle.
In 1974, another national day of mourning was declared after Georges Pompidou died during his presidential term. Two years later and another day of national mourning was declared following the death of France's longest-serving president, François Mitterrand.
A day of mourning was declared throughout the European Union after the Sept. 11, 2001 attacks in the US. At noon on the official day of mourning, pedestrians in Paris reportedly stopped in their path and cars pulled over to observe three minutes of silence.
Fourteen years later, the next three have come in shockingly quick succession. Several of those days of mourning have been for former presidents. With the Charlie Hebdo, Paris, and Nice attacks, these ongoing national days of mourning are coming to define Hollande's presidency.