Donald Trump, the Republican candidate for the US presidency, has had a difficult time when it comes to clothing. Macy's dumped his signature line after he made inflammatory comments about Mexican immigrants to the US, and he has been lambasted for manufacturing his clothes overseas while decrying that same practice. Now the maker behind some of Trump's campaign t-shirts and hoodies has disavowed his message.
The campaign is using American Apparel's products for some of its campaign merchandise at the Republican National Convention, WWD reports (paywall). This may have seemed a safe choice, given that the brand makes a big point of being American-made. Except that American Apparel has also for years been staunchly and vocally pro-immigration, in direct opposition to the policies Trump and his supporters promote.
In the past, if not currently, the company has employed thousands of undocumented workers. In 2009, it was forced to fire about 1,800 workers, more than a quarter of its workforce, after a federal investigation found problems with the documents workers presented when they were hired. Atop its Los Angeles factory, it bore a large banner that read "Compania Rebelde"—rebel company—and even offered workers free phone calls to Mexico.
Dov Charney, the company's ousted founder and a Canadian immigrant, started a campaign called "Legalize LA" advocating for immigrants' rights, and led protests against issues such as the repeal of California Senate Bill 60, which allowed undocumented immigrants to obtain drivers' licenses. The factory lunch room displayed a poster-size version of his first resident alien card.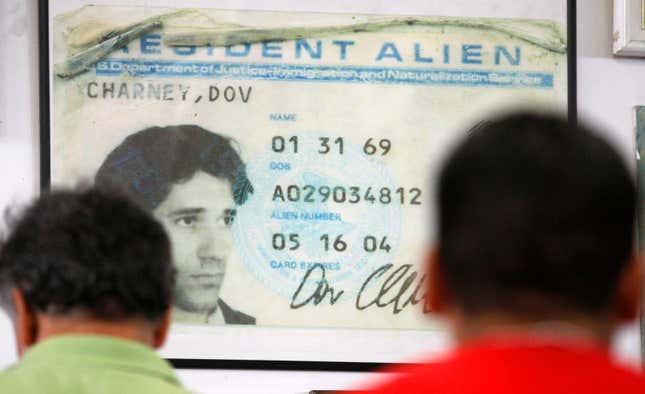 Upon learning of the Trump campaign's use of its products, American Apparel issued a statement distancing itself (paywall) from the Republican nominee for president:
American Apparel is a company that stands for inclusiveness, as is evidenced by our campaigns tackling issues such as immigration reform, discrimination, marriage and gender equality.

Because we believe in free trade, we sell our American-made T-shirts to thousands of screen printers across the country, allowing them to sell to any customers they choose.

Since we cannot control our wholesalers' business practices, we want to emphasize that our core values do not always align with the messages printed on the end consumer's product.
As the statement indicates, American Apparel also publicly promotes gay rights, while Republicans show less support than both Democrats and independents on issues such as gay marriage.
It's not the most significant mishap the Trump campaign has to deal with at the moment, but it does highlight the fact that many American-made products are in fact made by the immigrants Trump has said he would keep out of the country. They remain a vital part of the American workforce in labor-intensive jobs, and especially in garment manufacturing (pdf), where they're often paid little and work long hours.
American Apparel has made a policy of welcoming these workers, paying them relatively well, and offering them benefits such as health care and bus passes. (Though currently many American Apparel workers are unhappy with Charney's replacement as CEO, Paula Schneider.)
We have reached out to the Trump campaign for comment and will update this post with any new information.