Two things about the latest tech trend of virtual reality: 1. The world is going crazy for it. 2. It's actually an utter hassle.
The latter is the reason VR hasn't yet taken over every single consumer industry—though there are some that would be transformed by it. Music is one of those. Virtual reality technology could offer visually stunning music videos and a deeply immersive listening experience. The pleasure of live performances could get a lot more intense, or even become available remotely.
We're not there yet. But Google's project to bring spacial audio to the web—i.e. transform everyday browsers like Chrome into surround sound VR media players, no extra platforms or clunky gadgets necessary—gets us closer.
Called Omnitone and released earlier this week, the open source project makes it possible to rotate sound fields according to the direction the user is facing. Essentially, it allows people to hear things from exactly "where they're coming from" in virtual reality; the audio coming through in a pair of headphones can amplify, fade, or change accordingly as one turns his or her head, just like in real life. (If you have earbuds in right now, you can demo the experience here.)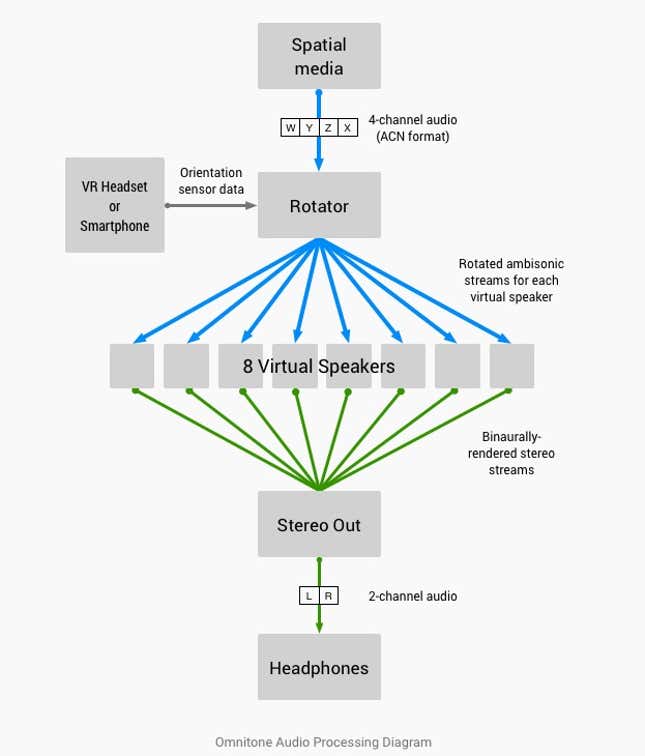 The most obvious use for Omnitone is in VR gaming, where realistic audio experiences are crucial. Yet Omnitone could also be a major boon to music companies, particularly live events companies, that are hungry for new products to sell to listeners. Though live music performances are currently in their heyday, much more money could be made if music fans who can't now attend their favorite band's live show had a new method of doing so. Supposing they could tune in to a hyper-realistic version of that concert on the web for a much better price and minus the sweaty crowd?
Musicians like Deadmau5 are already experimenting with virtual reality on their own. As Google hones its new surround sound audio project, the rest of the music industry may find itself able to catch up.