At a jam-packed event today at Samsung's massive New York store where it doesn't actually sell anything, the company unveiled a slew of new products, and some key updates on when others it recently announced will be on sale.
Here's a quick round up of everything Samsung announced, and where it seems the company is heading:
Samsung Note 7
Skipping right over the number 6—as Samsung told Quartz the new phone is in the same "design family" as its latest flagship phones, the Galaxy S7 and S7 Edge—the Note 7 is the next iteration of Samsung's "phablet" phone it first launched in 2011. At first glance, it looks a lot like the Galaxy S7 Edge, right down to the curved glass edges on the front. But unlike the Edge, which felt a bit awkward in the hand when held by the pointed side edges, the Note 7 is curved all the way around, and feels great to hold.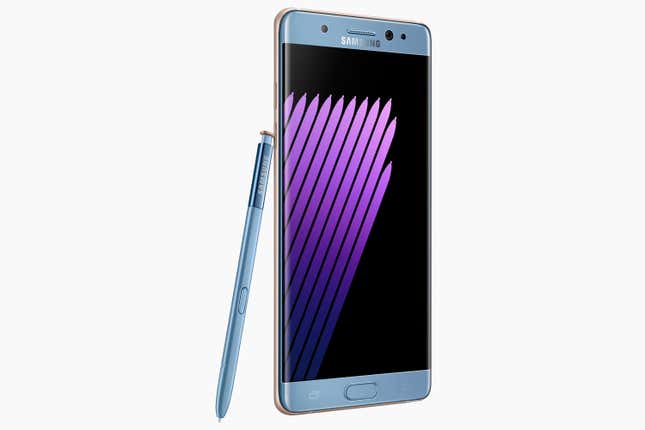 What's new
Iris scanner. Just like in Minority Report—which is not necessarily the best movie for a company's technology to conjure up—Samsung's newest phone can recognize your iris using a dedicated camera. Irises can be saved on the phone and used to unlock the device, or access protected files on the phone. The scanner worked pretty well in Samsung's demonstration, although it did have a bit of trouble with my giant glasses, though others with more normal-sized glasses seemed to work fine.
Water-resistant. Like the Galaxy S7, the Note 7 doesn't mind getting dropped in water, or champagne poured over it.
USB-C. The Note 7 uses the latest USB plug fad, meaning you're likely going to have to replace all the old cables you own. But at least now you'll never get stuck figuring out which way the cable fits into the phone.
Nice cover. Last year, Samsung unveiled the bizarre keyboard case for its high-end phones. This year, it's unveiled something a bit more useful: A case that props the Note 7 up like an iPad cover. Given the size of this phone's screen, it's perfect for using on long flights or any other time you feel like watching a movie hands-free.
Make GIFs of the world. The Note 7's stylus has a function where you can select any part of the screen, and turn whatever's playing on it into a short animation. The world is now your meme-based oyster.
New stylus. The latest version of the Note comes with a redesigned "S Pen" stylus that's smaller, lighter, and meant to feel more like writing with a ballpoint pen. You still can't rest your hand on the Note while writing with the Pen, though.
Magnify stuff. Even though the screen on the Note 7 is massive, it's still not always easy to see every attachment or web page you come across. Just like with the GIF action, a new function on the stylus allows users to hover over the screen with the stylus and blow up what they're seeing. Excellent news for the visually challenged.
Stronger screen. It's made out of the newest version of Corning Gorilla Glass, which is supposed to withstand most drops.
Better battery life, storage, and speed. The Note 7 has a larger battery than its predecessor, 64 GB of storage, and 4 GB of memory, all of which Samsung said will facilitate smooth experiences on more power-hungry apps, like games.
Available soon. The Note 7 is available for pre-order tomorrow (Aug. 3), and in stores August 19. Pre-orderers will also get the option of getting a free 256 microSD card, or a free Gear Fit 2 (Samsung's latest wearable).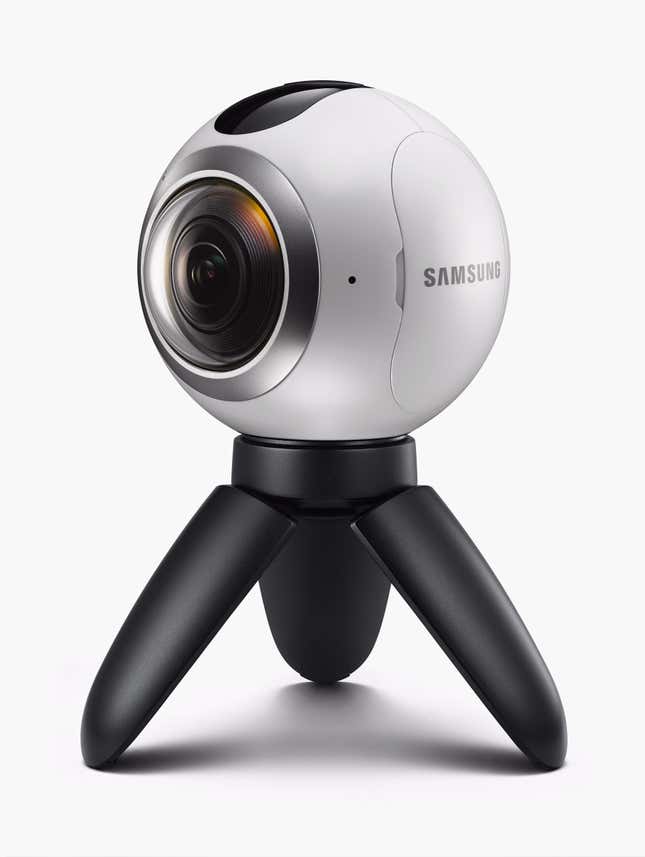 Gear 360 camera
Samsung's forthcoming 360-degree camera will be available for $349—considerably cheaper than a top-of-the-line GoPro camera—starting August 19.
In some initial tests, the Gear 360 seems pretty easy to use and share videos and photos from, and could well end up being the 'next big thing' in mobile video, given that GoPro can't seem to figure out what's next for consumers beyond more rectangular boxes for shooting extreme sports really well. The version Samsung shared with Quartz even came replete with a selfie stick:
Samsung has apparently sold (or given away) over 1 million Gear VR headsets in the last year, and garnered over 2 million hours of video watched through its headsets. But one of the main criticisms of the tech industry's big push into VR is that, although the hardware might be impressive, there hasn't been much to actually do in VR. The Gear 360 camera may go some way to fixing that, if more immersive videos and photos from your friends and family make it worth strapping on a VR headset for a few minutes a day.
Samsung Gear VR
Samsung announced a new version of the headset that it's built in partnership with Facebook's Oculus. The new version is sleeker than previous models, streamlining the external controls, widening the cushioning for your face, and providing a wider field-of-view than before.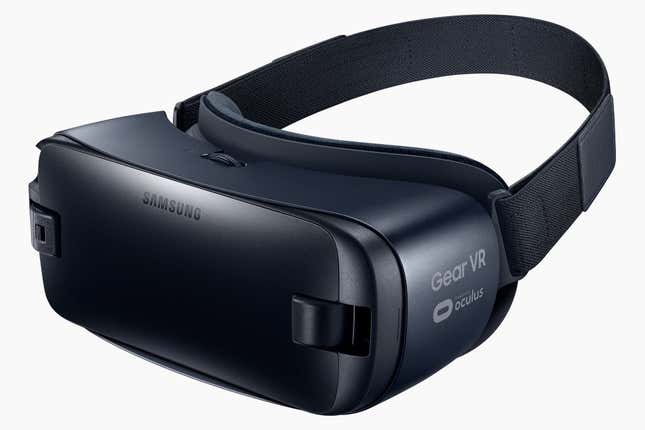 The new model will accommodate a range of Samsung phones, and comes with an adapter so it can work off phones with micro-USB or USB-C chargers. Like the old versions, it will only cost $100.
Samsung had a demonstration set up where a new Gear VR was connected to a skateboard on hydraulics that moved in time with a 360-degree video of some insane people skateboarding down a mountain. It was tough to tell from this short experience—the average person doesn't have a computer-powered skateboard in their house—whether the new Gear VR was intrinsically better than the versions before it, but it definitely showed what sorts of experiences might become available to someone sitting on their couch when these cameras get in the hands of videographers.
An ecosystem
What Samsung showed off Tuesday was really bigger than a new phone or camera or virtual-reality box. The company outlined a structure for how it can continue to drive sales beyond just selling new phones. While Apple's strategy for incremental sales when customers aren't in the market for a new iPhone seems to revolve around selling them services and software, Samsung appears to think the answer is more stuff—and it might be on to something.
The new Note 7 looks like a great phone at first blush, but by also releasing a (relatively) cheap 360-degree camera and a quite cheap refresh to its VR headset—along with eventually a pair of bluetooth earbud headphones—Samsung has found novel ways to sell more pieces of hardware to phone owners who aren't after a new phone. Add to all that the Gear Fit 2 that's already on the market, and you've got a laundry list of add-ons for Samsung phones that all cost a few hundred dollars and all have reasons to exist. They're not vestigial add-ons like a $99 stylus or a $39 port adapter; they're devices integrated with Samsung's phones that make them more fun to use. Samsung has realized this, and will be selling packages of devices—such as a phone, a VR headset, and a 360 camera, as one bundle—as well as selling the devices individually.
The Galaxy Note 5 was the most-loved phone of last year, so it makes sense that Samsung would want to use its goodwill to launch a, er, galaxy of products around its successors. It remains to be seen, however, whether users will be interested in this new ecosystem that Samsung is envisioning. But at least the company seems to be putting out a slew of really promising devices, rather than just a series of rectangles in every size imaginable as it has in the past.