Enigmatic R&B singer Frank Ocean is releasing his first new tracks in years. His album, Boys Don't Cry, will live exclusively on Apple Music for two weeks starting Friday, after which it'll become more widely available, according to the New York Times (paywall).
Yet the musician's most dedicated fans will still have to head to the store. But not a record store. An Apple store.
A feature of the deal is that Boys Don't Cry will be accompanied by a printed publication of the same name that will only be distributed at Apple stores. A photo on Ocean's website shows a heap of glossy, none-too-cheap-looking magazines. The singer has also hinted in the past that he'd personally edited a publication related to the record.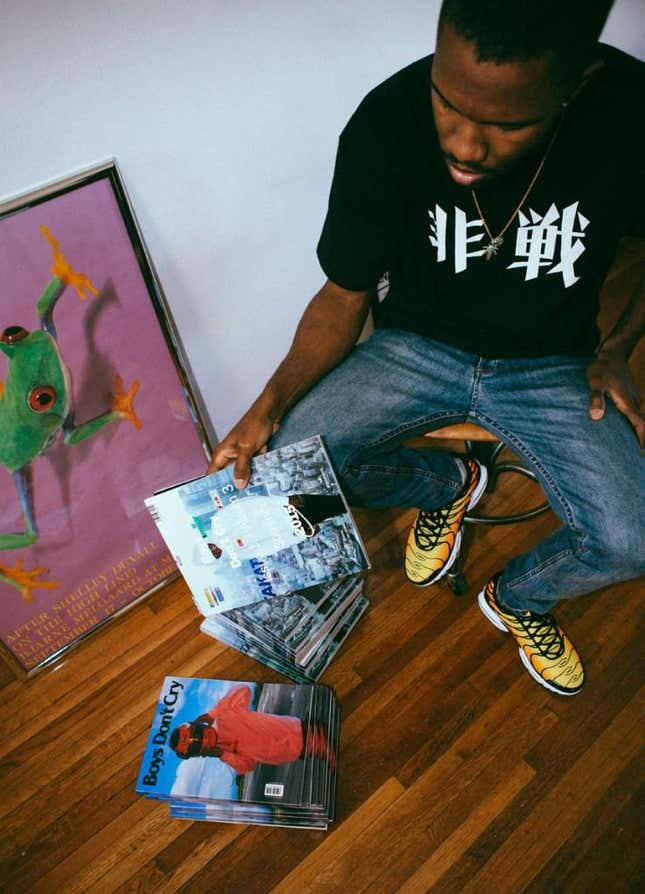 It's reminiscent of when bands like Pearl Jam released albums on vinyl before the CD came out, when "real fans" would search for limited editions and hard-to-find Japanese versions of albums. In many ways, it's closer to what sneaker releases are nowadays.
That this printed accompaniment will only be available through Apple's physical stores means that serious Ocean fans will not only have to download Apple Music for a listen of the new album, they'll have to venture into an Apple store as well—a throwback in the era of pure digital consumption that streaming has set up thus far and a reward to the faithful.
Ocean's Apple Music deal is otherwise similar to the exclusivity windows for albums that Apple and others have negotiated in the past, such as with Drake's Views earlier this year.
Of course, it's a smart ploy on Apple's part—using exclusive artist deals to usher people into a place where they'll be sold more and more Apple products, as well as urging them to sign up for the company's $9.99 subscription music service in the first place.
Consumers may be less enthused. They might even opt to get their fix the old-fashioned way—illegally.