Apple shares briefly skipped below $400 a share earlier this afternoon, the first time they've been in that neighborhood since late 2011. The catalyst for the day's ~5% tumble in the Cupertino stock was set off by a particularly bleak outlook from one of its suppliers, Cirrus Logic. The shares fought tooth and nail to hold above $400 today.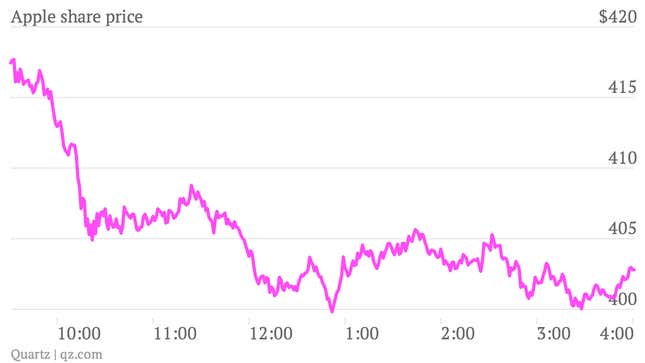 But perhaps more importantly, sentiment has never been so lackluster towards the stock. Here's a look at Apple's valuation on a price-to-forward-earnings basis. At 8.6 after Tuesday's close, Apple is the cheapest it's been in a decade.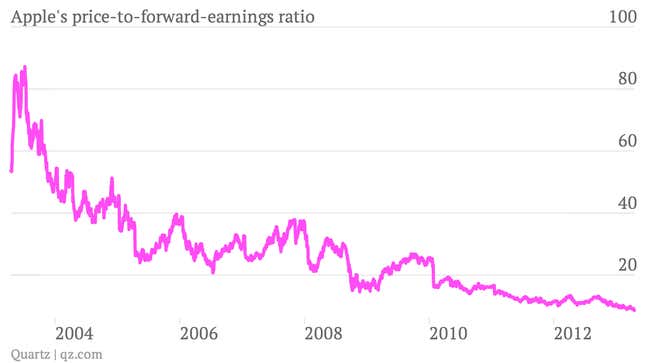 Still, the concern seems to be that those "forward" earnings—essentially analyst expectations for what Apple will earn—might be a bit too optimistic. Even before the Cirrus report today, analyst have been taking down their consensus expectations for the stock's earnings per share. You can see in this chart that they chopped expectations sharply in the wake of Apple's last earnings report in January. And more recently expectations for the next earnings report, due April 23, have been burrowing still lower.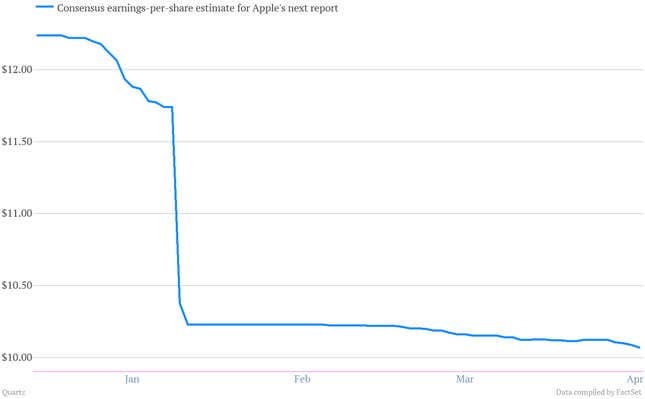 And that could bode ill for Apple's potential to grow its profits. It was once unquestioned that Apple could deliver massive profit growth, despite how large its profits were already. (For heaven's sake, Apple earned $13 billion last quarter, the second-largest quarterly profit ever from an American company. Only Exxon Mobil, which has retaken the title of largest company by market capitalization from Apple, has ever had a fatter bottom line.)
But on a year-over-year basis, net income was roughly flat during the most recently reported quarter, up just 0.1%. That's the weakest growth since the worst of the great recession. This chart just shows how sharply Apple's profit growth has gone from spectacular to almost zilch.