Much of the ad is dark. It shows US Olympian Michael Phelps swimming, and his grueling workouts outside the pool and international competitions. The ad's theme, and its tag line, are this: "It's what you do in the dark that puts you in the light."
As of this writing (Aug. 15), the ad, created by Under Armour, has been viewed on YouTube more than 10 million times, and received at least a little hyperbolic press. Last week, AdWeek reported that data from Unruly, a platform for social video advertising, now places the ad as the second most shared of the 2016 Olympics, and the fifth most shared Olympic spot ever—even though it debuted months ago, and doesn't mention the Olympics once.
The ad, part of Under Armour's "Rule Yourself" campaign, is an undeniable victory for the company. The games offer an unrivaled marketing opportunity for makers of sporting goods. Under Armour, which has its biggest presence at the Olympics ever this year, both in advertising and in the nearly 250 competing athletes it sponsors, has capitalized quite effectively.
The spot, which won a top prize at the 2016 Cannes Lions International Festival of Creativity in June, shows Under Armour smartly leveraging a change in the Olympics' marketing rules that are making their debut this year. Previously, under so-called Rule 40 (pdf), the International Olympic Committee (IOC) prevented athletes and brands that weren't official sponsors of the games from even mentioning an athlete's performance for any sort of promotion. During the 2012 London Olympics, for instance, Virgin Media had to pull its ads featuring Jamaican sprinter Usain Bolt. Under Armour similarly couldn't promote its relationship with Michael Phelps, who had first signed with the company, based in his hometown of Baltimore, two years earlier.
The rule has been unpopular with athletes and smaller brands, such as Brooks Running. For most athletes, it's financially difficult to finance their participation at the games and many want to use them for advertising opportunities. Last year, the IOC slightly loosened the restrictions of Rule 40, allowing brands to run "generic" ads that feature athletes as long as they debuted six months in advance of the games. Under Armour is exploiting the change, which may allow it to reach new customers overseas.
The ads aren't Under Armour's only Olympic marketing success. Since early 2013, or about six months after the 2012 London Olympics ended, Under Armour has provided uniforms and other apparel for US gymnastics, and it's been rewarded with the logo appearing prominently during the team's widely watched routines.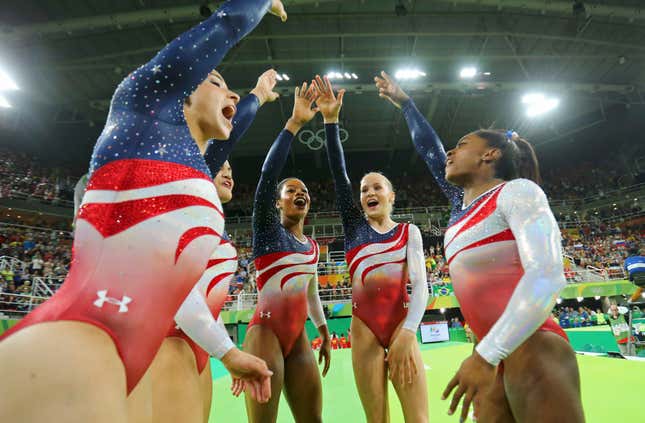 These efforts could bring Under Armour more exposure than many of the games' official sponsors. It's a strategy that Nike pioneered, and this Olympics, it's been golden for Under Armour.