Athletes aren't the only ones who've waited years to compete in the 2016 Olympics. For rival sports brands, it's time to vie for the spotlight.
Globally, three billion people are expected to watch the opening ceremony of the Rio games. In the US, the world's largest sportswear market, the 2012 Olympics were the most-watched event in television history. And NBC, owner of this year's broadcast rights, believes the Rio games could be even bigger.
Every time a brand's commercial or product appears onscreen—ideally on an athlete—it's a chance to connect with a truly global audience. This makes the Olympics an arena for industry competition, and especially for dominant brands Nike and Adidas. "There's no greater stage and no bigger moment than the Olympics," says Greg Hoffman, Nike's chief marketing officer.
In 2012, for instance, Nike used the Olympics to promote its game-changing Flyknit innovation and gain an advantage over Adidas, though both had been developing new knit technology for years. It also achieved a major advertising coup: Even though Adidas paid dearly to be the official sportswear sponsor of the games, Nike used a much cheaper sponsorship deal to run a series of well-timed ads that stole the spotlight. Ultimately, more consumers recognized Nike as a sponsor than Adidas that year.
Airtime for brands and their logos is the biggest payoff of the games, since showcasing new innovations and limited editions doesn't add much to the bottom line. "I think it's the cumulative effect of seeing the logo on television over a couple of weeks that really matters," Matt Powell, the sports industry analyst for research firm NPD Group, told footwear-focused site Vamp.
That's why brands leverage their deals with teams and athletes to make sure their logos are the most visible. Because Adidas sponsors the UK team, archer Patrick Huston, won't be allowed to wear his lucky flat cap in Rio, reports the Telegraph. The hat conflicts with Adidas's branding policy—but Adidas doesn't have its own version to offer as a replacement.
The Telegraph additionally notes that UK track-and-field star Katarina Johnson-Thompson, who is sponsored by Nike, ran afoul of UK team rules by wearing Nike sneakers on the flight to Rio. Athletes are allowed to compete in footwear of their choosing, but were supposed to wear only Adidas en route.
"Our goal is to outfit the world's top athletes with the best performance product, so it's important for us to have a solid presence at the Olympics Games," an Adidas spokesperson explains.
Eyebrows also rose recently when Nike unveiled a photo of Team USA Basketball in their official Nike jerseys. Dwight Howard, the only member of the team not sponsored by Nike, just happened to have his Adidas sneakers covered in the photo. Many speculated it was a deliberate cover-up.
Nike and Adidas aren't the only brands throwing their weight around. As the New York Times reported (paywall), Jeremy Taiwo, who is sponsored by running specialist Brooks, will cover up Nike, Adidas, and Asics logos on shoes he wears for jumping and throwing events that Brooks doesn't make a shoe for. The US decathlete plans to do it with "tape, elastic sleeves and cleverly shaded fabric," the Times wrote.
It's all fair play, at least in theory. When large brands sponsor athletes or teams, they can provide significant financial support. This helps to keep alive smaller sports, such as track-and-field, which hits close to home for Nike, a longtime maker of running shoes. "As a brand, running is where we started," Hoffman says,"and so track and field is always special to us, especially on a global stage here."
Now, Nike seeks to create a feeling of connection between the everyday athletes watching at home and those competing in the Olympics, says Hoffman. For the opening ceremony, Nike is unveiling an ad narrated by Oscar Isaac, of movies including Star Wars: The Force Awakens, that shows athletes of all abilities, sports, and ages, from kids just starting out to Serena Williams, busting through their limits.
As for new products, you'll see Adidas' popular Boost soles in use at the Olympics for the first time. An array of Nike items, including the Zoom Superfly Elite, which was developed through partially 3D-printed prototypes, will also be in use among its more than 1,500 sponsored athletes. NikeLab even created jackets and pants specifically for teams USA and Brazil to wear on the medal stand.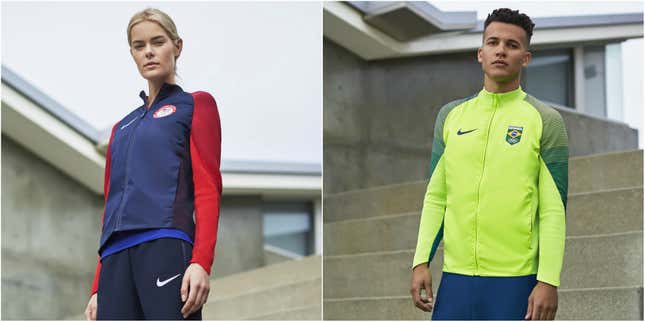 Nike has hinted it may unveil a new innovation on the level of Flyknit in Rio, and you can be sure Adidas has plans of its own.