Amid all the feats of incredible physical mastery and the gold medals, the Rio Olympics has also seen no shortage of devastating defeats and injuries. Some athletes have seen their hopes (and in some cases, bones) crushed during competition, while others have picked themselves up and gone on to complete their competitions—and sometimes even to win.
Here are some of those moments of grit in action. Below, the extraordinary athletes who bounced back from adversity to finish a job they set out to do.
Elia Viviani 🇮🇹
Italian cyclist Viviani (pictured above) ended up as collateral damage in a nasty three-man crash in the final of the fast-paced and chaotic men's omnium race on Aug. 16. A misjudgment by British rider Mark Cavendish led to him accidentally clipping the front wheel of South Korea's Sanghoon Park, who came crashing on the track and in so doing brought down Viviani and Australian rider Glenn O'Shea.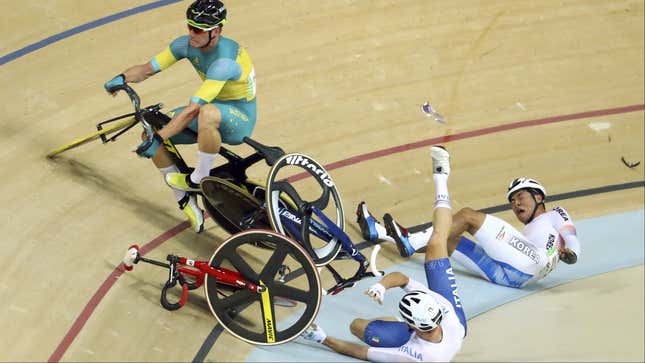 Not only did Viviani (along with O'Shea) return to the race—he won it, and followed up with an emotional, tear-filled lap of honour around the track.
"I got back on the bike. My adrenaline went up so I was really ready," he told Reuters. "I really enjoyed the last 10 laps. It was the race of my life."
Samir Aït-Saïd 🇫🇷
The competition on the vault in the qualifying round of the men's gymnastics on Aug. 6 did not end the way this French gymnast had hoped. Having launched from the vault in a double backflip, Aït-Saïd fell to the ground with his left leg folded under him. He broke his tibia and fibula as a result of the horrifying incident, and was taken away on a stretcher.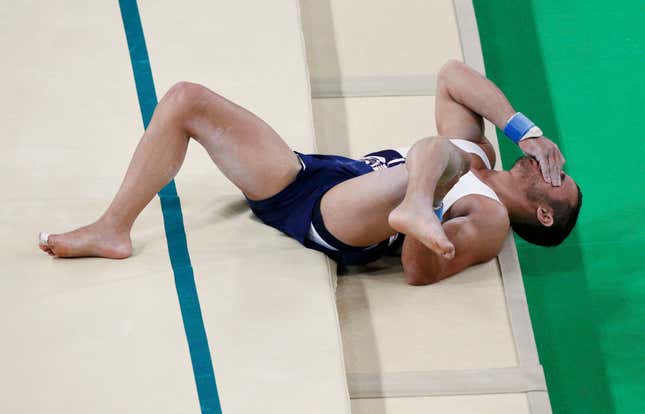 But as the Guardian points out,  Aït-Saïd's comments to French media after his surgery show a dignified and inspiring response to misfortune and pain. Rather than being dejected, the gymnast simply said, "It's my destiny." He told L'Equipe (link in French, paywall):
You have to put it in context. You know, people died in the Paris terrorist attacks, some people lost their children. I've missed out on the chance to make the Olympic final, that's all.
The gymnast, whose hopes in the 2012 Games were also dashed after he fractured his leg in the European Championships, has since posted video footage of his recovery, showing him walking slowly with a Zimmer frame. He has also vowed to compete in the 2020 Games in Tokyo. Bon courage!
Abbey D'Agostino 🇺🇸 and Nikki Hamblin 🇳🇿
Those watching the women's 5,000-meter race on Aug. 16 were treated to the very embodiment of sporting solidarity. It began when, around 3,200-meters into the event, US runner D'Agostino collided with New Zealand's Hamblin, with both athletes falling on to the track.
D'Agostino assisted Hamblin, but quickly after the pair set back off, D'Agostino's knee began to seize up and buckle, and she fell back on to the ground. Hamblin then helped D'Agostino before continuing the race, with the American following behind.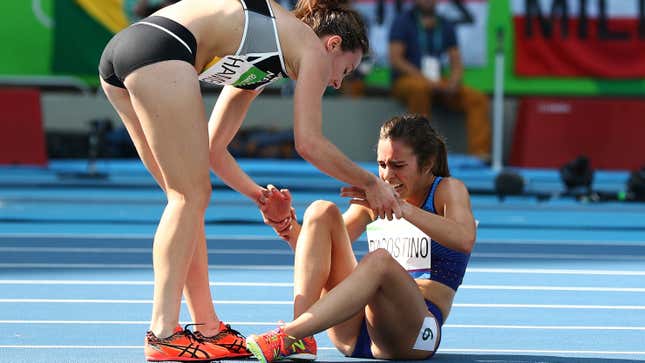 "I went down, and I was like, 'What's happening? Why am I on the ground?'" Hamblin told the press after the race, while D'Agostino was treated by medics. "Then suddenly, there's this hand on my shoulder [and D'Agostino saying], 'Get up, get up, we have to finish this.' And I'm like, 'Yup, yup, you're right. This is the Olympic Games. We have to finish this.'"
Mo Farah 🇬🇧
On Aug. 14, Farah won the men's 10,000-meter race in 27 minutes and five seconds, and in so doing made history by becoming the first British track and field athlete to win three Olympic golds.
The smooth and tactical runner did suffer briefly during the 10th lap, having fallen after he was accidentally tripped by his training parter, United States' Galen Rupp. But Farah was unfazed: he got right back up, carried on powering along the track, overtaking the competition, and surged to the finish.
"I wasn't going to let it go," he told the BBC. "I got up quickly. I thought about my family. It made me emotional. I thought 'get through, get through'. I believed in myself."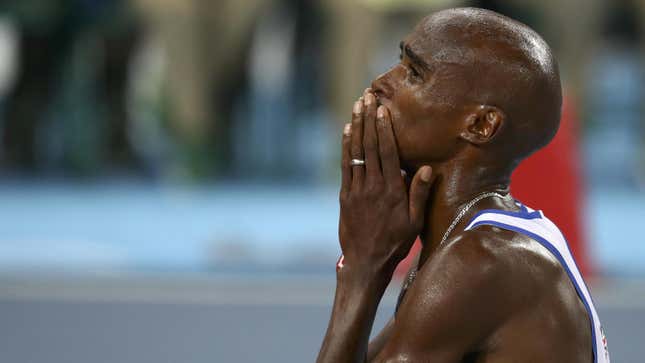 Farah, who won both the 5,000-meter and 10,000 meter races at the 2012 Olympics in London, will now take to the track this Sunday (Aug. 21) to defend his 5,000-meter title.
Miguel Duran Navia 🇪🇸
This 20-year-old Spanish swimmer could not have had a more emotional start to his Olympic dream. During the preliminary heat of the men's 400-meter freestyle, he dived into the pool too early and was immediately disqualified. He left the pool in tears, his hopes shattered, as roaring spectators continued to cheer him on.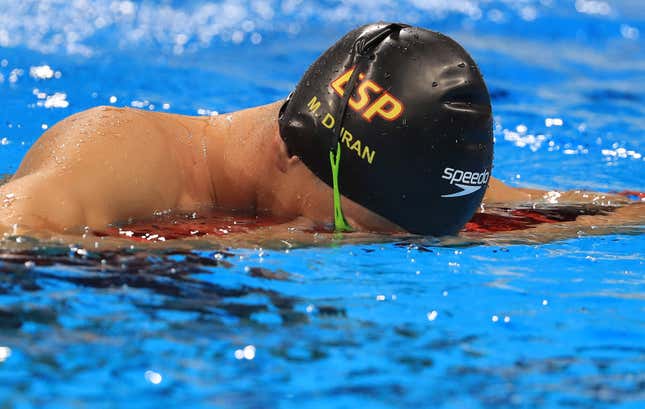 Then everything changed: Duran Navia re-emerged in the aquatics center, having been given a reprieve by referees who judged that the swimmer had—through no fault of his own—jumped into the pool after hearing a sound in the stands. Despite coming last in the heat, that the Spaniard was allowed to compete after such a tense moment is uplifting in itself.
Elissa Downie 🇬🇧
Downie, 17, was performing her floor routine in the preliminary qualification round of the women's artistic gymnastics on Aug. 7 when she turned too slowly during a tumble and landed on her neck. She tried to carry on, but after feeling dizzy and dazed, ended up walking off the floor.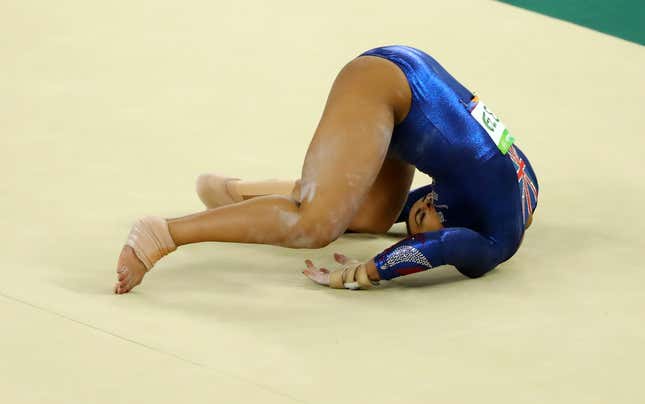 She came back fighting though, returning to the arena to finish her routine on the vault and complete the event.
"I was like, 'Stop, make sure you're okay first'. So I went out, came back, and I was fine," she told reporters afterwards, adding: "It's a little bit stiff when I turn my neck, but I think I'll be alright."
Jeffrey Julmis 🇭🇹
It all started so well for Haiti's Jeffrey Julmis. After confidently gesturing to the cameras at the start line of the semi-finals of the men's 110-meter hurdles on Aug. 17, the athlete set off, only to crash into the very first hurdle in the race and come tumbling down.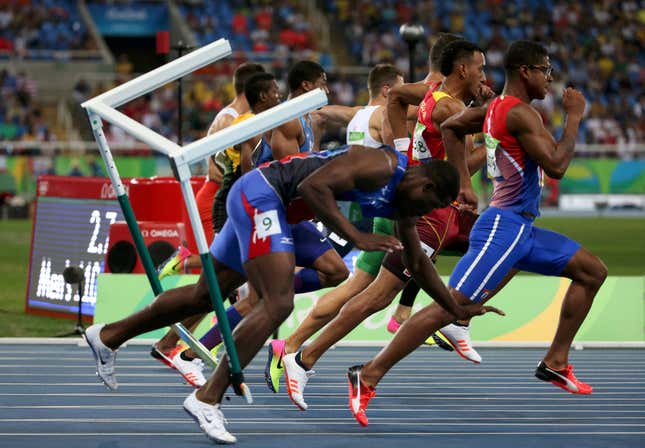 But he came to Rio to race, so race he did: Julmis carried on, encouraged by a cheering crowd, and finished in 25.56 seconds, 13 seconds behind first-place Orlando Ortega of Spain. Despite his resilience, Julmis was, however, eventually disqualified.
"It didn't make sense to go down as a sore loser," Julmis reflected, according to CNN. "But I would've loved to have made it to the final."
Annemiek van Vleuten 🇳🇱
In a horrifying twist, the Dutch cyclist was leading the women's road race on Aug. 7 when she flew over her handlebars with about 11km to go in the final descent, landing on her back by the roadside. She suffered broken bones in her back and a concussion, and received treatment in intensive care.
"I watched back the video and I felt for my mother as it must have been horrible to see that" van Vleuten told Sky Sports. "For me, I am okay now and the worst part was not going to the finish."
Despite her disappointment, she kept her spirits high, appearing at the Rio velodrome to root on her countrymen taking part in the track races days later.