It's a wrap for US gymnast Simone Biles at the Rio Olympics. The 4-foot-8 powerhouse made her final stand at the 2016 games with a floor exercise the won her a gold medal. She'll leave Rio with one bronze medal and four golds. That's the most golds any US gymnast—male or female—has collected in a single Olympics.
With 19 Olympic and world competition medals, Biles also becomes the most decorated gymnast in US history, breaking the previous record held by Shannon Miller.
But America's love for Biles isn't all about the bling. The 19-year-old Texan also won our hearts with her virtuoso routines and awe-inspiring power tumbles. She showed us that teenage girls can be both serious athletes and giggly, fun-loving adolescents. And her triumphs have been felt by black women around the country during a period of tense race relations in the US.
Here are all the ways Biles won our hearts during the Rio games:
She dazzled audiences with her nearly flawless routines and was even called "the greatest gymnast of all time."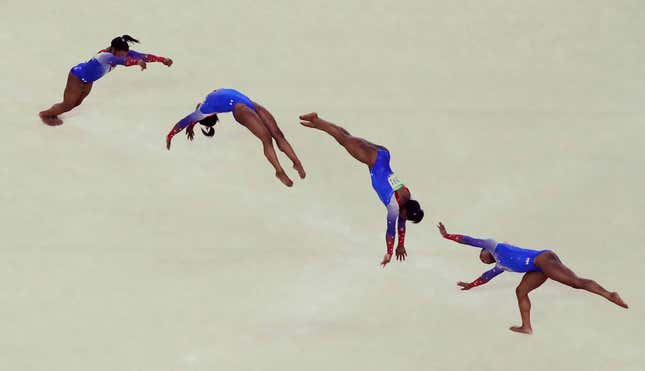 She raced to protect her gold medal when a fire alarm went off in her building, as captured in this charming Snapchat video:
She was more excited for team captain Aly Raisman than herself when the pair shared the podium in the individual all-around finals. Biles clinched the gold, becoming the second consecutive African-American woman to take the accolade. Raisman won the silver.
Sometimes, she knows the exact right thing to say.
After the women's all-around last week, Biles shut down any comparisons to renowned male Olympians and made it clear that her accomplishments were her own. "I'm not the next Usain Bolt or Michael Phelps," she told Sporting News. "I'm the first Simone Biles."
She shared this adorable throwback picture of her and teammate Laurie Hernandez before the balance beam finals on Monday.
Biles stumbled and nearly fell off the beam during the competition, but held on.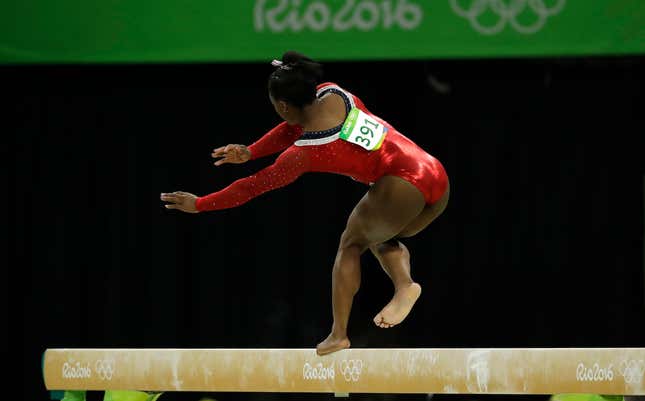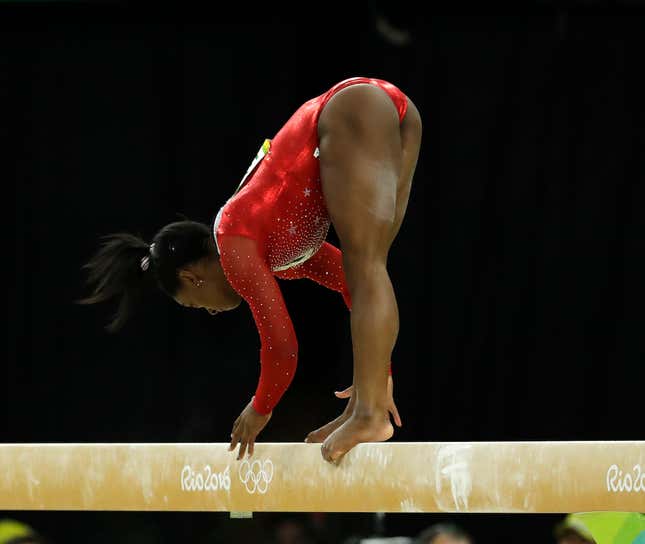 The slip up cost her the gold, but she took it like a champ.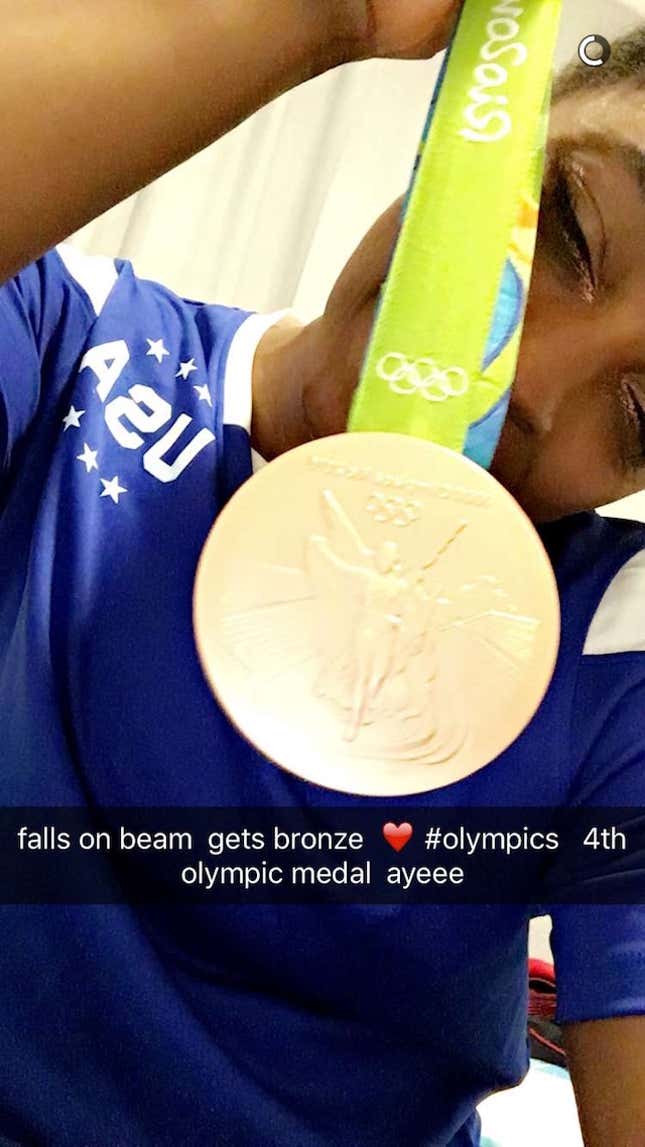 Biles is a big supporter of her male counterparts. She reportedly went out of her way to watch American gymnast Alex Naddour compete.
And Biles shared this endearing moment with silver-medal winner Danell Levya:
Biles got a lot of love during the games from celebrities including Taylor Swift, Floyd Mayweather, rapper G-Eazy, and Kim Kardashian-West, whose two-year-old daughter North is apparently quite taken with Biles. But it was her celebrity crush Zac Efron who truly made the Olympian star-struck.
The actor, who is a big fan of the Final Five, surprised the young women during an NBC broadcast on Tuesday night (Aug. 17). And they all lost their cool.
He gave Biles, who reportedly has a life-size cardboard cutout of the actor in her home, a cute kiss on the cheek.
And she swooned.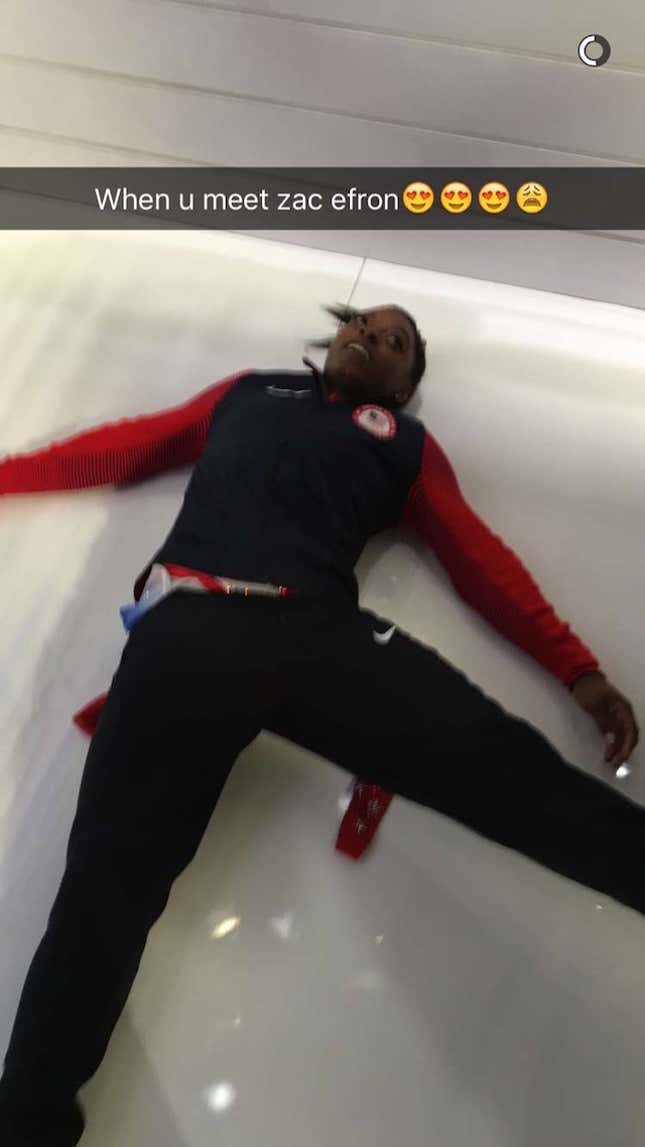 Last, but not least, Biles has an amazing support team in her family, 17 of whom flew to Rio. In Biles' own words: "Family is everything."