Congratulations, linguists: You're finally getting your big moment.
On Tuesday (Aug. 16), Paramount Pictures released the first full trailer for Arrival, a science-fiction film about a linguist (played by Amy Adams) trying to communicate with aliens who have mysteriously arrived (😉 ) on Earth. The film is directed by Denis Villeneuve, who helmed Prisoners and Sicario (both excellent) and is currently working on the Blade Runner sequel. Watch Amy Adams try to decipher an alien language below:
It's a miracle that Arrival and a movie like Independence Day: Resurgence can come out only months apart. While both are about aliens, that's pretty much where the similarities end. Resurgence is the ultimate Hollywood movie: a big-budget, explosion-filled, FX-driven apocalyptic blockbuster made 10 years after its predecessor, which makes it both a reboot and a sequel that few people asked for.
Arrival is neither sequel nor reboot nor remake, though it is based on the beloved short story by Ted Chiang, "Story of Your Life." The film originally had the same name, but it was changed in June to the more marketable and ominous-sounding Arrival. Paramount Pictures gave the movie a mid-November release date, indicating that the studio sees it as an awards contender.
Thankfully, the usual slew of big-budget sci-fi action retreads like Resurgence has not prevented Hollywood from also investing in smaller, smarter movies about science and technology. (Some would say the retreads are actually what allow studios to finance brainier movies like Arrival.)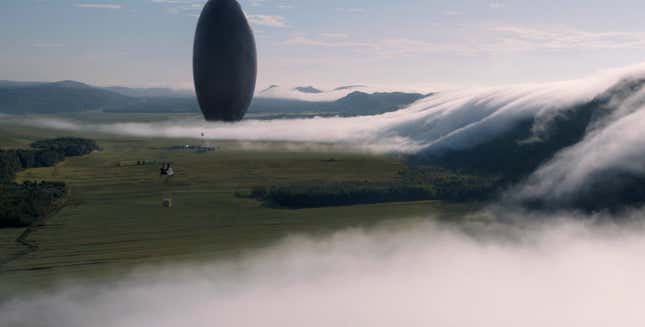 Films like Moon, Ex Machina, and Looper show it's possible to make great, high-concept sci-fi movies with relatively small budgets (their budgets were $5 million, $15 million, and $30 million, respectively, compared with a bloated $165 million for Resurgence).
Arrival seems most similar to 2009's Oscar-nominated District 9, which followed a race of aliens who arrive in Johannesburg and are immediately relegated to a slum, an obvious metaphor for apartheid. There are a few explosions and action sequences, but District 9 is an alien film that's not actually about aliens at all (and its budget was a reasonable $30 million).
With a $50 million budget, Arrival lands somewhere between District 9 and Resurgence. To be sure, it's still very much a Hollywood production, with an emerging director and famous actors (Jeremy Renner and Forest Whitaker star alongside Adams), but those expecting an action-packed battle between humans and aliens are likely to be surprised by what they get instead.