Jill Lincoln, a Los Angeles-based stylist, has been dressing celebrities for public appearances, special occasions, and everyday life for a decade.
"It's our role to bring comfort and security to women in what is a very vulnerable part of their job," says Lincoln, of the many looks she has coordinated for women who live in the glare of the spotlight.
She had a hand in the lipstick red Dior dress and Chopard diamond collar Jennifer Lawrence wore to the 2016 Golden Globes. She helped select the sparkling, serpentine Versace gown Sofia Vergara wore to the 2016 Emmys on Sunday (Sept. 18). And she has coordinated countless pairs of blue jeans, tasteful tops, and accessories for the sorts of actresses who are photographed every time they exit an airport or Starbucks—Jennifer Garner, Kate Hudson, and Kiernan Shipka among them.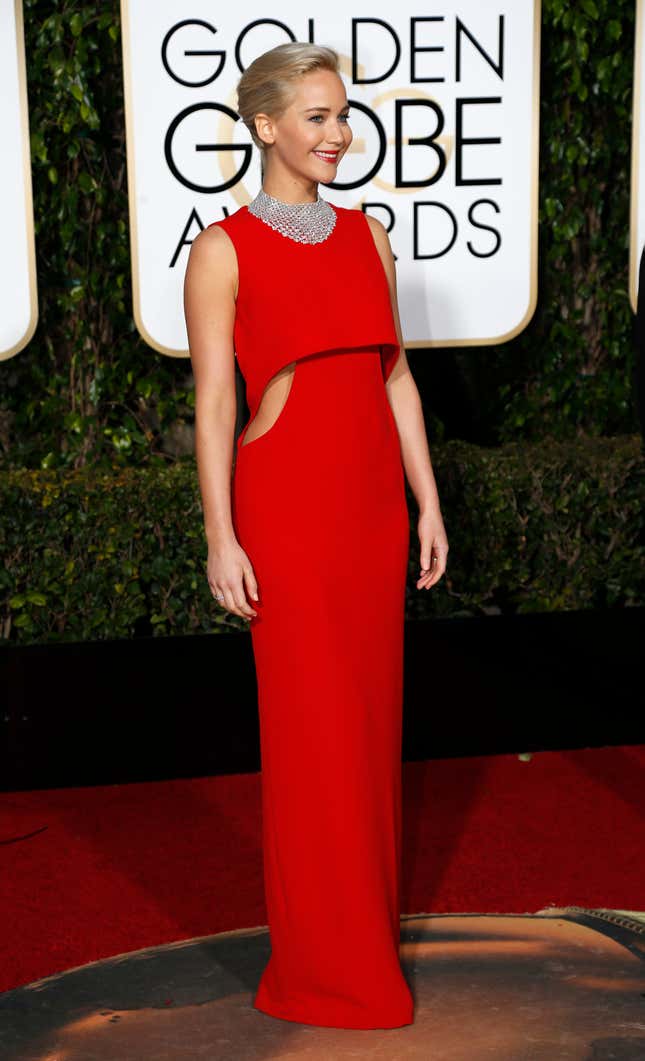 But recently, Lincoln met a particularly challenging body to dress: her own, pregnant.
"I don't feel comfortable being on display," says the petite, sandy-haired stylist. "I still have to maintain a degree of looking presentable. Who's going to trust me to dress them if I'm not put together myself?"
A week past her due date, Lincoln says, she has mastered the art of maternity dressing—"I've got this now," she says. Lincoln and her business partner, Jordan Johnson, want to bring this expertise to more pregnant women in the future.
"Just stick to a formula"
Long before her pregnancy, Lincoln learned the art of uniform dressing—a strategy favored by fashion designers and tech CEOs alike.
"I have to be creative with other people. So I just stick to a formula for myself." Her closet is a sea of grey, black, white, and denim, punctuated with printed dresses and plaid shirts.
The uniform suits Lincoln's job, which demands both comfort and a polished appearance, and it keeps the spotlight where it belongs: on her clients. In pregnancy, Lincoln has held tight to it.
The day we spoke, she wore a maternity version of her favorite Current Elliot jeans, a long white t-shirt, and a charcoal grey cashmere cardigan. On her feet, she wore "fashion Birkenstocks"—double-strapped sandals from Barneys in a Chanel-style tweed fabric.
"It's basically an extension of my regular uniform," says Lincoln.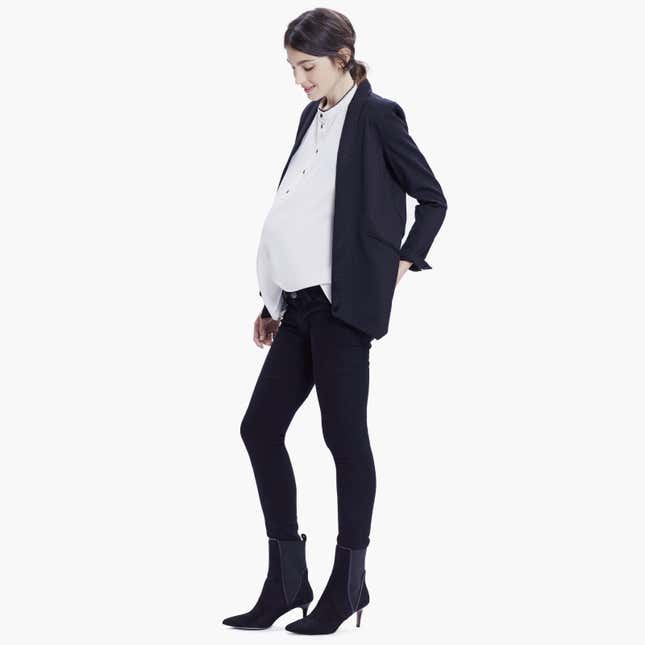 "You don't need to exclusively shop at A Pea in the Pod
"
Like many women, Lincoln doesn't see her personal style reflected in mainstream maternity clothes—but she doesn't see that as a problem.
"There are so many options out there for non-maternity dressing [while pregnant]," says Lincoln. "You don't need to exclusively shop at A Pea in the Pod to get you through these nine months."
Aside from her Current Elliot jeans—made in collaboration with Hatch, which touts clothes for "before, during and after" pregnancy—and undergarments, Lincoln has mostly stayed away from clothes made specifically for maternity.
"You don't need to invest in a whole wardrobe that you'll never wear again after the baby is born," says Lincoln. Instead, she stocked up on Alexander Wang tees—a favorite of pregnant ladies, thanks to their generous lengths—and knit dresses by COS, the H&M spinoff.  "I found five amazing dresses that I've worn through this whole process that I will for sure—for sure—wear after the fact," says Lincoln.
A good tailor can expand the options for maternity-wear too. When Donatella Versace—not known for designing maternity clothes—invited Lincoln to attend her couture show in Paris, Lincoln found a floral printed Versace dress large enough for her growing belly, and had the rest of the dress altered to fit her petite frame.
"Everything has to have stretch"
While the jeans-cardigans-and-Birkenstocks section of Lincoln's uniform remains largely unchanged, her dresses and tops now have a quality that's different from her usual style: stretch. Typically, Lincoln shies away from body-skimming silhouettes in favor of more modest shapes and structure.
"My entire life, no one has ever known that I have huge boobs because I just do a really good job of hiding it," says Lincoln. "So now for me to be kind of drawing attention to that part of my body is an out-of-body experience."
Instead of being subtle about her bump with loose clothes, Lincoln has found that her usual A-line dresses feel a little too tent-like in her pregnant state. "When you wear it as a pregnant person, you really look like a balloon," she says. "I've kind of gone for more fitted styles to show off that there is a bump under here."
As she grows, those fitted dresses have helped Lincoln feel more pulled together, while a beloved cashmere cardigan on top helps her feel more like herself.
Elevate the look—if you must—with wedges
Early on in her third pregnancy, the actress Megan Fox came to Lincoln with a specific request regarding her footwear for a film's promotional tour: Wedge heels.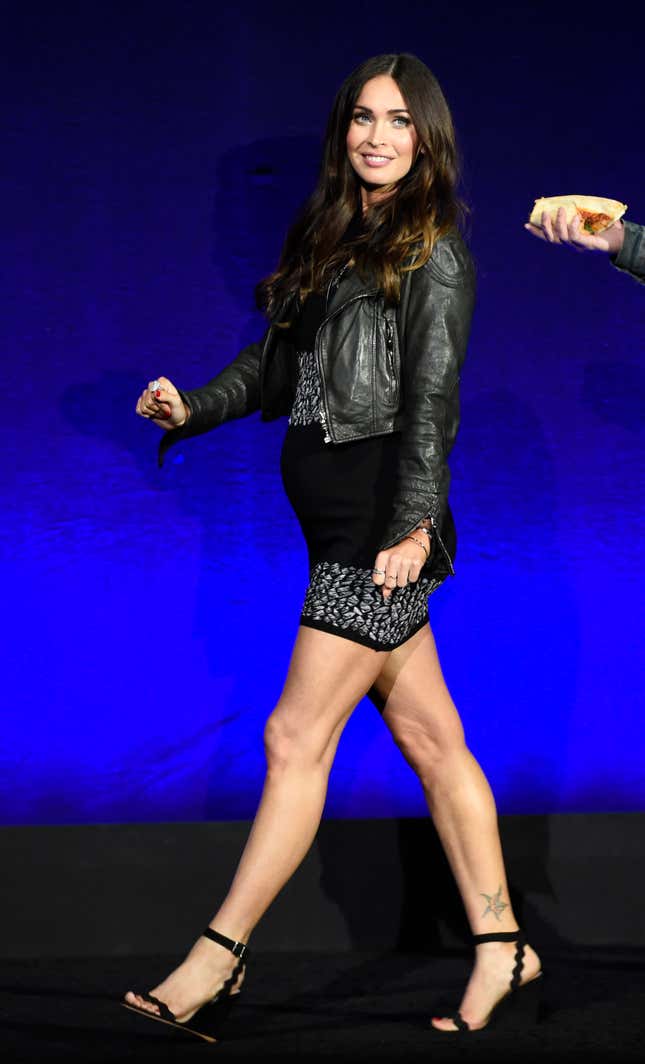 "We were going to be in the thick of her pregnancy when the press really started," said Lincoln. "She warned us that she would be super wobbly."
Many women eschew any kind of heels when pregnant (or ever), but for those who prefer to stand a few inches taller, a wedge heel provides more stable option. When Lincoln felt her own center of gravity shifting, she took a cue from her client.
"I've bought a couple cute pairs of Chloe wedges for this season that I know I'll wear after the fact," says Lincoln. "They help to elevate the look a little bit, but also, I can stand and am comfortable."
After years of making movie stars feel good in their clothes, Lincoln has relished the opportunity to do the same for herself throughout this delicate phase.
"I'm embracing putting a little bit more time and thought into my look," she says. "To take what I do as a profession and apply it to myself. You know, why not?"