It's been 35 years since legendary reggae icon Bob Marley died at age 36. Since then, Marley has retained his status as Jamaica's greatest ambassador without question or debate. At least until now.
At the 2016 Olympic Games in Rio, another Jamaican, Usain St Leo Bolt, cemented his place as the most naturally gifted athlete the world has ever seen.
Bolt first confirmed his tremendous talents by winning three gold medals and breaking three world records at the 2008 Olympics in Beijing, China. He made history again at the 2012 games in London by defending all three Olympic titles, securing victories in the 100m, 200m, and 4x100m. Bolt completed the last of these in 36.84 seconds, a new world record.
In Brazil this month, Bolt carried on his winning streak, once again securing gold in all three races.
Bolt's achievements have earned him many titles, with some going as far as to call him a "saviour" of track and field, a sport that—like so many others—has come under intense scrutiny for doping allegations.
But does Bolt's tremendous success bump Bob Marley out of the running as Jamaica's most impactful citizen?
NBC sportscaster Bob Costas thinks it's possible. "With apologies to all you reggae fans, I think Bolt has even outdistanced Marley," he said on NBC after Bolt's win in the 100m.
Even some Jamaicans are pondering Bolt's legacy.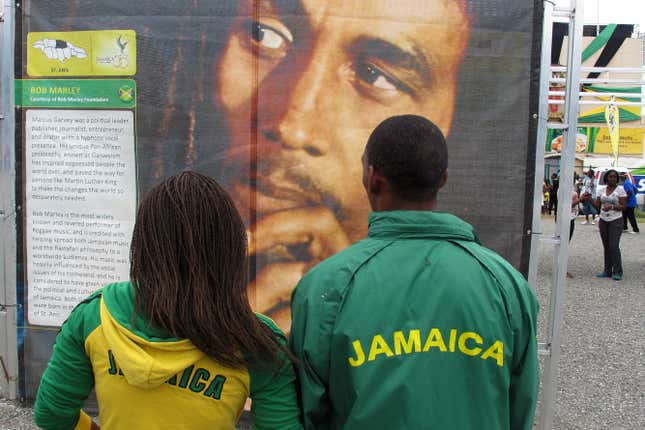 "Yes, Bob Marley is a legend and a superstar, but Bolt appeals to the younger generation right now because he's the fastest man in the world," Jermaine Taylor, a Jamaican player for the Portland Timbers, told MLSsoccer.com.
Back in Jamaica, Marvia Lawes, a Baptist minister, expressed the conflict many people are experiencing. Bob Marley "was good for his time and is still relevant today and he will live on beyond us," she says. "[But] Usain Bolt is something else. I've had a chance to see Usain evolve from a child…I have watched him over the years evolve into this iconic figure."
To be sure, Bolt has faced little of the prejudice that made Marley controversial in what is still a largely Christian country. "Bob is Rastafarian and would have been an offense to some people's religious sensibilities," Lawes says. "Usain doesn't have that barrier."
Jamaica native and radio announcer Nadine Blair thinks Marley has set a high bar for lasting impact. "Years after his death, [Marley] is still influencing the world," Blair says. "His albums are still being sold and not just by one CD a month….He has [a] legacy."
For Nigel Wilkenson, a guidance counselor, "Bob is greater, because in his day you didn't have the media that you have today, yet still he made an international impact. Bolt is great but Bob, with the limitations back then, made a greater impact."
Student Kennesha Jones, 19, says Bolt is no match for Marley when it comes to unifying people. "Bob Marley managed to make songs that unify people. He helped to push the Rastafarian Movement and we're still rocking to his songs," Jones says. "In terms of track and field, Usain Bolt is good. But when it comes to unifying people, Bob Marley gets the edge."
While Bolt may not have replaced Marley as Jamaica's greatest cultural export yet, he still has plenty of opportunity. In a recent BBC interview, Jamaican prime minister Andrew Holness said Bolt would be welcome to spend his post-retirement days in political office.
"I'll reserve a [cabinet] seat for him," Holness said, suggesting perhaps minister of sports. "But you know, Usain could be minister of anything he wants."