Izzy doesn't wear jeans. The 8-year-old New Yorker prefers stretchy leggings, but they can't be too tight, they can't have annoying seams, and they must be made of something soft, not rough or itchy. Oh, and they can't be too loose, either. "When it's loose it also feels weird," says Izzy, short for Isadora.
Her mother, a Quartz editor, is all too familiar with these requirements—as are many US parents currently bracing themselves for back-to-school shopping. Their kids are rejecting structured garments and wearing only soft, unrestrictive clothing. These demands about clothes aren't exactly new—young people have complained about bothersome clothes for ages—but earlier generations of children begged to wear jeans instead of more formal dresses or trousers. Today's children are looking for something that's even more casual and comfy than traditional denim.
The trend (perhaps an unsurprising one in the age of athleisure, when activewear routinely doubles as everyday attire among grown-ups) is evident in what retailers are selling. According to data from Edited, a retail technology company whose clients include the luxury retailer Net-a-Porter, there are 20% more leggings stocked than jeans in the kidswear sections of US online retailers right now. In the last three months, online retailers got 56% more new arrivals of leggings than jeans, and new arrivals of sweatpants trailed jeans by just 18%. Both sweatpants and leggings saw more full-price sell outs online than jeans, according to Edited.
"I think kids are placing more of a premium on being active as well as comfortable and I always hear complaints when they are wearing something that restricts their movement," says Jenny Cooper, head of design for Crewcuts, J.Crew's offshoot for kids, and a mom herself. "Fortunately stretch fabrics have improved amazingly and can convince the itchiest kid to wear jeans or chinos."
Crewcuts currently offers lots of leggings and slim-fit sweats, including pairs that cost upwards of $50, and while jeans and chinos are still popular, they often incorporate stretch fabrics and details such as soft knit waistbands. Several of the back-to-school picks on J.Crew's site emphasize comfort.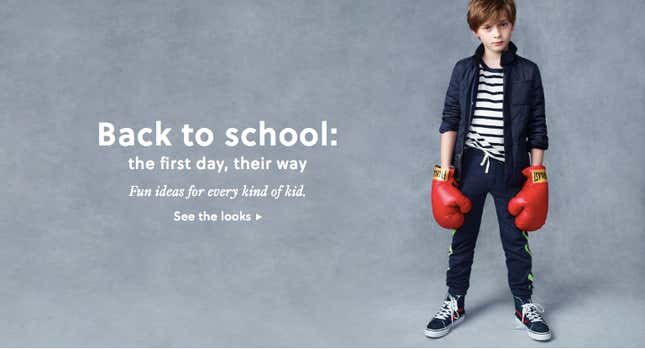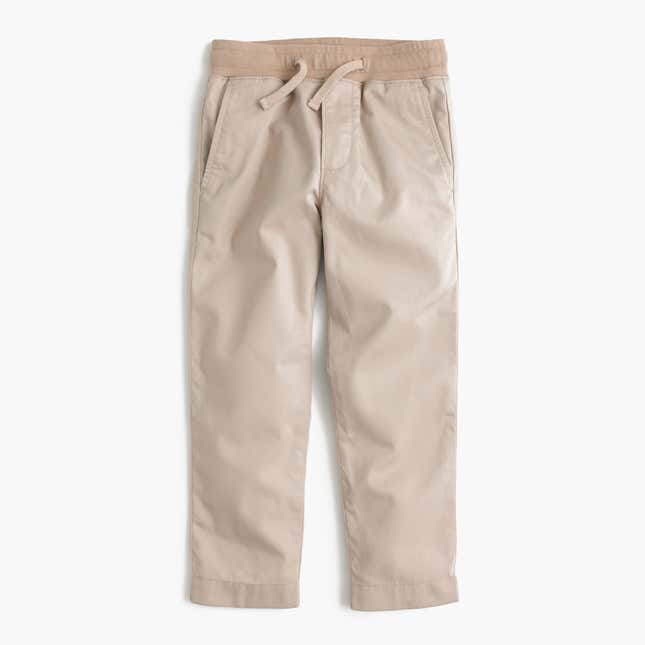 These details matter to kids, including Izzy. "I just care how comfortable it is, unless it looks really, really bad," she explains. "If it's like a really comfortable clown outfit, I would not wear that."
This shift toward the casual and stretchy creates some dilemmas for parents who feel their little ones are too dressed-down, especially as they get them ready to return from summer break to the more formal environment of school. Last year, the New York Times ran a story (paywall) about boys who refuse entirely to wear jeans, practically regarding them as formalwear. They preferred sweats and track pants, to the dismay of a few parents.
"It's a tough balance to find, between comfort and what's appropriate for school," Cooper says. "As adult dress codes loosen up, so do their smaller counterparts'."
Kids still gravitate toward denim and other styles as they get older, but their desire for comfort could remain a higher priority than it was for previous generations. Still, children's predilection for what the industry calls "soft dressing" bodes well for the athleisure market. Katie Smith, a senior analyst at Edited, says these miniature fashion consumers "could have a lasting impact on teen retailers and moving into adult fashion."
Fashion in the years ahead may see formal dress codes breaking down further, synthetics such as polyester continuing to grow, and softness and stretch becoming more common in even the most rugged jeans.