You'd hardly expect swimwear to be central to the "battle of cultures" between France and Islam, as French Prime Minister Manuel Valls described it. Yet the burkini, a full-body covering swimsuit, has become its focal point after more than a dozen towns along France's coast have now banned the garment. Officially, the burkini conflicts with France's secularism, but other reasons have come up. "The burkini is not a new range of swimwear, a fashion," Valls has said. "It is the expression of a political project, a counter-society, based notably on the enslavement of women."
The irony, as many have pointed out, is that a ban restricts what women can wear in order to ensure they're not restricted. But another is that France's history is filled with cultural icons who've pushed back against authority to give women freedom to wear what they choose. 

One of the glories of French fashion has long been its iconoclasm, particularly where women's bodies are concerned. Early in the 20th century, couturier Paul Poiret helped free women from corsets, a trend Coco Chanel continued through the 1920s and 1930s with her suits and jersey garments.
Sonia Rykiel, who died on Aug. 25 at the age of 86, began making chic, practical clothes in the 1960s that broke convention and made it easier for women to physically move around. French president Francois Hollande praised her as a pioneer who "offered women freedom of movement."
By the 1970s, Yves Saint Laurent was breaking gender barriers with his androgynous Le Smoking tuxedo, which helped popularize trousers for women when, amazingly, they were still considered unfeminine and controversial. New York socialite Nan Kempner was famously barred from entering a restaurant while wearing one. Still other designers made their own contributions.
These innovations weren't purely about appearance; they often accompanied—and quickened—changes to women's prescribed roles in society. They were tools and symbols of liberation, "political projects" of a sort.
The burkini is a bit different, of course. Valls and French politicians such as Marine Le Pen view it as a symbol of oppression, since women are presumably being forced to cover up against their will.
But the reality is not so simplistic. Many Muslim women choose to wear the burkini, and it gives many a freedom they might not otherwise have. Marwan Muhammad, the executive director of the Center Against Islamophobia in France, told the New York Times (paywall) that in conservative Muslim countries, women can't go to the beach at all, and certainly can't swim, since wet, clinging fabric would reveal their bodies. In France, the burkini allows them to enjoy spend a day at the beach and get in the water.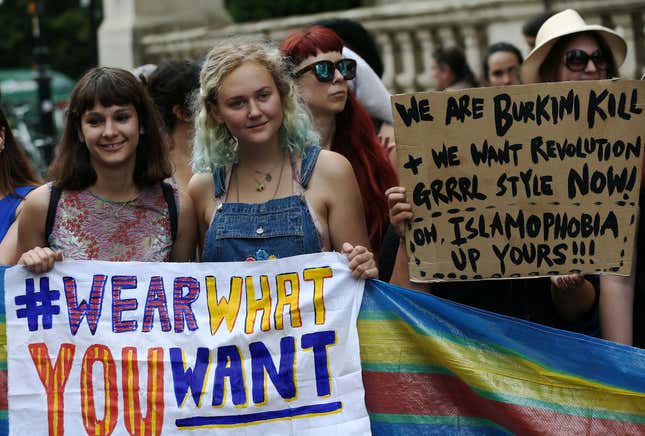 The creator of the burkini, Aheda Zanetti, has said she invented the garment to give Muslim women more freedom of movement—sound familiar?—than they would have swimming in a burka. In an Aug. 24 editorial for the Guardian, Zanetti, who is Lebanese and lives in Australia, described how her invention gave her a sense of liberty she had been missing in her adopted, beach-loving country. "It was my first time swimming in public and it was absolutely beautiful," she wrote. "I remember the feeling so clearly. I felt freedom, I felt empowerment, I felt like I owned the pool."
Zanetti wanted the ability to do as she pleased, which is something countless women in France and elsewhere have similarly sought. Protesters and commentators continue to point out that nobody—not French officials or conservative Muslim men—should dictate what women wear. Probably the most culturally and fashionably French thing a woman could do is wear whatever she chooses.