Moviegoers in the US—and elsewhere in the world—could find themselves watching lots more Chinese films in the future if one of China's richest men has his way.
Wang Jianlin, chairman of Dalian Wanda Group, which owns AMC Theaters in the US, said he plans to screen more China-related films in the country.
"(AMC's) boss is Chinese, so more Chinese films should be in their theaters where possible," Wang said on a talk show (video, link in Chinese) on Sept. 3. If a proposed acquisition by AMC of Carmike Cinemas successfully closes, Wang will end up being the biggest owner of movie theaters in the US.
More Chinese movies could also be showing on screens in Australia, where Wanda bought cinema chain Hoyts Group last year, and in the UK, where AMC is planning to buy the Odeon cinema chain.
Wang's ambition is in line with Beijing's policy to promote Chinese culture and resist "western influences"(link in Chinese) by limiting the number of imported films (link in Chinese). Thirty-four foreign films are imported into China each year at the moment.
Last month, on the same talk show, Wang declared war on Disneyland and said he wanted to "change the world where rules are set by foreigners."
Since Wanda's $2.6 billion acquisition of AMC in 2012, Wang said that the chain has screened over 50 Chinese films, with 15 in 2015 alone.
However, Wang's claims appear to contradict his assertion in 2012 that none of the contracts signed between the two companies mentions the issue of promoting Chinese films in the US. In the talk show, Wang described his new ambitions as "pu tian tong ying," a Chinese phrase that has been used by state newspaper People's Daily to describe the wave of Chinese films (link in Chinese) that was being shown overseas this year during the Lunar New Year.
Wang denied receiving any instructions from the propaganda department of the Chinese Communist Party.
But the reception for Chinese movies hasn't been great in the US, according to figures from Box Office Mojo for the 14 Chinese films screened by AMC Theatres in North America in 2015.
Wanda group screened Chinese comedy Lost in Thailand in February 2013 in AMC Theatres in North America. The film was the highest grossing movie of all time when it was released in China (link in Chinese). In the US it only grossed $57,387, according to Box Office Mojo.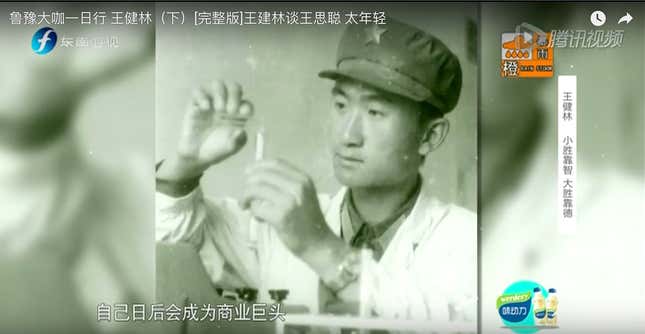 In the 1990s, Chinese action films, or films directed by famous directors like Taiwan's Ang Lee or China's Chen Kaige and Zhang Yimou, performed well in the US market. However, Stanley Rosen, a professor of political science at the University of Southern California, noted that more recently, most of the Chinese films being screened in the US are romantic comedies. Jason Pfardrescher, vice-president of Well Go Entertainment, which distributed Chinese movies in the US including Lost in Hong Kong—a comedy about a bra designer who became embroiled in a murder case while pursuing the girl of his dreams—added that foreign comedies don't translate well.
Despite his global cinematic ambitions, Wang said in the interview that he "barely watches movies." However, he said that he did enjoy Spotlight, though he felt it was "too long, and after watching Blood Diamond he was inspired to stop buying diamonds.
Wang's interview is available here in Chinese and with Chinese subtitles: