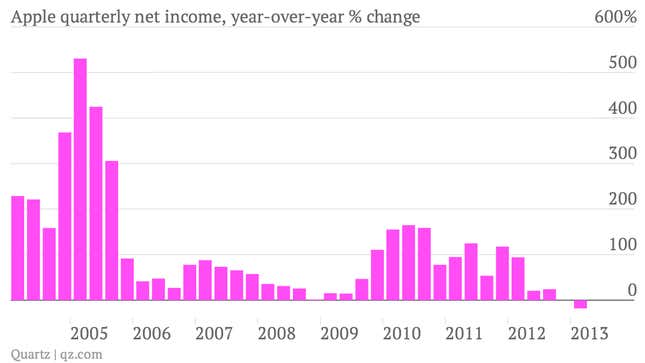 The numbers: Bad. The company reported net profit of $9.55 billion for the second fiscal quarter, down 18% versus the same period of the prior year. Sales rose 11% to $43.60 billion. That's the first time Apple has posted a year-on-year profit decline since the fiscal third quarter of 2003. Apple shipped 37.4 million iPhones, up 6.6% from the 35.1 million it sold in the prior year. And it moved 19.5 million iPads, up 65% from the prior year quarter's 11.8 million.
The takeaway: In short, Apple is in desperate need of a hit device to convince the markets that the company's innovative mojo didn't die with Steve Jobs. The iPad mini was essentially a "me too" type device. And Apple shows no sign of wanting to dip its toes into the phablet craze. An iWatch seems to be a longshot, and if it ever does come people will likely hate it, according to Quartz's Christopher Mims.
What's interesting: Apple's cash hoard is now a ridiculous $145 billion after rising by $12.5 during the fiscal second quarter. In an attempt to head off demands from investors to get more of that returned to them, Apple announced it would hike its share buyback by $50 billion. Oh, and it raised its quarterly dividend by 15% too.