Before addictive apps Candy Crush, Angry Birds, and Words With Friends, there were slot machines, which hooked players in much the same way. Both classes of game were easy to pick up and difficult to put down, doling out rewards over time.
But smartphone casual games may have one over their slot-machine ancestors. Slot machines have seen their "handle," or the amount of money wagered, decline steadily from a peak of $355 billion in the United States in 2007 to $291 in 2014, according to the Association of Gaming Equipment Manufacturers (pdf).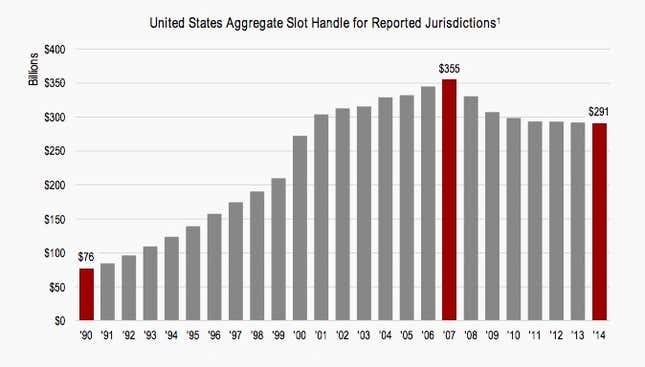 One company thinks it has a solution: Copy popular mobile games.
Gamblit Gaming makes machines that look like casino-fied versions of popular apps. Its games include Lucky Words, which is a bit like Words With Friends but with betting; Slice of Cake, which is Fruit Ninja with a jackpot; and Grab Poker, which is poker with a social twist, played on a "vomit-proof" arcade cabinet. These will be installed in casinos belonging to Caesars Entertainment Corp in San Diego and Las Vegas, Bloomberg reported.
The idea is to "gamblify" popular mobile games to lure millennials onto casino floors, Marcus Yoder, vice president of Gamblit Games, told Indian Country Today Media Network.
Although younger players spend money at casinos on food and drink, they've stayed away from slot machines, according to the Wall Street Journal (paywall). The new breed of gambling games are meant to address this by including a social component and by deploying skill-based games rather than games of chance. The Gamblit games stack odds in favor of the house, according to Bloomberg, but are designed to let players win gradually, instead of asking them to hit a random jackpot.
It's fitting that casinos are turning to mobile games for inspiration now. Mobile game developers have long relied on "whales"–big spenders who account for 70% of in-app purchases–to make money. They adopted that term from the casino world, where "whales" are the high-rollers who get lavished with perks to play the highest stakes games.