Black is back in a big way. Apple announced Sept. 7 that the iPhone 7 will be sold in two kinds of black.
Jet black, the shiny gloss version is featured prominently on the design video narrated by Apple's design chief Jony Ive. "It's seamless from the glass to the back," explains Apple's marketing lead Phil Schiller who unveiled the new iPhone design at the San Francisco event. "There's a second new black. We call it simply, black," he says, describing a light-diffusing matte aluminum finish with a discrete black Apple logo.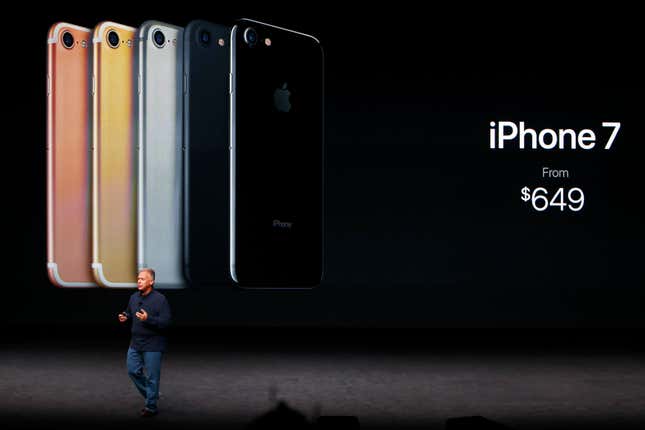 Black might look the same everywhere for the casual observer, but Apple affirmed what detailed-obsessed designers constantly agonize over. From the cover of an annual report to the body paint on cars, designers have to discern the right shade and sheen of black considering the product's material, varnish and lighting conditions.
Trend watchers at Pantone are not surprised that the company introduced two new blacks. A leading color standards provider, Pantone also advises brands about color and conducts consumer preference research. They've defined a Jet Black formulation for home and industrial design use, though not expressly associated with Apple's own hue. Pantone Color Institute's Laurie Pressman explains the two blacks are meant to appeal to two kinds of Apple consumers.
The Jet Black iPhone, which showcases a glossy finish, is lustrous, sleek, glamorous, mysterious, and chic. Aligning itself with Apple's brand philosophy, the color and finish evoke an expensive and hi-tech aura.
Black, the matte version, is a color we have been seeing in automotive, color cosmetics, packaging, footwear, and both electronic and fashion accessories. Less conspicuous than its glossy counterpart, the matte finish is not only a first for Apple, but less common in general. The matte finish gives the phone an avant garde status and in turn, its user an aura of being unique, making it increasingly desirable.
Commercially produced black is a combination of colors and its shade is determined by the percentage each color is allocated. Blacks that appear warm have more yellow in their formula, and blacks that appear cooler have more blue. Printers have a recipe for a building a rich black: 75% cyan, 68% magenta, 67% yellow and 90% black. Pantone has defined 200 variations of black for its print, fashion and home interior customers.
Vantablack, said to be the blackest of all commercially produced blacks, was created in a lab exclusively for the artist Anish Kapoor, a British-Indian sculptor.
How to choose between Apple's blacks? While the watching Ive wax poetic about jet black's "nine-step anodization and polishing process" might be compelling, a disclaimer on the iPhone 7 pre-order form warns consumers that the super shiny black is more susceptible to scratches.
Apple advises users to get a protective case.