Colors are tricky. If you've ever brought home a can of paint that you thought was taupe in the store but your partner points out looks "kinda pink" on the wall, you know how frustrating—and unreliable—color perception can be.
Color systems like Japan's TOYO Color Finder or Germany's HKS Guide help professionals define color by name or number, instead of eyeballing it. But perhaps most universal of all color systems is Pantone—the lingua franca of color.
Sound familiar? Unless you work in design, chances are your first encounter with the mythic New Jersey-based color standards company was via a color-coded mug, iPhone case or in a Sephora makeup counter. In recent years, the design of Pantone's color chips have become a graphic trope: always a plain band of color with a white bar and some words and black numbers in Helvetica on the bottom.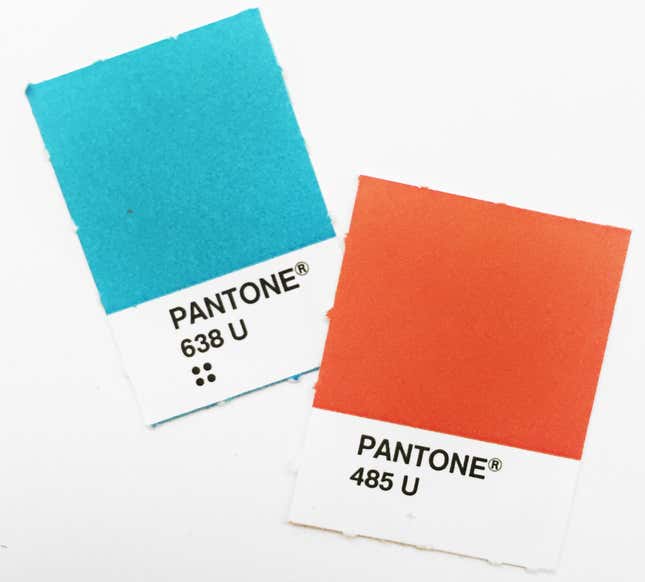 This chip design is strictly technical, lifted from the layout of a tool used by designers to specify and standardize color when communicating with printers and fabric dyers. So how did it find its way onto mugs, home goods, hospital scrubs, nail polish and even boxer briefs?
The birth of standardized color
The colors you see depend on everything from the medium—the kind of paper, fabric, substrate or wall surface—to the environment—the lighting, the weather, the time of day. On top of that, your own color acuity (or color blindness) can factor into perception, too. So while the sky may be blue for everyone (except when it isn't), its precise shade of blue is quite subjective.
In 1963, an American chemistry graduate named Lawrence Herbert devised a system to standardize color, specifying the exact ink formula for every shade. This way, despite changing light and other physical circumstances, each color's number would ensure that it was the same, everywhere—made according to a consistent recipe.
Through this system, graphic designers, fashion designers, interior decorators, and architects can now specify this deep dark blue—and not that navy blue—and know they're talking about the same thing. Herbert's system became the basis for the company he founded: Pantone (meaning "all colors" combining the words "pan" and "tone").
Color standardization is now critical in a globalized world, where consistency is a must for big brands and color enmeshed with brand identity. Coca-Cola's red (originally Pantone 484) is its signature, as is pine green (Pantone 3298) for Starbucks.
"We're a technical product and we help designers and the people producing that product link their communication," says Ron Potesky, Pantone's senior vice president and general manager, to Quartz. "So when you pick the right color, you get the right color in the end. That's the core of who we are."
How the Pantone chip became an icon
The Pantone chip itself began appearing on objects after the company published a series of ads during New York Fashion Week. "It was a great ad campaign where we put Pantone chips on designers' noses. [It was] in bus stops, at the convention center…." explains Potesky.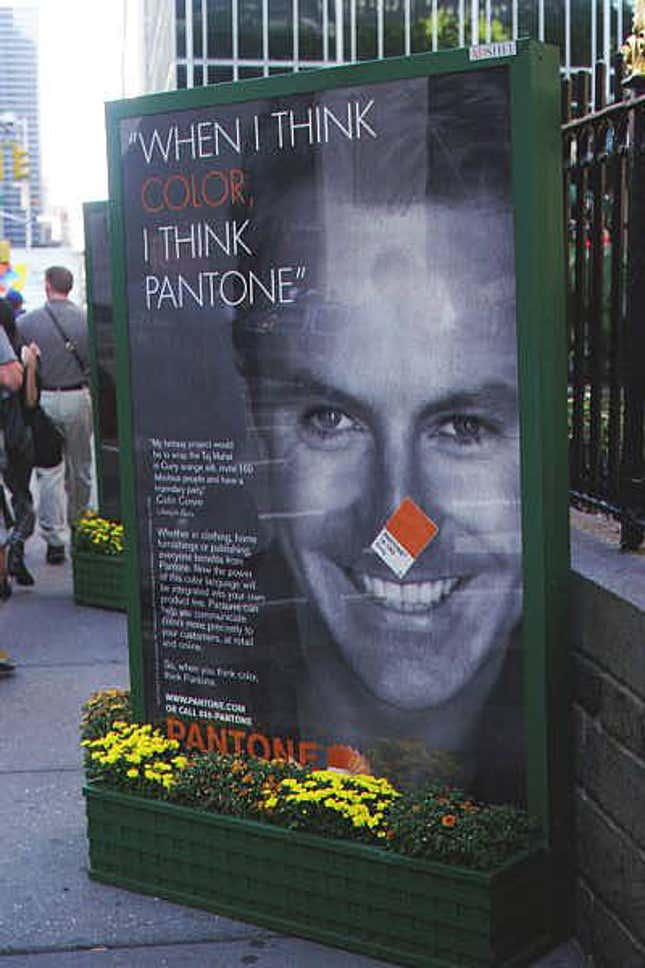 Now in addition to all the Pantone-branded objects sold in museum gift shops and lifestyle stores, there's even a Pantone-themed boutique hotel in Brussels, which offers tea packets, sachets of shampoo and walls made to resemble Pantone chips and a pop-up Pantone café in Monaco that served food by color (pdf). None of these are actually produced by Pantone, but licensed to various companies through a program called "Pantone Universe."
"The application goes from obscure to pretty elevated," notes Potesky. "[Pantone Universe] is a halo of effect on a brand that's a lot of fun. I think it surprised a lot of us how much Pantone caught on as a branding element."
Among their most unique and profitable items is a line of Pantone Universe hospital scrubs in Japan. Hospital workers wear different Pantone-approved color scrubs every day to help patients languishing in long term care recognize what day it is, Potesky explains.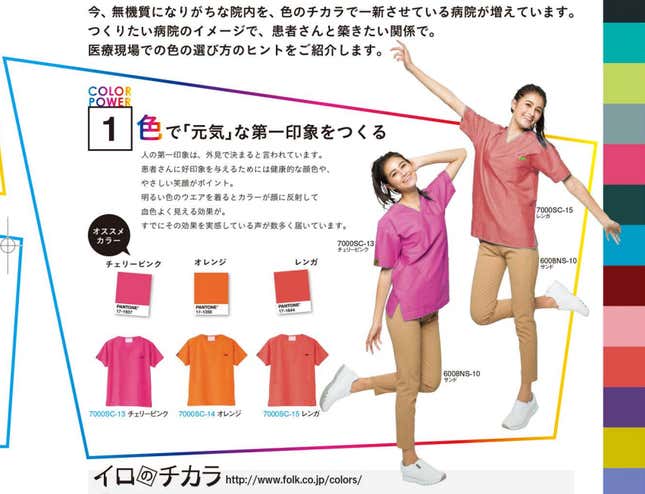 Memed, mimicked and mocked
These days, being memed is perhaps the ultimate affirmation of a brand's icon status, and Pantone has seen plenty of that.
Among the notables are 2012's Humanæ, Brazilian photographer Angélica Dass mapped the chromatic range of human skin tones according to the Pantone colors system. That same year, for Queen Elizabeth's Diamond Jubilee, the UK office of advertising agency Leo Burnett created a Pantone color wheel on the British monarch's famous color-matched outfits.
For Panto'N'Roll, French design studio Chic & Artistic replaced the colors named in pop anthems with Pantone chips. The Beatles' The Yellow Submarine was switched to "Pantone 129C Submarine" and Elvis Presley's 1956 anthem became "Pantone 299C Suede Shoes."

The recent Instagram project Pantone Smoothies displays photos of raw ingredients pre- and post puree, to produce smoothies that match existing Pantone numbers (likely with a smidgen of Photoshop magic).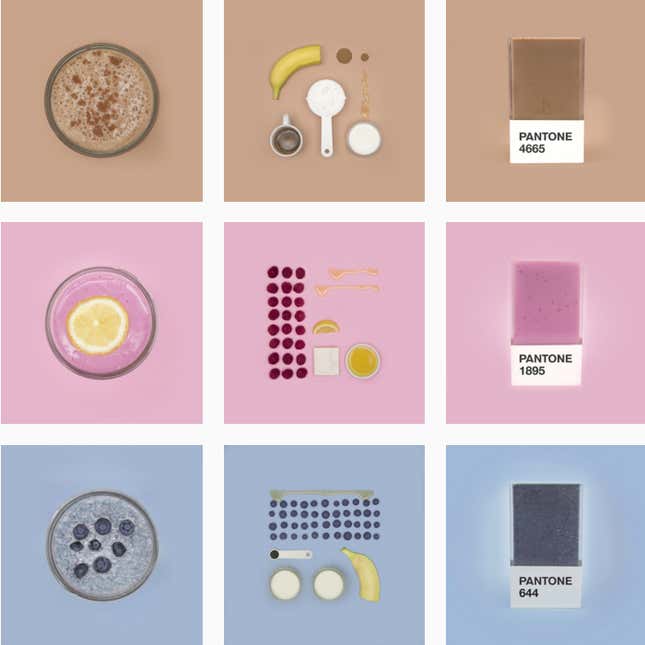 Pantone chips also have inspired manicures, bakery goods and even in Halloween costumes.
"We love seeing designers use Pantone in their designs for fun as long as they're not selling it," comments Potensky.
Beyond Pantone's universe
Pantone, whose parent company X-Rite was acquired by Danaher Corporation, has defined 1,755 proprietary colors for print graphics, and 2,310 colors for fashion, home furnishings and interiors. But beyond the market dominance of the Pantone color matching system and its thriving Pantone Universe licensing side business, the very design of the Pantone chip seems to have seeped into contemporary culture as a visual shortcut—if not a graphic cliché. The current interface for Google Play's music dashboard, for instance, looks a lot like the iconic color chip's layout.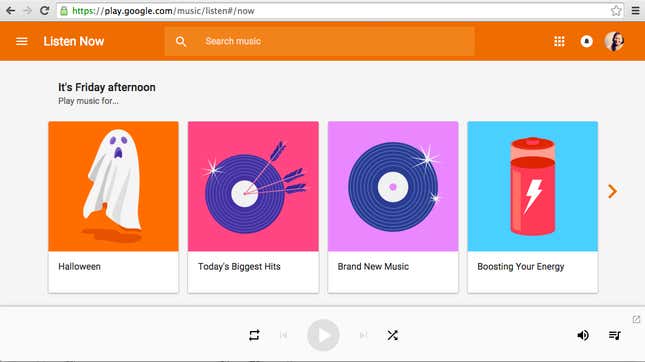 The Pantone brand has been so omnipresent lately, that it's even become the subject of parody. The unlicensed faux-Pantone project "Undertones,"  for example, offers "panteloons" and panty hose in criticism of the brand's perceived overexposure. (Real life, Pantone-licensed underwear are available in Japan.)
It doesn't seem to matter that the numbers and technical information at the bottom of Pantone's iconic color chip make no sense to non-designers. In the same way that Kodak became synonymous with photography in the 1900s, Pantone's brand—propagated through its thousands of licensed and unlicensed guises and coupled with the company's own vibrant marketing programs (like Pantone Color of the Year)—has become global shorthand for the infinite variety and importance of color in the human experience.