Here in New York City, some municipal workers are heralded as heroes. Tourists proudly declare their support of the city's firemen and police officers, clamoring for t-shirts and hats emblazoned with their logos. The former are celebrated in sexy calendars, and the latter are known as "New York's Finest."
But what about our garbage collectors?
Vito Turso, the Department of Sanitation of New York (DSNY)'s press liaison, considered this. "We like to be viewed as…" he paused. "We like to be viewed, period. We can be an overlooked agency."
This makes the DSNY a perfect bedfellow for fashion's current mood: under-the-radar, a little bit badass, and trafficking in a utilitarian streetwear vibe with re-appropriated logos. Seriously.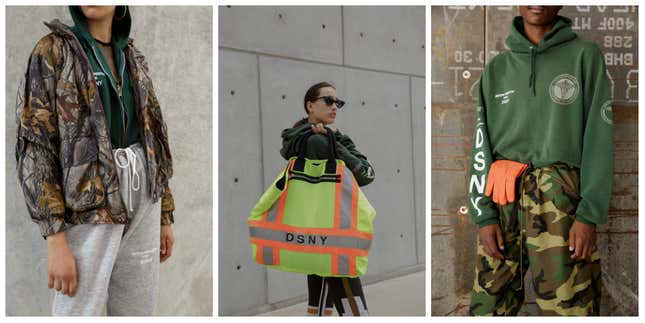 Heron Preston, a designer who has worked with Kanye West and Nike, saw the potential and approached the agency about a collaboration. The result is "Uniform," a capsule collection of pre-owned sanitation workers' uniforms, along with tee shirts and sweatshirts Preston dug out of the Queens warehouses of the charity organizations Goodwill and Housing Works. Preston customized each piece with embroidery, special labels, and screen-printing that proudly declares: DSNY.
The collection is raising money for the Foundation for New York's Strongest, a non-profit that highlights the work of sanitation workers, and awareness for 0x30, an ambitious campaign for New Yorkers to reduce their landfill waste to zero by the year 2030 by recycling, composting, donating, and conserving.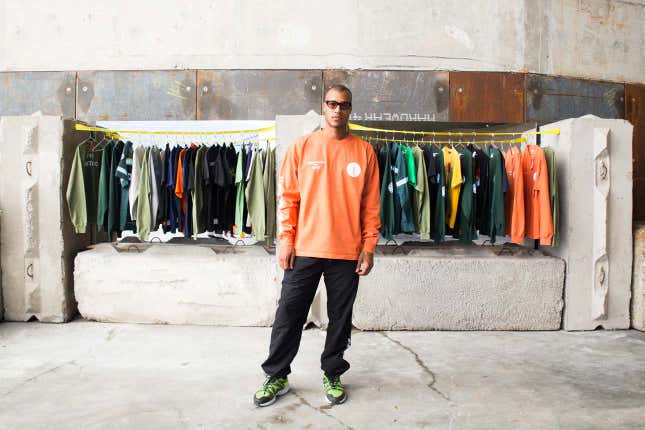 On the first night of New York Fashion Week, the garments hung on racks outside the Spring Street Salt Shed—a storage facility that houses a giant pile of the city's snow-melting material. Garbage collectors in kilts opened the evening with a bagpipe performance, and then milled around with Budweisers while models, DJs, and designers snapped photos.
They also shopped: Unlike a conventional fashion show, all of these garments were for immediate sale, most of them priced between $60-$135.
The designer himself wore an orange long-sleeved tee with white "Heron Preston for DSNY" embroidery at its right breast, and "SANITATION" emblazoned across the back. Similar orange and green shirts—all recycled from an unsold lot of Preston's own tees which he over-dyed—hung alongside recycled t-shirts. Fresh white DSNY lettering sat crisply over the faded logos of sports teams, bands, and colleges: an artwork mashup. The words "donated by" were embroidered above the names on the plackets of pre-worn DSNY work-shirts.
Kathryn Garcia, the city's Sanitation Commissioner, wore a black dress. Garcia said although she had never attended a fashion show, she does weigh in on workers' uniforms from time-to-time. "I did have a sanitation worker ask if he would ever be able to wear a tank top, and I did say no," she said."I still would like them to look a little crisp."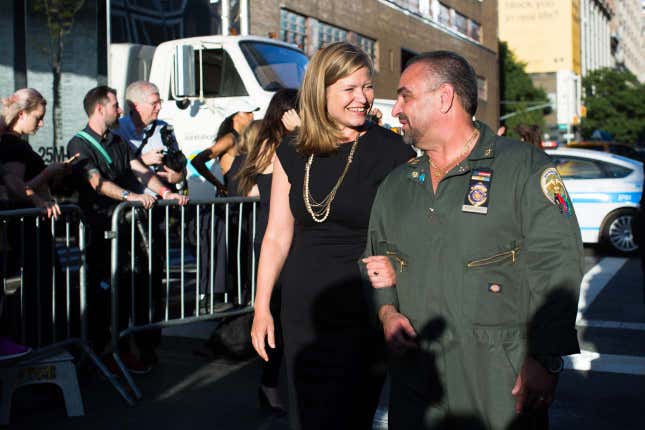 Jason Croak, a broad-shouldered garbage collector who towered high above the crowd, looked plenty crisp in a dark green kilt and black shirt. He had taken the day off from his route in Queens to play the bagpipes for the event.
"It's pretty interesting," he said. "It's cool. It's different. I've never been to a fashion show."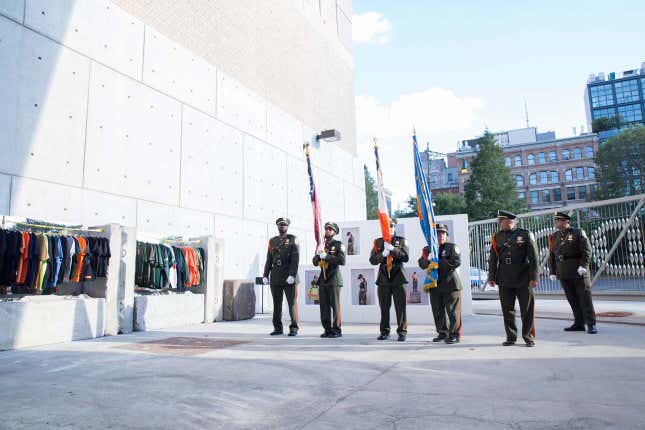 The project could have seemed corny: a gimmick attempting relevance, tacking itself onto the Fashion Week calendar. Or it might have read as a tone-deaf appropriation of workers' uniforms for high-fashion amusement.
Instead, it landed perfectly in the middle—and was one of the day's real successes. The event was inclusive but orderly (Ahem, Kanye). The products were available immediately, a novelty that larger fashion designers are scrambling to implement for Fashion Week. Perhaps most importantly, the clothes were desirable, but totally recycled—worth noting when the US throws some 10.5 million tons of textiles in landfills each year.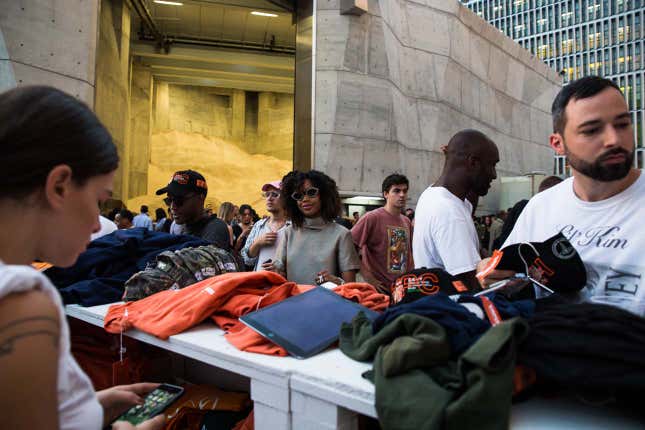 As the sun set, the patio filled with faces who appeared to be arriving from Kanye West's grueling and sweltering Yeezy Season 4 show on Roosevelt Island. West's creative director, Virgil Abloh, rifled through the racks of vintage tees, a navy University of Pennsylvania tee in one hand. "Gems!" he said, showing it off. "That's the best thing about vintage clothing."
I found a gem myself: an 80s-style crewneck covered with white DSNY branding. I bought it, and don't plan on ever throwing it away.