All runway fashion is fantasy to some degree. Some designers present fantastical visions with their work, seeking to elevate clothes above the ordinary, or offer an alternate reality. Alexander McQueen was a master at it.
But others want to reflect what they see on the streets. Call it fashion "realism." These designers, such as Hedi Slimane, the recently departed creative director of Saint Laurent, and Demna Gvasalia, who is just taking the reins  at Balenciaga, are having a moment.
At Saint Laurent, it's evident in the babydoll dresses, torn jeans, leather jackets, and sweaters that could have been pulled from the racks of a thrift shop. These items are exquisitely made, but their resemblance to items on the racks of fast-fashion chains or vintage shops has been widely called out. Last year, Slimane was accused of making a $3,490 reproduction of a cheap Forever 21 dress, while in 2013, a Vogue writer went vintage shopping to recreate Slimane's Saint Laurent look on a budget.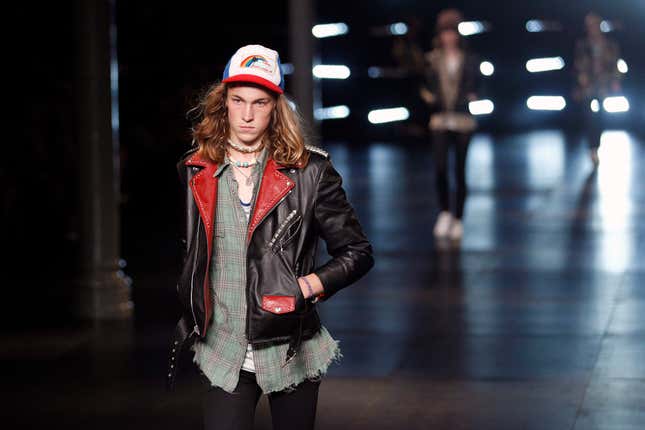 Sales have been astounding. Yesterday (April 21), Kering, which owns the brand, reported its first quarter results for 2016. While overall sales missed analysts' estimates, Saint Laurent grew 26.5% compared to the previous year. It's now as big a part of the Kering portfolio as Bottega Veneta, which took a hit from a spending slowdown by Chinese tourists. As Slimane steps away, Kering's management must be hoping his replacement, Anthony Vaccarello, doesn't change a thing.
Demna Gvasalia has brought everyday clothes to the runway, too, both at Balenciaga, which Kering also owns, and at Vetements, the fashion collective he leads. In his debut for Balenciaga in March, he reworked mundane items such as ski parkas and denim jackets, describing his philosophy as "a series of couture attitudes transforming a modern, utilitarian wardrobe."
At Vetements, he has made cotton hoodies into status symbols, and a t-shirt with the logo of shipping company DHL one of fashion's hottest items. Gvasalia's shirt is only slightly different from the DHL t-shirts the company sells, yet the Guardian reports that even at £185 ($330), it's sold out at most retailers. The t-shirt's popularity has set off a running gag of people posing next to DHL trucks and likening actual DHL uniforms to Vetements.
Fashion often takes influence from the streets, of course. Women were wearing miniskirts in the 1960s, for example, before high-fashion started making them. Streetwear has its roots in California skate culture. And athleisure is now on the runway.
Right now, realism, or whatever you may choose to call it, just happens to be squarely in the spotlight.
In terms of sales, it's all perfectly on trend.