Yves Saint Laurent officially has a new creative director. Anthony Vaccarello, the 36-year-old Belgian known for a sleek, sexy vibe who just departed Versus Versace, was today (April 4) named to the position by Kering, the luxury conglomerate that owns the brand as well as several other top labels.
Some of Kering's biggest labels have gone through major upheavals in the past year and a half. Gucci, Balenciaga, and now Yves Saint Laurent swapped out their creative leadership. While new directors at Gucci and Balenciaga—Alessandro Michele and Demna Gvasalia, respectively—ushered in big changes in the look and feel of those brands, the same seems unlikely at Yves Saint Laurent. YSL seems to be hoping for as little change as possible.
Vaccarello's predecessor, Hedi Slimane, more than doubled revenue in his four years at the helm. He radically overhauled the house, dropping "Yves" from the name of the ready-to-wear line, and delivering sales via his leather jackets, sharply tailored blazers, tiny slip dresses, ripped jeans, and ankle boots. It wasn't conceptual fashion. It was high-end clothing for everyday wear, and especially for looking sexy when heading to a club or party on the weekend.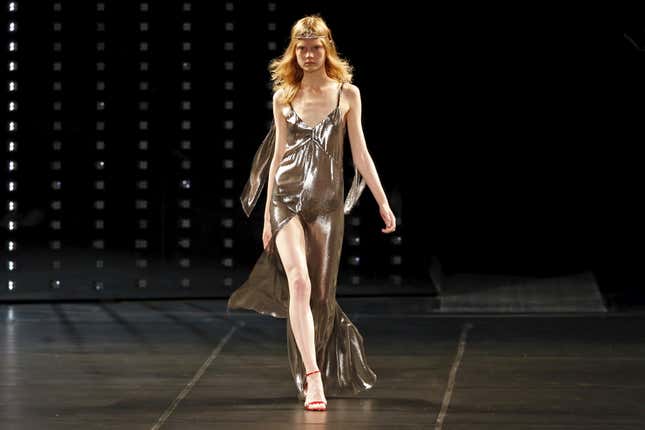 Vaccarello's work fits that mode. He cuts a nice leather jacket, can tailor a fine blazer, and has a well-documented predilection for showing skin. Necklines plunge, and skirt slits climb. A few in his recent spring collection, shown last September, reached up past the hip, so high they revealed bikini tan lines.
His designs aren't a carbon copy of Slimane's. They're more polished and glossy. Slimane loved grunge and some tawdriness. But both make youthful, covetable garments, often in black, with a dose of glam. They're both also indebted to the blend of feminine and masculine in the tailoring of Yves Saint Laurent.
The same customer who went to Slimane's Saint Laurent for a jacket and boots will probably find something at Vaccarello's YSL. Or at least that's what the house is undoubtedly hoping. It won't be easy though. Hedi Slimane has his own cult following, and as he leaves YSL, those shoppers may leave with him.