After months of rumors, Hedi Slimane is leaving his role as creative director of Saint Laurent. Kering, the luxury group that owns the brand, announced the news today (April 1).
In his four years in control of Saint Laurent, Slimane completely transformed the label into the powerhouse it is today. He changed the look, he changed the business, and he even changed the name, dropping "Yves" from the title.
What Slimane did was to refocus the brand on highly commercial products. Where his predecessor, Stefano Pilati, often pushed innovative, conceptual collections, Slimane recreated what he saw kids wearing in clubs and streets—or at least a romanticized, purposefully trashy version of it. His shows were made up of shredded jeans, biker jackets, and sparkly negligee-esque dresses. He was often criticized for rehashing vintage designs, at sometimes exorbitant prices. A 1990s-inspired baby doll dress, for instance, raised plenty of eyebrows with its price tag of $68,000.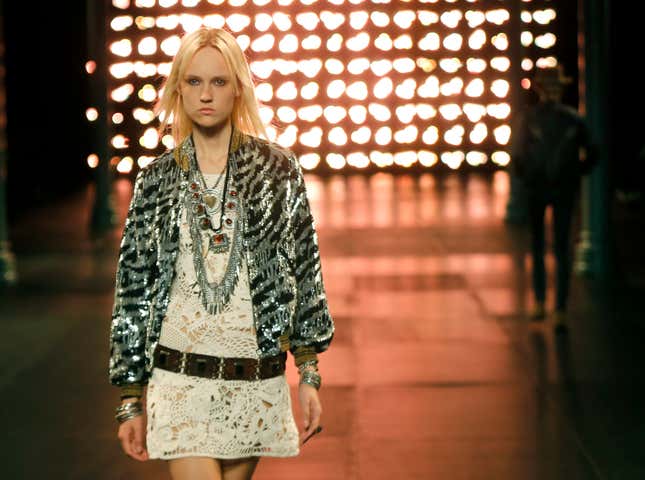 But Slimane's clothes and his unrelenting obsession with music—especially indie rock—and youth culture had a massive audience. A year ago, Kering announced that Saint Laurent's sales had already doubled (pdf) under Slimane. While leather goods and accessories drive revenue at many fashion brands, Saint Laurent found sales across its categories. Retailers said they could hardly keep Slimane's ready-to-wear on racks.
All those jeans and leather jackets, not to mention Saint Laurent's highly successful footwear, were items his fans would save for and splurge on. They were regular sights on celebrities, pop stars, and athletes.
He was, in many ways, a fitting spiritual successor to Yves Saint Laurent himself, who was the first couturier to launch a successful ready-to-wear line, called Yves Saint Laurent Rive Gauche. Established in 1966, it focused on wearable separates that served as wardrobe "essentials." It attracted young Parisians in droves, and ultimately became the focus of Saint Laurent's attention.
Much of Slimane's success at Saint Laurent is undoubtedly due to the singular vision he's maintained, without wavering, for his entire career. He was one of the forces, along with Raf Simons, who years ago pushed men around the world into a skinnier silhouette and jeans so tight they led doctors to issue health warnings.
It's unclear what Slimane's next move will be. When he left Dior Homme in 2007—the last position he held in fashion before taking the job at YSL—he left the entire industry, focusing instead on his photography.
His successor at Saint Laurent has yet to be announced, but whoever it is, they will have a tough act to follow.