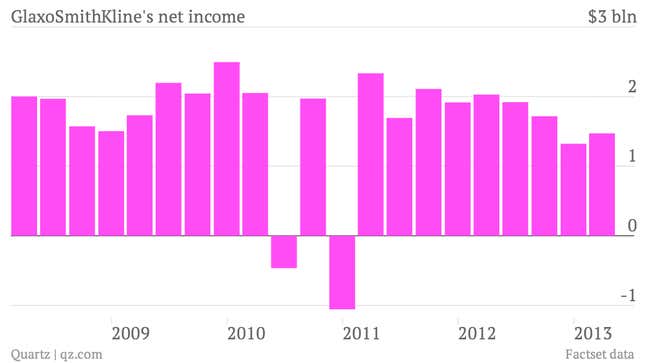 The numbers: British drugmaker GlaxoSmithKline reported a first quarter profit of $1.47 billion this morning, a 27% drop from $2.03 billion for the same period a year ago. Despite the middling numbers, GSK's share price closed at $25.61, only six cents lower than the 11-year high the stock reached on April 18, when a new respiratory treatment was recommended for approval by the US Food and Drug Administration (FDA).
The takeaway: When it comes to pharmaceutical companies, what's in the development pipeline matters more than reported earnings. Investors have high hopes for Breo (which will be called Relvar in Europe), GSK's new respiratory treatment, which will likely earn FDA approval in mid-May. Bloomberg analysts estimate the drug will bring GSK $1.8 billion in revenue a year by 2018.
What's interesting: GSK is working tirelessly to own the respiratory drug market, and it's succeeding by making hard-to-mimic products. Advair (Seretide in Europe), an inhaler used to treat the symptoms of asthma, bronchitis, and emphysema, accounted for slightly over 25% of the company's revenue in the first quarter and was one of the best-selling drugs worldwide in 2012. Though Advair lost its patent in 2010, generics haven't leveled the drug's marketshare, because it relies on a sophisticated inhaler called a Diskus that has proven difficult to reverse-engineer. The new drug, Breo, will be metered and dispensed by an equally intricate device, and could ultimately be just as tough to copy.