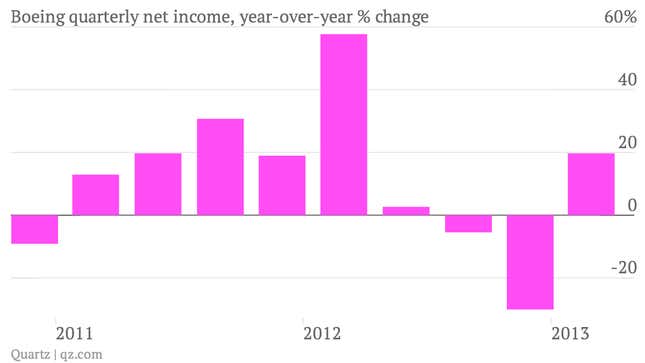 The numbers: Fine. First-quarter profits rose 20% versus the same period last year, to $1.11 billion. Sales slipped 3% to $18.89 billion. Shares rose in response.
The takeaway: Boeing delivered just a single 787 during the quarter, a reflection of the high-profile battery problems that prompted global regulators to ground the plane. But Boeing announced that it would restart deliveries of the planes in May. And the company reiterated that it would meet its delivery targets for the year which include handing off 60 787s to customers.
What's interesting: The company spelled out some of the efforts it took to cobble together a fix for the battery issue, saying it had invested more than 200,000 hours of engineering work by more than an dozen "leading battery experts." After getting recent approval for the fix from the US Federal Aviation Administration, the company has started retrofitting 19 planes with the solution, which includes alterations to the electrical systems, the enclosure around the battery and the exhaust system. "So this is days, not weeks," Boeing Chief Executive James McNerney said of the process.