On November 18, 1978, over 900 Americans died at a remote settlement in Guyana called Jonestown. Urged by Jim Jones, the paranoid leader of the communist pseudo-church Peoples Temple, they ingested lethal doses of cyanide. Many of those killed were children.
Nearly 40 years later, HBO will tell the story of Jones and the largest mass suicide in modern history in an upcoming series, written by Breaking Bad creator Vince Gilligan and directed by Michelle MacLaren, a veteran of Breaking Bad and Game of Thrones. The limited series, called Raven, will be based on the book of the same name by journalist Tim Reiterman, who narrowly escaped the massacre.
Reiterman was part of a delegation of reporters that accompanied US congressman Leo Ryan on a fact-finding mission to Jonestown to investigate allegations of human rights abuses by Jones and the Peoples Temple. After a Temple member tried to stab Ryan, the delegation and several defectors fled to a nearby airstrip. Before they could leave, they were attacked by an armed Temple security team. Reiterman survived, but Ryan, along with four others, were killed.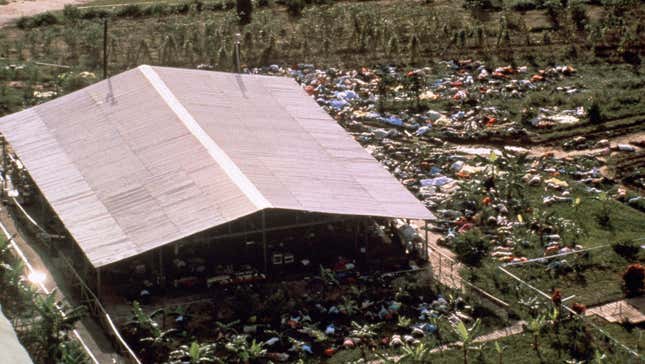 Shortly after those shootings, Jones directed the Jonestown inhabitants to commit "revolutionary suicide," fearing that the Soviet Union would no longer allow the group to relocate there following the congressman's murder. Jones had grown increasingly deranged and paranoid, and convinced his followers to kill themselves rather than submit to what he insisted were hostile, fascist forces that would imminently "parachute" into the compound and kidnap its children. Jones himself died by a self-inflicted gunshot wound.
The HBO series will focus on the Peoples Temple's origins and Jones's rise from socialist activist to cult leader. In the 1950s and 1960s, Jones was a widely admired political figure who helped to integrate Indiana. But, by the 1970s, many suspected his group of physical, sexual, and emotional abuse. Jones established the commune in Guyana in order to escape the growing suspicion in the US that the Peoples Temple was not the good-natured religious movement it purported to be.
HBO could not have picked a better team to turn this fascinating and tragic story into a TV series. While Breaking Bad's Walter White isn't exactly Jim Jones, Gilligan has demonstrated that he can compellingly depict how an ordinary man grows into something much more dangerous.
And the timing is likely no coincidence—Raven comes amid a resurgence in television shows and films about cults. Hulu's The Path (starring Breaking Bad alum Aaron Paul) debuted earlier this year to positive reviews. That followed Aquarius, The Following, and HBO's own True Detective, all shows that dealt with sinister cults. Recent films about cults include Martha Marcy May Marlene and The Master, which was partly inspired by L. Ron Hubbard and the beginnings of Scientology. The 2013 horror film The Sacrament was based on the Jonestown massacre.
In fact, Raven is not the only series about Jonestown in development. Actor Jake Gyllenhaal is producing an anthology series about cults for A&E. Each season of the show will explore a different American cult; its first season will focus on Jim Jones and the Peoples Temple. Clearly, there is an appetite for cult stories, especially the horrific events that took place in a remote corner of Guyana in the late 1970s.
Jonestown was previously dramatized in the 1980 TV movie Guyana Tragedy: The Story of Jim Jones. The question of how a seemingly benevolent society could devolve into a cult responsible for almost 1,000 lost lives remains as intriguing as it is disturbing.
There's no word yet on who will play Jones in HBO's series, but Reddit has a few suggestions: Joaquin Phoenix, James Spader, Javier Bardem, or Josh Brolin. We'd add Kyle Chandler, Steve Carell, and Michael C. Hall to that list.