Jeff Bezos said today that his space company Blue Origin is designing an enormous rocket capable of flying cargo and humans into space by 2020. It's the next step, he hinted, in plans to take humans back to the moon.
The "New Glenn" rocket, named after John Glenn, the first American to orbit the earth, will be larger and more powerful than any rocket currently in operation, and those envisioned by its rivals in the commercial launch business, SpaceX and ULA.
"Our vision is millions of people living and working in space, and New Glenn is a very important step," Bezos wrote in an e-mail to fans and press this morning. "It won't be the last of course. Up next on our drawing board: New Armstrong."
Armstrong, of course, refers to Neil Armstrong, the first human to land on the moon, a not-so-subtle hint about Blue Origin's goal of returning there.
Bezos' announcement comes just two weeks after a still-mysterious fire grounded SpaceX's workhorse Falcon 9 rocket, demonstrating the resiliency and competitiveness of deep-pocketed private space fans who are eager to leapfrog NASA.
In his note, the Amazon founder and third-richest man in the world cited the military adage "slow is smooth and smooth is fast" to describe his company's approach to technology development. He added that "deliberate and methodical wins the day, and you do things quickest by never skipping steps," in what may be a veiled criticism of Elon Musks's SpaceX and its break-neck pace of innovation.
Bezos founded Blue Origin in 2000. The company has spent the last several years demonstrating its ability to make good on its promises: In 2015, it debuted its suborbital rocket, New Shepard, which can fly a capsule to the edge of space and be reused on subsequent flights, technology needed to build a space tourism business.
But there were signs of higher aim: In 2014, Blue Origin inked a deal with United Launch Alliance (ULA), the launch company jointly owned by Boeing and Lockheed Martin, to develop a modern rocket engine for ULA's next vehicle, Vulcan. Blue Origin also broke ground on a Florida rocket factory earlier this year.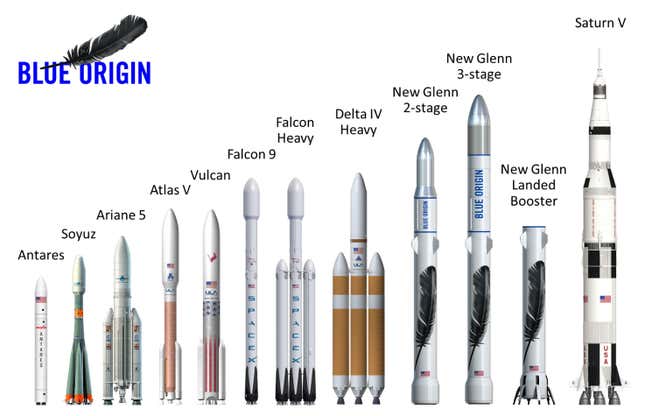 The rockets that will emerge from that factory will be marvelous if they meet Bezos' plans. More than 23 feet (7 meters) in diameter and nearly 27 stories high in its initial configuration, the New Glenn will use seven of Blue Origin's BE-4 engines to generate 3.85 million pounds of thrust at launch, making it more powerful than the famous Saturn V rocket, which took humans to the moon.
The "New Glenn" will be reusable, and designed to carry cargo and humans, according to Bezos. There will be a three-stage variant for missions "beyond [low-earth orbit.]"
Before this rocket flies too many times in your imagination, it's important to remember the NASA rule-of-thumb that the average delay in rocket development is 27 months. In an interview earlier this week, the CEO of ULA, Tory Bruno, noted that the first static-fire tests of the BE-4 engine, intended to occur in 2016, could be pushed into next year.
But deadline slips or no, new large orbital rockets produced by three different companies—first SpaceX's Falcon, then ULA's Vulcan, and now Blue Origin's New Glenn—may soon replace Russian technology that has dominated the business, and signal the resurgence of the US space industry.