I have been fighting the running nose and teary eyes that come with Allergic rhinitis, better known in the west as hay fever, for most of my 23 years. As a kid, my parents tried giving me over-the-counter anti-allergy medicines and consulted medical doctors, and relied on traditional Chinese medicine: boiling eggs with Plumeria flowers, and cooking honey produced by Chinese dark bees.
Last year they gave me a milk-shake thick, off-white stewed meat soup, which they told me was good for the respiratory system.
The soup was plain and tasted of pork, while the meat tasted like chicken. But it was crocodile meat. Many people in Guangdong province in southern China, where I am from, have tried the chicken-like meat, out of curiosity or for its medicinal effects.
This demand is part of the reason for the current crocodile farming craze in Africa, where 85% of crocodile exports go to China, Hong Kong, and Taiwan combined. Last year, African countries exported some $196 million worth of crocodile to China.
"There is nothing Guangdong people wouldn't eat in the sky, besides planes, and on the ground, cars," is a popular Guangdong idiom describing the local craze for exotic meats. That includes the masked palm civet, a popular wild meat that was linked to the 2003 SARS outbreak.
But the crocodile's use in traditional Chinese medicine dates back to at least the Ming Dynasty in the 16th century, when it was regarded as a highly nutritional meat that can cure respiratory illnesses like asthma caused by the prevalence of disease-causing "feng," or wind, according to the Compendium of Materia Medicine  (link in Chinese) written by Li Shizhen, a Chinese pharmacologist.
"My families said it's good for nutrition, and every other day there would be vacuum-packed crocodile meat in the refrigerator," said 22-year-old Kong Minying, a Guangdong native, recalling her family's craze for crocodile meat that started several years ago. She said she didn't know exactly where the crocodile came from, only that the meat was from the crocodile's back, and "quite expensive," at around 500 yuan ($78).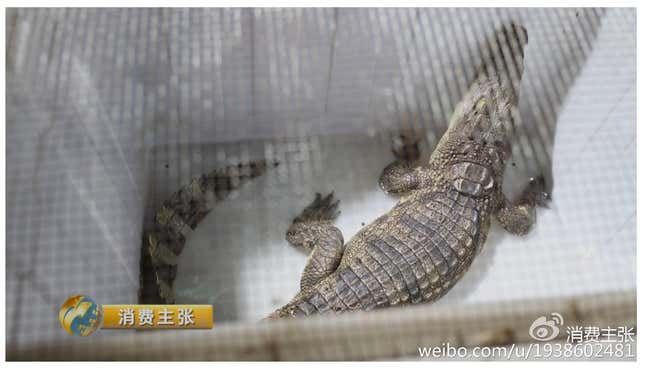 "It's like a treat to eat crocodile meat," said 25-year-old Vanty Pan, who lives in Guangzhou. "I had the crocodile soup at a fancy seafood restaurant at Zhanjiang," a city in the southwestern part of Guangdong. He recalled the restaurant kept crocodiles.
There are many ways to cook crocodile meat, including, but not only limited to, stewing it and boiling it. A recent discovery in a Shenyang night market (link in Chinese) in northern China showed crocodile meat being fried and barbecued by hawkers and sold for 30 yuan ($4.5) per skewer.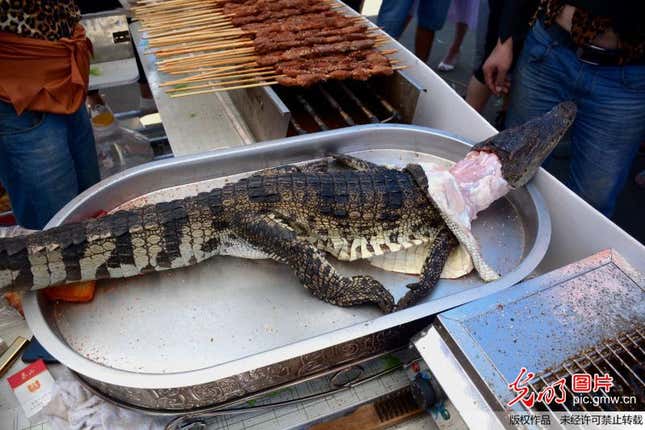 Prices for fresh crocodile meat vary from 129 yuan (link in Chinese) for 800 grams to 310 yuan (link in Chinese) for four grams on Chinese online shopping platforms, where it is advertised as curing asthma.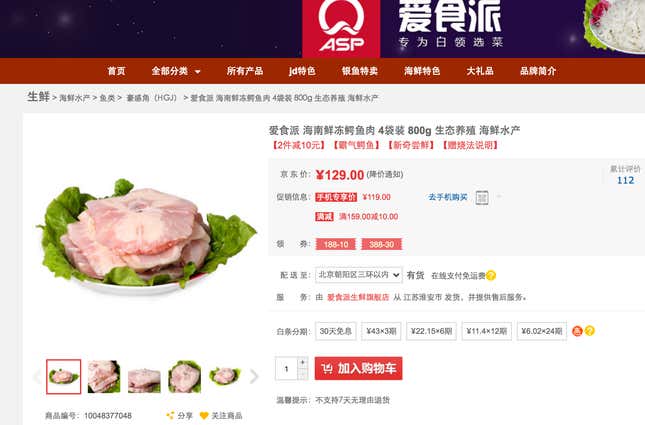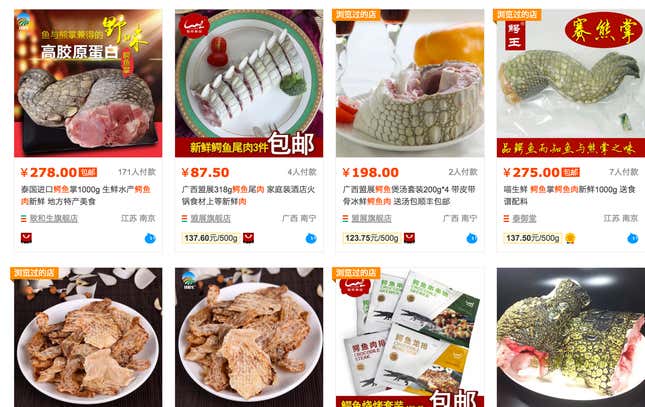 Food isn't the only reason African farmers are farming crocodiles. The meat from one crocodile sells for $50 to $69, and the animal can yield a further $123 for its skin, which is then made into shoes, handbags and belts, Collins Mueke who raised 33,000 crocodiles in Nairobi, told the BBC.
"Don't you think it's a waste to toss the meat while so many crocodiles are used for making handbags?" a user known as Fat Boy (link in Chinese, registration required) on China's version of Twitter, Weibo, told Quartz. A graduate of Zhejiang University, based in the eastern city of Hangzhou, had crocodile soup in a Guangdong-style restaurant.
Personally, I am not a big fan of crocodile handbags, or the soup. Even after eating it, the runny nose never left me. My parents decided to give up on this treatment method, but they continue to seek other traditional Chinese medicine prescriptions for my ongoing allergies.