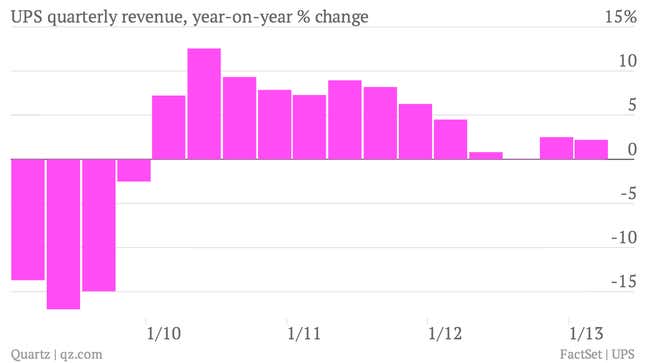 The numbers: Decent. Quarterly profit rose 6.9% to $1.04 billion, compared to the first quarter of 2012. Sales increased more than 2% to $13.43 billion. The company reaffirmed its guidance for the full year. Shares rose.
The takeaway: Asia. Daily export volume there rose 8% during the quarter, driving overall daily export volume up 3.8% for the company. But UPS's air freight tonnage in Asia was down. Part of that is overcapacity and competition. But part of it is also the macroeconomic outlook. "In Asia, uncertainty has increased," company officials said on the post-report conference call. "After a strong fourth quarter, China's GDP industrial production growth appear to have slowed."
What's interesting: UPS has been seeing strong volume growth in e-commerce shipping in the US. But those packages tend to lighter and have lower yields for the company. Translation? They're less profitable. That's a headwind for the company as it tries to expand profit margins, a key to keeping overall profits up as sales growth has slowed in recent quarters (see chart above).