After global macroeconomic forces helped sink South Korean shipping giant Hanjin Shipping, the troubled company is now facing the prospect of another powerful storm—typhoons.
The company, which recently filed for bankruptcy, has expressed concerned for the wellbeing of its crew and cargo, left vulnerable to the might of typhoons after being barred from ports worldwide.
"The captain and sailors usually sail through other routes to avoid typhoons. But as you know, the ship is just outside the port, drifting (floating anchored, but outside of port) on the sea," said Min Park, a spokeswoman for the company on Sept. 15. "There have been no deaths or injuries for Hanjin… but this is exactly what we are worrying about with typhoons in Asia."
The company has been negotiating with courts, ports, and creditors across the world to prevent their ships and the cargo on board from being seized, as it struggling to repay $5.5 billion dollars in debt.
The company filed for bankruptcy protection from Korean courts on Aug. 30, after a number of its creditors, including government-backed Korea Development Bank, refused to provide a cash injection it needed to keep operations going.
Because of its debt, Hanjin ships have been barred from entering ports and unloading their wares, leaving several thousand sailors, a performance artist, and some $14 billion worth of cargo stranded out at sea.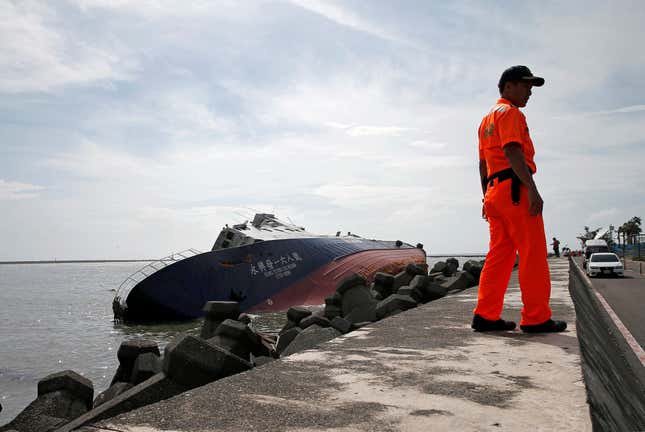 In Taiwan this week, typhoon Meranti sunk fishing vessels, dragged cargo ship anchors, and broke ship mooring lines in the port of Kaoshiung, setting them adrift. One ship hit a container terminal, bringing down two cranes. Local media reporter that one ship worker died (link in Chinese).
This is while the ships are in port.
Currently Meranti and another typhoon, Malakas, are at their end stages and pose no threat to any of the ships, according to Hanjin. However, those involved in the negotiations say it may take several weeks or months before Hanjin will be able to offload all its cargo and see all its ships to port. In that time it's likely more storms will form over the western north pacific, which includes the Philippines, Hong Kong, Taiwan, and stretches up to South Korea and Japan.
Hanjin has more than half of its current fleet of 85 stationed in major port areas of Asia, said Park.
The western north pacific sees an average of 8 to 9 tropical cyclones between October and December, said Tong Hang-wai, a scientific officer with the Hong Kong Observatory. Tong said it was not possible to predict how many would form over the next few months as it can vary season to season.
To complicate matters, Hanjin being granted court protection against its creditors is likely to make processing insurance claims slower, should any accidents happen, said Park.
Hanjin was thrown a lifeline of $56 million on Sept. 10 by its sister company and largest shareholder Korean Airlines, and an additional $90 million was pledged by its parent Hanjin Group to dock and unload its cargo. The company is still seeking millions in low-interest loans from the Korean government.
At least seven Hanjin vessels have been seized at ports in China, Singapore, India and elsewhere, according to a carrier's vessel status report.
The Seoul central district court has given Hanjin a deadline of Dec. 19 to submit a rehabilitation plan that will determine whether it can continue operating.