A gadget that's bristling with features to be fidgeted with is soaring to the top of Kickstarter's charts.
The Fidget Cube, a hand-held vinyl toy that's covered in various buttons, switches, and clickers, is the Kickstarter project with the second largest number of backers ever, and is among the projects that have attracted the most funding—with over a month to go before its campaign ends.
The toy's creator is Antsy Labs, a design studio in Denver, Colorado, which asked for $15,000 to manufacture it. But this cube appears to have unleashed pent-up demand from the world's fidgeters, raising $4.3 million from more than 106,000 backers to date. It still has 33 days to go. Each cube costs $19, although early backers could get one for $14.
The cube is a little like a baby toy, but for adult office workers (perhaps they should make a chewable version next?). And the overwhelming response to it indicates that there are thousands of underserved fidgeters out there who were apparently just waiting for the right product to feed their compulsion. "We believe that the reason this is resonating with so many individuals is because fidgeting is a very relatable behavior," Antsy Labs' Mark McLachlan told Polygon.
Antsy Labs offers this handy breakdown of fidgeting functions offered by its cube and other commonly fidgeted-with items: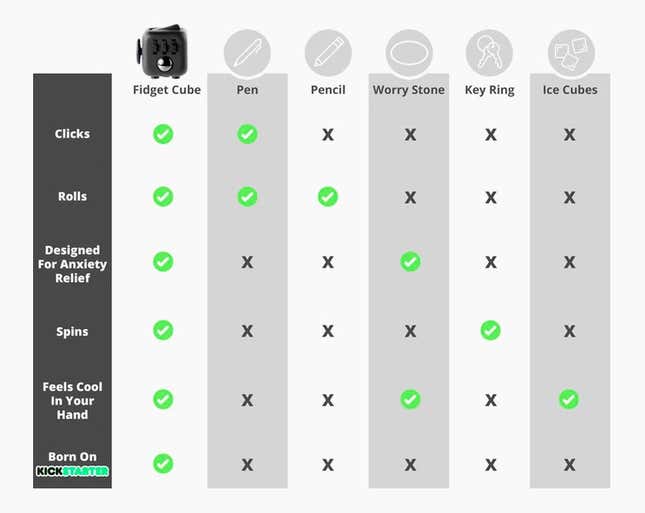 There's some evidence to suggest that fidgeting is good for you. One study showed that fidgeting in an office chair could increase energy expenditure by up to 30%, potentially providing a way to combat a sedentary lifestyle. Another piece of research showed that fidgeting during a lecture helped the listener retain material from the presentation.
Let's hope those thousands of Fidget Cube owners will be able to justify their purchases with productivity gains.