Meet Boeing, lighting designer.
The company that designed the 747 jumbo jet and helped drive down the cost of air travel worldwide is hard at work on its planes' interiors.
Boeing is trying to patent a projection system that would allow the airplane maker to project images, such as a blue sky with fair-weather clouds or stars, onto the plane's surfaces interior surfaces, like ceilings and walls, according to a filing published last week.
"Projection lighting is simply one of many technologies we are exploring to see if it can bring advances in both airline economics and passenger experience," a Boeing spokesman said. "In theory, airlines could use lighting enhancements on the walls and bulkheads to display information about destinations or to project scenes that get passengers thinking about where they're going."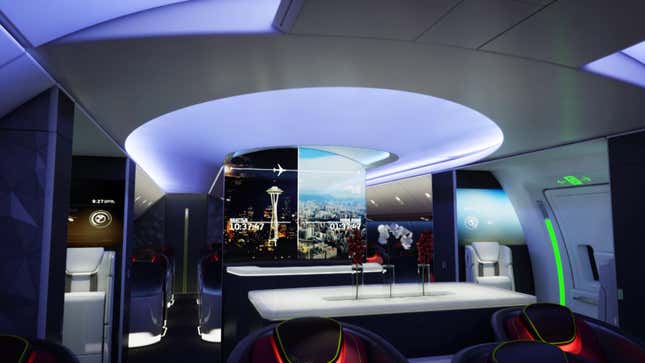 It's part of the airline industry's current mood-lighting movement. Aircraft manufacturers and airlines are trying to improve their cabins' historically harsh cabin lighting schemes, which had largely consisted of florescent lights and harsh overhead reading lights that shouldn't be looked at directly for more than three seconds.
Aircraft manufacturers are trying to make their planes ever-more attractive to buyers. Some airlines are favoring planes that are smaller, cost less, and are cheaper to fly. Carriers are also scaling back on some of their airplane purchases altogether to save money.
And airlines want to make their planes more attractive to customers, as they battle for passengers amid historically low fares and higher competition from discount carriers and traditional airlines.
Whether the images of clouds or the expanse of space (may we also suggest dogs?) gives the illusion of a more spacious ride is yet to be seen, but small changes could make what is a cramped, uncomfortable ride for most of us, a little more pleasant.