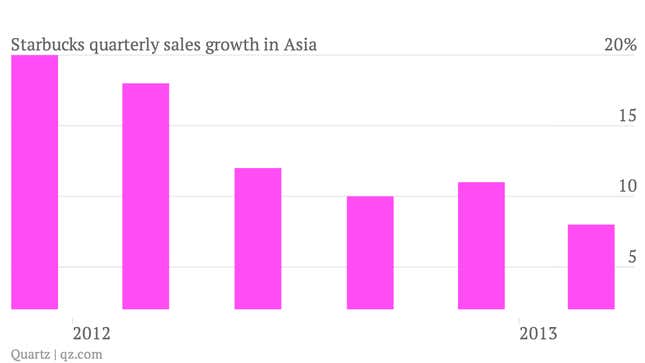 This story has been corrected.
The numbers: Starbucks quarterly profit rose 3.8% to $390.9 million in its second fiscal quarter, compared to a year earlier. The US and China/Asia-Pacific regions posted revenue growth of 6% and 8% respectively, while the region including Europe, the Middle East and Africa continued to disappoint with its sales shrinking for the third straight quarter, this time by 2%. Everything was more or less expected, and shares fell in after-hours trading.
The takeaway: While Asia opens its arms, Europe is turning its back. Despite a continued attempt to woo the EMEA market, Starbucks is making few gains there. Regional president Michelle Gass said the company is looking to franchise some of its existing stores. Gass also promised profitability, but sales have fallen or remained flat in the EMEA region in five consecutive quarters.
What's interesting: China. Growth in the region has slowed, but Starbucks said it's planning to open its 4,000th branch in the China/Asia-Pacific region by the end of the year. What's more, it is also planning to bombard the Chinese market with consumer packaged goods (CPG), like their blended frappuccinos and coffee beans. During today's earnings call, Starbucks CEO Howard Schultz said he was "stunned that no one has asked a question about the CPG opportunity in China." And then, just in case anyone missed it, he reiterated his point. "Did you not hear what I said? We are looking at the opportunity to take the CPG business into the largest growing market in the world."
Correction (April 26): By the end of the year, Starbucks plans to open its 4,000th branch in the China/Asia-Pacific region—not China alone, as we previously reported.