Rodrigo Duterte has now been president of the Philippines for a little over 12 weeks. In that short time, he's already managed to bad-mouth international leaders, encourage vigilante death squads, and scare foreign investors away from the country. The Philippines looks to be in for a long six-year term.
Below, a review of some of what Duterte has "accomplished" so far.
World leaders and institutions insulted: 5
The European Union: Giving an entire economic bloc the middle finger might seem odd, but Duterte did just that to the EU, during a speech in Davao this week. For extra clarity, he also said "f*** you" not once but twice.
Barack Obama: Duterte used a Tagalog phrase that translates roughly to "son of a bitch" or "son of a whore" when asked earlier this month how he'd react if the US president brought up the topic of human rights in relation to Duterte's call for drug-war killings. Obama got word of the insult and canceled a meeting with Duterte.
The United Nations: In August, Duterte described the international body as "stupid" and useless, and threatened to withdraw the Philippines from it.
Pope Francis: Despite the Philippines being predominantly Catholic, Duterte called the pontiff a "son of a whore" for causing traffic problems during a 2015 visit. (This insult technically took place in May, before Duterte took office but after he won the presidential election.)
Ban Ki-moon: Duterte this week called the UN secretary-general a "devil."
Drug-war killings: over 3,400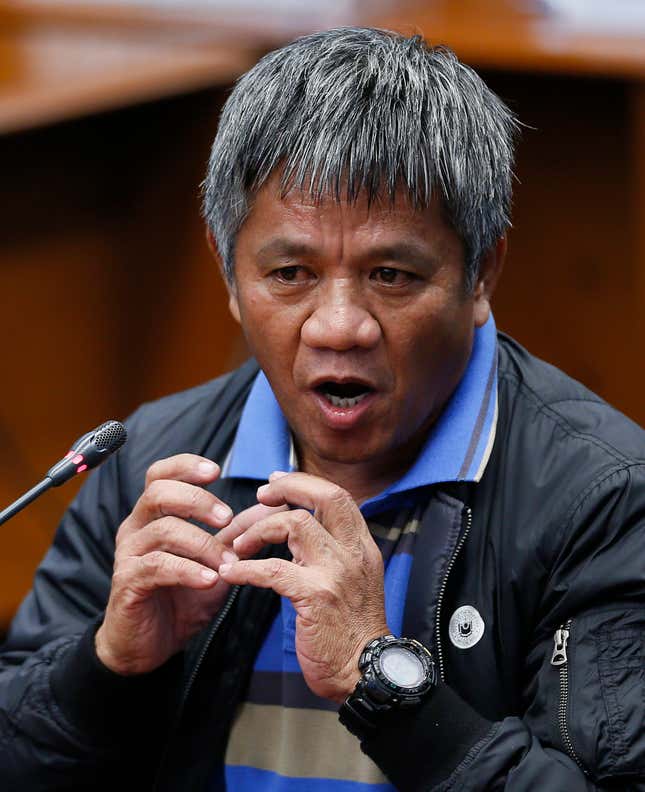 Killings: Philippines police have reported more than 3,400 drug-related killings since Duterte took power. Over 1,490 accused drug suspects were shot in supposed police operations. More than 1,930 were killed by hitmen and vigilantes. Over 18,000 arrests have also been made, and, after being invited to do so, more than 53,000 drug dealers and 662,000 users surrendered to the police.
Removing critics: Senator Leila de Lima used to be the head of the Senate Justice and Human Rights committee, which investigates extrajudicial killings related to Duterte's war on drugs. But she was removed from that post earlier this week, and says she now fears for her life.
Human Rights Watch condemned her ouster, noting Duterte said, "If I were De Lima, ladies and gentlemen, I'll hang myself." Duterte has accused de Lima of having links to the narcotics trade and sleeping with her driver.
In July, Duterte also removed five high-ranking police officials for allegedly being involved in, or protecting, drug syndicates, and he's promised to fire government employees by the thousands.
Witness on the stand: This month Edgar Matobato, a self-confessed former hitman, told the Philippines senate that he carried out dozens of assaults and killings in Davao City as part of a vigilante group hired by Duterte, when the latter held the mayorship or other positions there from 1988 to 2013. One order, he recalled, included feeding a man's body to a crocodile, and another involved the murder of Jun Pala, a radio commentator critical of Duterte.
Graphic threats: Duterte does not shy away from violent language. Describing what he'd do to terrorists, he said earlier this month: "If I have to face them, you know I can eat humans. I will really open up your body. Just give me vinegar and salt, and I will eat you." He was speaking to an audience that included children.
Foreign investment scared off: hundreds of millions of dollars
Taking their funds elsewhere: Duterte doesn't appear to have insulted international investors directly yet, but he has scared many away. Net foreign flows have taken a hit, even amid the recent boom in emerging-market assets.