It's not just the euro crisis ailing Banco Santander.The numbers out of Brazil have been a eyesore, too. Here's a snapshot: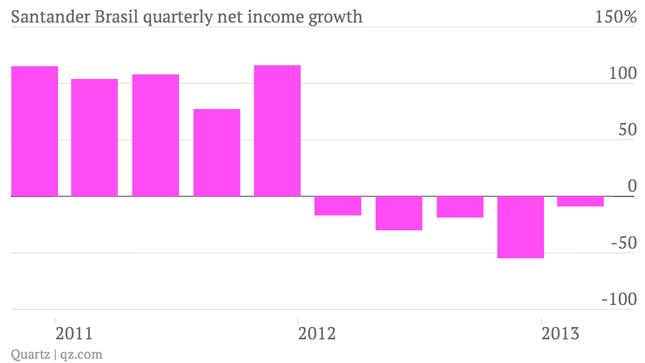 Earlier today, Santander axed its CEO Alfredo Saenz. It's hardly surprising; he faced a slew of legal troubles, was pardoned by the government, and then the Supreme Court questioned whether someone with a criminal record should run a bank, let alone Spain's largest. Spain's central bank, the Bank of Spain, appeared poised to ask him to step down.
In Saenz's decade as CEO, Santander nearly quadrupled in size and became the eurozone's largest by market cap. Most eyes are rightfully affixed on its performance in Europe, which has been dismal—its UK bank reported a 23% drop in net income this past quarter. But Latin America now accounts for more than half of the bank's income statement. While units in Chile and Mexico have performed well as of late—each posted double digit profit growth last quarter—the same can't be said for all of them.
Indeed, the bank's Brazilian unit has been posting negative year-on-year profit growth since the beginning of 2012 (shown in the graph above). Earlier this year, Goldman Sachs analysts called Santander Brasil out, citing its lack of loan growth and deterioration in the quality of its assets.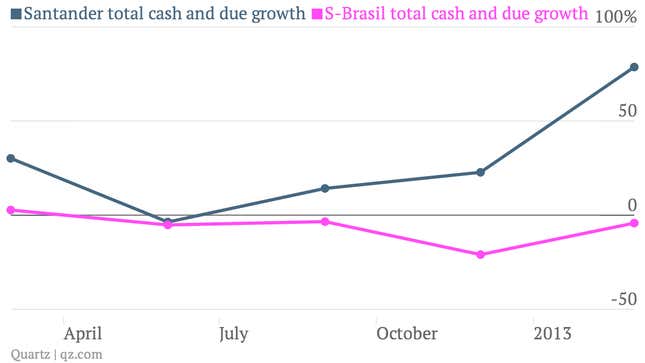 No wonder. Loan delinquency has been on an uptick recently, and a quick look at growth in the Brazilian unit's total cash and cash due, which measures how much cash the bank has on hand as well as the amount owed from loans, paints a pretty clear picture of how heavily bad loans are weighing on Santander in Brazil. It has had to write off more and more loans as well, which is adding to the discrepancy between cash growth for the bank as a whole and cash growth at its Brazilian unit.
Santander tapped its current head of global insurance, asset management, and private banking, Javier Marin, as the new CEO. Marin is going to field plenty of questions about current Santander CEO Saenz's delinquent past. He might want to spend some time ironing out the company's growing pile of delinquent loans in Brazil, too.