Hundreds of Chinese soccer fans took to the streets to protest on Oct. 6, after the national football team lost a key match to Syria. Their target was a man who neither played in or coached the game—the head of the Chinese Football Association, which has spent millions of dollars (link in Chinese) to build up the team.
China's loss in the qualifying 2018 World Cup round, to the national team of war-torn Syria, comes after a 0-0 tie with Iran and 2-3 lost to Korea. Making matters worse, the 0-1 loss happened in the northern town of Xi'an, which is supposed to be the Chinese team's lucky place (link in Chinese).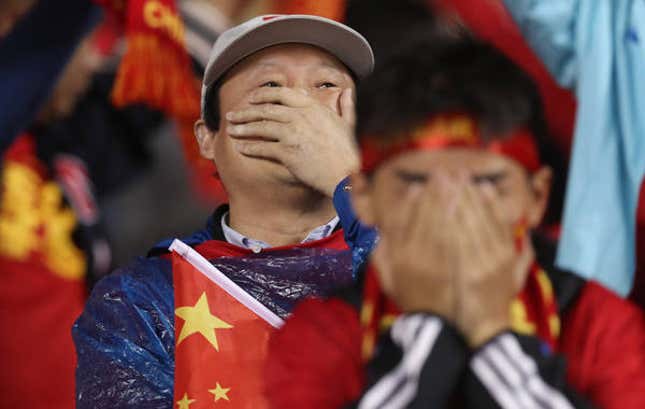 Fans' anger was focused on Cai Zhenhua, the head of the Chinese football association, who took office in 2014. The association chose Gao Hongbo, the current national team coach, and in 2016 paid him from 800,000 yuan to one million yuan ($120,000 to $150,000), 41 times (link in Chinese) of that of Ayman Hakeem, coach of the Syrian team, Chinese news outlets report.
A video on Twitter showed crowds gathering outside the Zhuque stadium around 9:30 on Oct.6, shouting repeatedly that Cai should resign. Another video, shot from a different angle, was posted by Wang Feng (link in Chinese), a Weibo blogger who has nearly 70,000 followers.
"It's like a company lost money so the Chairman was asked to resign," Ryan Jin, 25, who has been a football fan for 16 years, explained to Quartz. After the loss, "In theory, the team still has chance," to advance to the Asian qualifying game of the World Cup, he said, but it unlikely.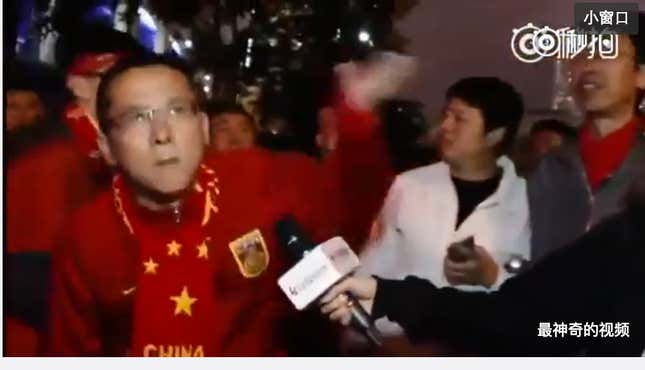 Chinese fans interviewed by LeTV, an online news station, said the soccer team's performance was so bad they wanted their money back. "How can you do this to us? I demand a refund," a man wearing a red-scarf with five yellow stars and "China" printed on it shouted to the camera.
Chinese soccer teams have spent hundreds of millions of dollars luring foreign players to China's Super League. But the national team is made up entirely of Chinese players, who lost to the war-torn country after Mahmoud Al-Mawas made a second-half goal in the 54th minute.
China has so far scored one point in the first three matches in group A of the Asian qualification round, in which the top two of six teams will advance to the final tournament.
While some fans are angry, others say it is their own fault. As one commentator said in response to LeTV's coverage (links in Chinese, registration required), "You paid the ticket willingly, it's like if you were caught for paying for prostitution, would you demand for a refund?"
A Beijing lawyer Hu Qing (link in Chinese, registration required) suggested China's losing to Syria should help bring peace in the country:
The Syria team was the only one among the teams in the Asian qualifying games that didn't charter a plane because they didn't have enough money. They had been transferring so many flights that not until Oct.1 did they arrive in Xi'an. Then they beat the China's national team with 1-0….The population of Syria was one-sixtieth of China and has been experiencing wars, it is torn apart. But just a country like this could beat China. I assume the government, the anti-government forces, and all ISIS soldiers would just hug together and cry right now to celebrate this magnificent moment.