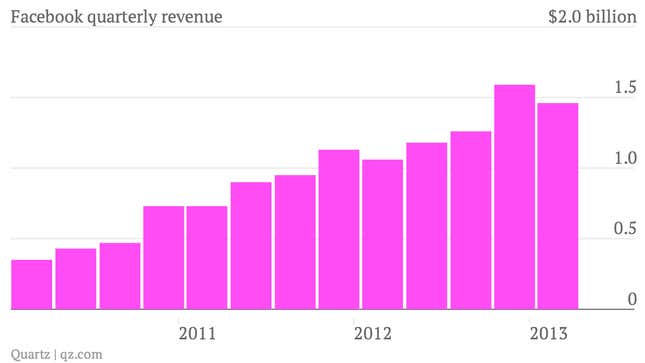 The numbers: Ok. Quarterly profit rose  8.7% to $312 million, excluding extraordinary items, compared to the first quarter of 2012. Sales rose more than 38% to $1.46 billion. Shares slipped in after hours trading.
The takeaway: It's still all about mobile. The good news is that Facebook is growing its mobile advertising. Mobile accounted for 30% of the company's $1.25 billion in advertising during the first quarter. That's up from the last quarter when it was 23%. It was 14% during the third quarter, when the company first started breaking out mobile. The problem is that mobile ads aren't as profitable as desktop ads. That has been raising concern among analysts that growth in mobile sales won't bolster the bottom line as much as investors hope. The company's operating margin continued to decline during the first quarter, falling to 26% compared to 36% during the first quarter of 2012.
What's interesting: Investors are also really interested in rising expenses at Facebook. During the first quarter, costs excluding stock compensation were $895 million, up 56% versus the same period of 2012. And that followed the 67% year-on-year increase seen last quarter.