The Force is perhaps too strong with this one. So strong, in fact, that he's drawn the ire of the Empire itself: Disney.
Disney's Lucasfilm, which owns the rights to everything in the Star Wars universe, is suing one Michael Brown, the owner of several businesses that offer Lightsaber training sessions. In a suit filed to US federal court (pdf), Lucasfilm's lawyers argue that Brown, who also goes by Michael Flynn and Flynn Michael, infringed upon the company's intellectual property by advertising and selling classes and merchandise that use the words "Jedi," "Lightsaber," and a logo similar to the official Jedi Order symbol. The Hollywood Reporter first reported this story.
"Defendants regularly use the Lucasfilm Trademarks without authorization in connection with their businesses," the suit reads. "Among other infringing activities, Defendants use a logo that is nearly identical, and confusingly similar, to Lucasfilm's trademark Jedi Order logo."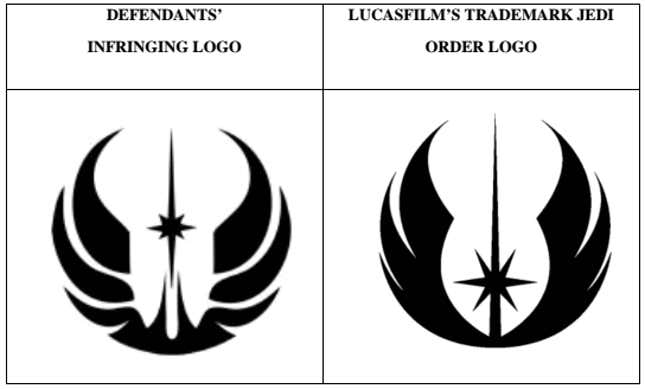 Brown, who lives in Oakland, California, owns New York Jedi and Lightsaber Academy, businesses that teach people fight choreography using the famed Star Wars weapon. The website for New York Jedi says that most classes run about $10. A calendar shows that two-hour sessions are available weekly at Ripley Grier Studios in Manhattan. Classes are taught by martial arts experts, stage and fight choreographers, and professional dancers. New York Jedi was the subject of this NBC First Look segment from 2012.
In addition to trademark infringement, Lucasfilm is accusing the Jedi academies of cybersquatting and unfair competition. The suit alleges that Brown ignored multiple cease and desist letters, and instead applied to trademark the names of his businesses with the US Patent and Trademark Office.
Lucasfilm, bought by Disney for $4 billion in 2012, is demanding up to $2 million in statutory damages for each trademark that was infringed upon. The company has a long history of filing lawsuits against people and businesses it believes are in violation of its intellectual property.
These types of Lightsaber fighting classes are popular around the world, especially at Star Wars-related conventions. Disney offers its own "Jedi Training" at Disney World in Orlando, Florida.
Brown could not be reached for comment.