Sometimes the symbolism of a public figure's clothing requires a bit of unpacking to discern. This was not one of those times.
In the first US presidential debate, Democratic nominee Hillary Clinton opted for a red pantsuit—or just suit, if you prefer—to face off against her Republican opponent Donald Trump. At the second, she went with blue. Tonight (Oct. 19), for the third and final debate, Clinton wore white, completing a trifecta in the colors of the American flag.
At least one astute Twitter commentator noticed the pattern.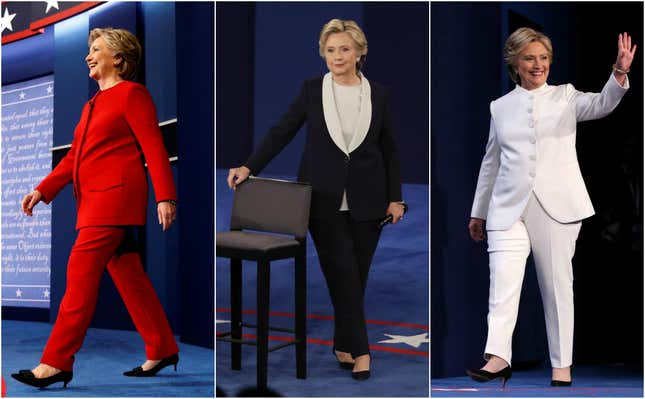 All three suits are the work of designer Ralph Lauren, who has made a career of refining classic Americana. Lauren also created the all-white suit Clinton wore to accept her party's nomination at the Democratic National Convention back in July—the one that recalled a century of feminist history—which tonight's look echoed.
Clinton has reportedly had some assistance from Vogue editor Anna Wintour in her wardrobe choices. Her debate suits were polished and on-brand for the self-proclaimed "pantsuit aficionado." They were on-brand for a potential US president, too.