Mexico's auto production has taken a big leap since NAFTA. The country now accounts for roughly 20% of North American light vehicle production(pdf), according to a report this month by the Federal Reserve Bank of Chicago, compared with a 6% share in 1990.
The country's cars aren't only traveling north. Mexico has become the world's fourth-largest auto exporter, and it's a good market to be in: Climate change and rising gas prices have trimmed margins on automobile sales and prompted a global shift among automakers to more efficient production hubs. Automakers from all around the world are flocking to Mexico to capitalize on the country's low production costs and export-friendly environment.
The cars that roll off Mexico's assembly lines are traveling far and wide; Only 63% of Mexican-made cars are exported to the US, and 45% of the exports are made by automakers with headquarters in Asia and Europe.
"Mexico is becoming one of the best places to manufacture cars," said Audi Chief Communication Officer Joe Jacuzzi. How did that happen?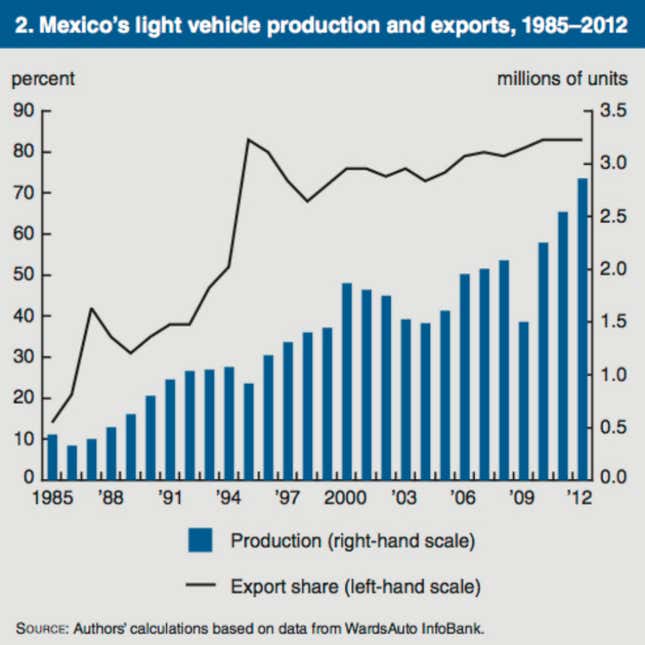 Mexico's biggest advantage in building cars is cost. Land and labor in Mexico are abundant and cheap (even cheaper than in China). Plants run with "practically no limits"—Nissan's current plant runs 20+ hours a day—and workers are not only exceptionally productive but also increasingly more skilled.
Mexico is also a sweet spot for exporters, thanks to its prime geographical location at the midpoint of the Americas, and its lengthy border with the world's biggest economy. "For Audi, the fact that Mexico is so close to the US is key," Jacuzzi said. Just as importantly, Mexico has 44 free trade agreements with the EU, Japan, Israel, and many other countries—more than double the number held by the US.
Production for April 2013 jumped 15.6%, and it won't stop there. Mexico's output is about to get a big boost from a slew of new assembly plants set to begin operation over the next few years. Mazda, Honda, Nissan and Audi have all recently announced plans to invest billions in growing their respective auto production capacities in the country. Add BMW, which is rumored to be planning an imminent move to Mexico to produce its new 3 series, and it's virtually certain that Mexico's auto industry is going to post some impressive growth numbers going forward.