Always on the Road, an eight-part television series featuring confessions by 77 allegedly corrupt Chinese officials, concluded yesterday (Oct. 27). The series, which aired last week on state broadcaster CCTV, is a hit in China, with millions of internet users discussing it on social media.
Following last night's finale, an official account belonging to state newspaper People's Daily on WeChat, China's most popular chat app, published a 12-minute edited collection (link in Chinese) of those confessions, along with transcripts and a poll asking "Whose confessions do you think passed the grade?" Chinese viewers are allowed to choose up to three officials in the poll. As of this morning (Oct. 27), more than 10,000 votes had been cast.
The winner so far is Li Chuncheng, former deputy party chief of Sichuan province, who has so far garnered around 3,000 votes, or 26% of the total. Li, now 60, was dismissed  in 2012 and is now serving 13 years' jail time for abusing power and bribery.
The TV series, co-produced by the Chinese Communist Party's top disciplinary watchdog, features senior party officials who were arrested or charged over corruption. Of those, 14 officials at the provincial level or above made their confessions on camera, detailing how they accepted bribes including cash, booze, and property. Forced televised confessions have become one of the Communist Party's favored ways of shaming dissidents and disgraced officials.
Always on the Road, which aired on the eve of this week's sixth plenum in Beijing—a key meeting for the party which will shape the country's future leadership in the coming years—showcases president Xi Jinping's anti-graft campaign, which has netted tens of thousands of officials (link in Chinese) in the past three years.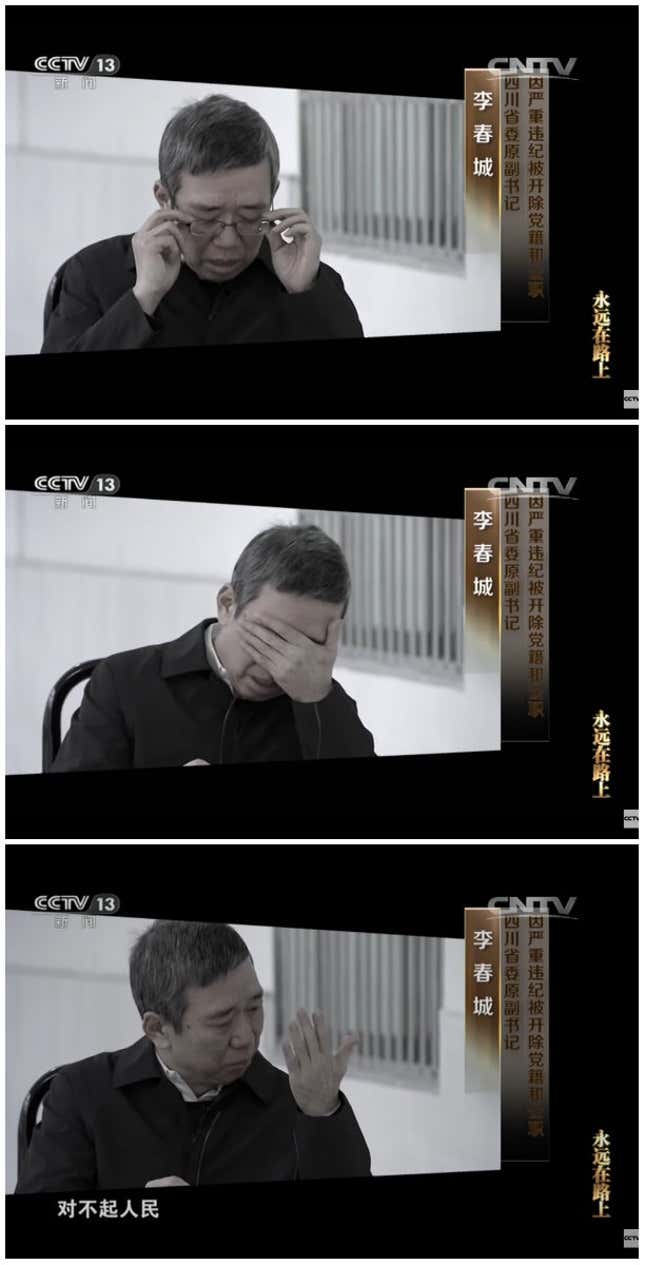 But it was Li's emotional display that captured the hearts and minds of China's audiences, as he appeared on camera to be vulnerable and remorseful. During his confession, he takes off his glasses to wipe away his tears several times, and looks into his palm—as if the very word "regret" had been carved on there.
In addition to his body language, Li's way of speaking—a soft voice punctuated with occasional pauses, sniffing and sighing—makes his confession appear more genuine than his peers', many of whom seem like they are reading a script, or even worse, a government report.
Here's a translation of part of Li's confession:
(Looks up to the ceiling, purses his lips)
Because I… actually (sighs, looks to his left side) since I was a teenager… I hoped to be led by the party, to join the party… under the party, under the party's leadership (long inhalation)… to advance social progress, people's happiness (sniffs, looks to his right side). 

Eventually, because I (sobs slightly) didn't lay this foundation solidly (inhales), in the complicated social life and the practice of politics (sniffs), my mind changed (looks down to the left). At this point (looks right), my whole life's pursuit (sobs) is now (sniffs) diametrically opposite to where it should be.

This is all my fault (inhales, shakes his head, takes off his glass and wipes tears). I really feel sorry to the party (looks into his palm), sorry to the people, and even more sorry to (sobs) those cadres in Chengdu who followed my lead… (sobs continuously) I'm supposed to influence their values. What kind of thing have I done?

(Wipes tears with his hand, looks into his palm, touches his nose, inhales, wipes tears again with his sleeve, puts back on his glasses.)
You know, based on the normal retirement age, I'm almost at the end of my life (sniffs). But because of my own mistakes, this is how I have ended up (sighs). How sad!
Li's confession can be watched here, at around the 31:43 mark.