If the recent string of forced television confessions by Chinese dissidents and disgraced officials has left you wanting more, wait no more—you can now binge on an eight-part TV series of these confessions.
The TV series, titled "Always on the Road," is co-produced by the publicity department of the Central Commission for Discipline Inspection—which investigates corruption in the party—and state broadcaster CCTV. The first episode was broadcast yesterday (Oct. 17) on CCTV and is available to stream online (video, link in Chinese). The version available on internet giant Tencent's streaming platform has been viewed more than 15.6 million times (link in Chinese).
The TV series comes on the eve of the sixth plenum meeting next week, a key meeting for the Communist Party. Emphasizing the party's dedication to stamping out corruption can help shore up support for president Xi Jinping, who has in the last four years ruthlessly targeted thousands of low-ranking and senior party officials, known as "flies" and "tigers," in his anti-corruption drive.
The pilot episode, translated roughly as "Popular Support," opens with Xi's 2015 New Year address, in which he said that the Communist Party "must continue to rule with discipline and uphold the sword of anti-corruption." It also features scenes from the trial of former security czar Zhou Yongkang, arguably the biggest "tiger" of all who was captured. The black-and-white episode, which lasts about 40 minutes, features three former provincial-level officials confessing to corruption, describing how they collected money from local businesses using their power.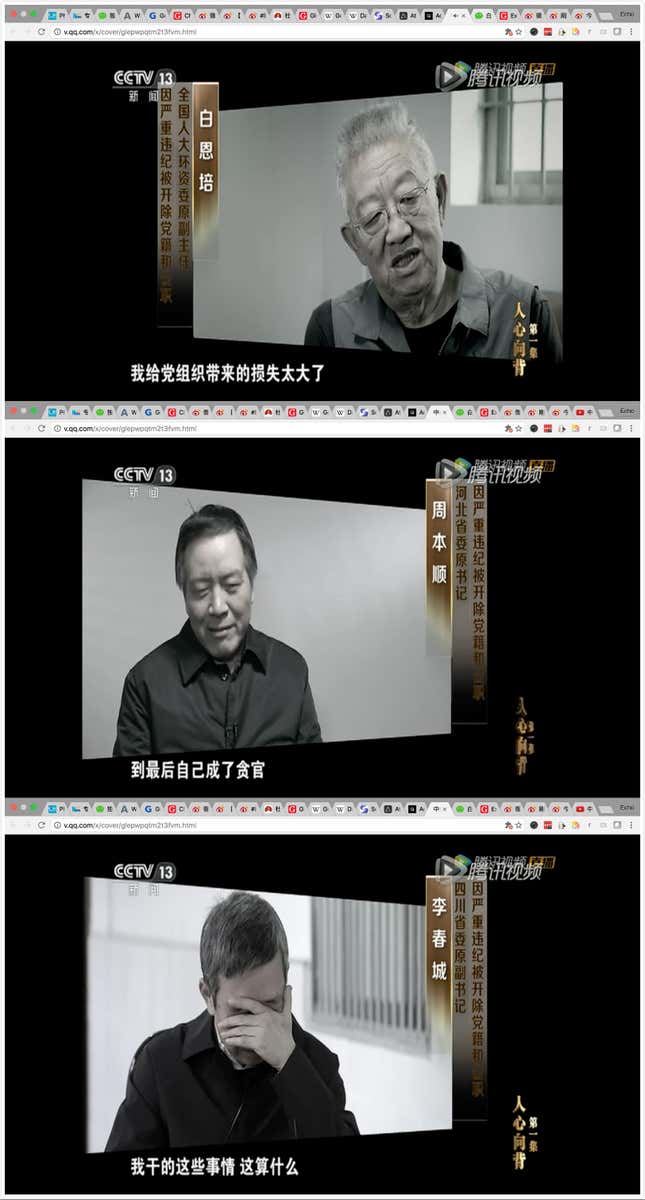 The three Chinese officials featured are former senior lawmaker Bai Enpei, who received a suspended death sentence (paywall) on Oct. 9; former Hebei province party secretary Zhou Benshun, recently charged with abuse of power and taking bribes; and Li Chuncheng, former deputy party secretary of the Sichuan province, who was charged with corruption in 2015. Li kicked off his confession with the line, "Life is like a live broadcast, there is no going back…" before breaking down into tears.
The supporting cast includes three CCDI staffers who narrate the story of the anti-corruption campaign.
The show goes beyond simply showing these officials speaking to a camera in a drab room. For example, as party officials are officially not supposed to practice any religion or superstitions, Zhou's Buddhist beliefs are highlighted in the episode, where he is shown to be burying his pet tortoise with religious scriptures.
A total of more than 10 former officials at the provincial level or above, who had been removed from office over corruption, will be featured in the coming episodes, according to state-backed tabloid Global Times.
Comments on Weibo, China's Twitter-like social media platform, were disabled on official state or media posts about the TV show. On its website CCDI said that (link in Chinese) people were thrilled about the TV series. One viewer apparently said, "I can feel our party's hard work and kindness, like the Bodhisattva," referring to a term in Buddhism for someone who has achieved enlightenment.