Hardly anybody expected it, but Australia's central bank—the Reserve Bank of Australia—cut interest rates Tuesday, dropping its benchmark cash rate to 2.75%. Bloomberg says only 8 of the 29 economists it surveyed expected the axe to fall at this meeting, even though it's the seventh cut in the last 19 months.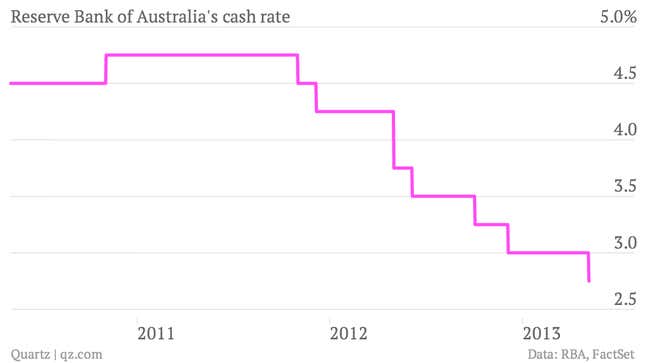 That's a record low, by the way.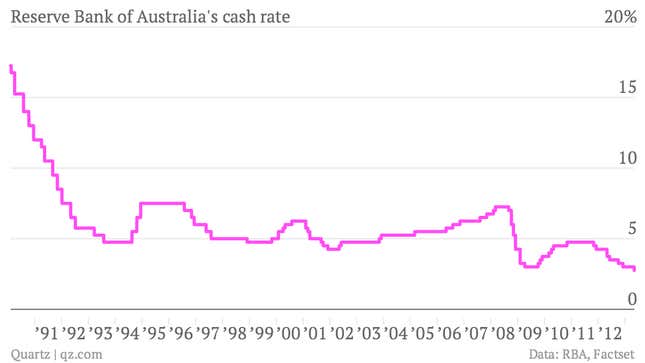 While it's often considered somewhat gauche among central bankers to fiddle with currencies, Australia's move was widely seen as an effort to weaken the Australian dollar. In its statement, the Reserve Bank even seemed to say so, noting that the currency "has been little changed at a historically high level over the past 18 months, which is unusual given the decline in export prices and interest rates during that time."
If it was an effort to weaken the Aussie, the rate cut seemed to get the right reaction from the markets. You can see the Aussie weaken sharply against the US dollar once the decisions came in around midnight New York time. It touched a two-month low after the rate cut.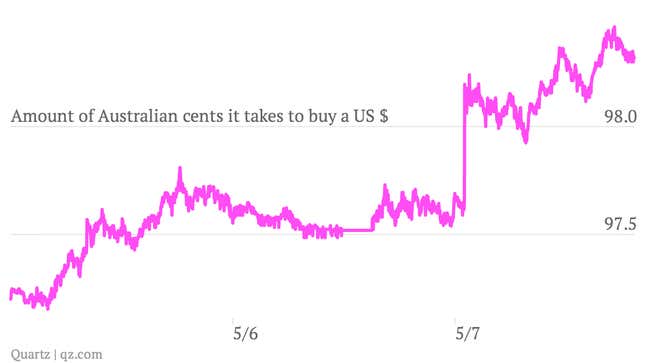 Interest rates tumbled, too. Here's a look at the shorter end of the Australian yield curve, which is most sensitive to central bank activity: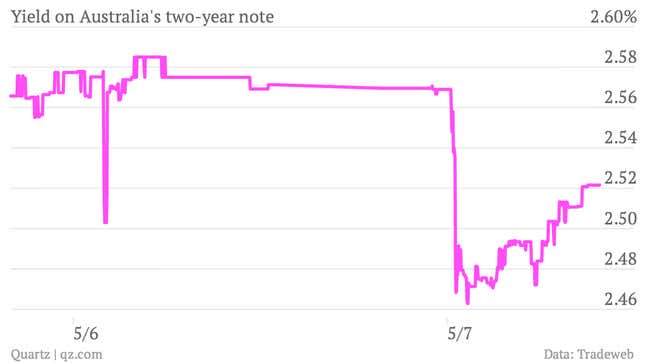 The question is whether cutting rates will be enough to shore up the Australian economy against the risk of slowing Asian demand for Aussie commodities. Well, it doesn't seem like it will hurt. Four large Australian banks have already followed the RBA's lead cutting interest rates they charge to consumers and effectively transmitting the RBA's policy decision into the economy.
And its worth noting that in Australia, like in the UK and Canada, most mortgage debt is floating rate—that is, it's tied to the fluctuations of short term interest rates. That means an interest rate cut can be efficiently passed along to consumers without the hassles of refinancing that homeowners face in the US.